Album Review
Diamonds and Whiskey Strike Musical Gold; Purified Live by Winning over a Biker Bar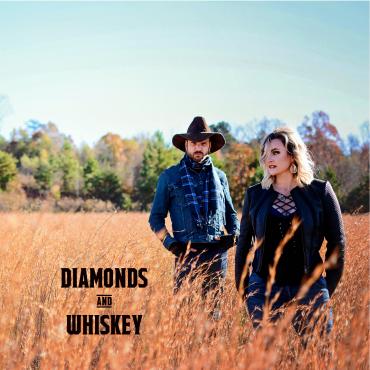 Charlotte's Diamonds and Whiskey are a rich delight of sweet singing and rough sound that should make new music fans thirsty. Made up of Von Bury's head-out-on-the-highway-buzzed guitar riffs, achingly delivered by Jennifer Lauren's been-everywhere survived-it-all lyrics and singing, and punched onto the dance floor by tight-as-a-new-pair-of-steel-rims drummer Christopher M. McKinney. 
Their debut album Dark Country Voodoo honestly reveals the struggles and tribulations of Lauren's caustic spiritual upbringing, juxtaposed with health suffering but also epic moments of Southern ecstasy. She's vulnerable but not weak, tough but empathetic in the raw yet gorgeous "25 to Life," the revenge therapy "Wasted On Your Love," and the joyously anthemic "Whiskey Down." All of this is superbly met by the nomadic roots groove of Bury and McKinney's musical language, giving ambiance and sauce to Lauren's well-scripted and performed musical movies. 
A big part of the album's charm is the production work of Seattle's roots-loving Graig Markel, who adds some delightful lap steel. Live, Shealee Cousino assists on violin.The band is not an abstract concept of Americana; it's real music made by North Carolina natives with old souls that have been tested. One time, they even had to persuade and seduce a venue full of angry bikers during an enormous rally for the Dakota Territory Riders, who had gathered en masse in South Carolina. 63,000 riders converged on the territory, just as the trio took the stage in a tavern at the center of the event. If you want to know how it turned out, check out the YouTube video of them playing "Sugarstick" (the closer to the album), and see how the crowd's surly silence turned to connection and rejoice. "I feel like I could play for anyone now," Lauren reported to Creative Loafing. 
Introduced to each other through Craigslist, woodshedding songs in a fiery blaze to fill Dark Country Voodoo with many moments of rugged glory, this is a great way to get to know some great people who were born to rock away the blues. 
http://www.diamondsandwhiskey.com