Album Review
Digs Deep For Inspired 70's Contemporary Jazz: Comes Up With a Mother-lode.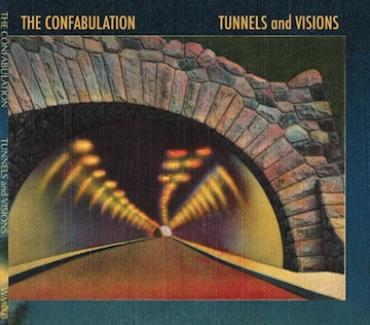 Something a little different for me but still containing some elements of folk, world music, and lots of discreet 70's oriented contemporary jazz -- The Confabulation, a project spear-headed by Toronto bassist/composer and producer David Woodhead digs deep for some inspired music and comes up with a motherlode. There are plenty of compatible musicians involved in this project who are equally distinguished and contribute significantly to "Tunnel and Visions."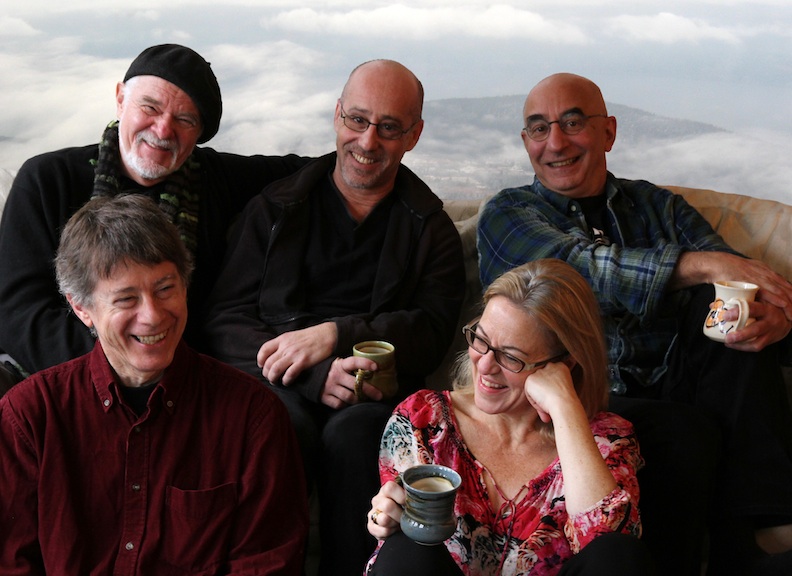 While I'm a little out of my realm I am experienced enough to appreciate what these talented people are trying to do and achieve. So, if you're one of those record buyers from the 70's who gambled on some of those innovative cool Columbia, Verve, Blue Note, CTI (Creed Taylor), ABC-Paramount, Embryo, Cotillion, Command, Impulse, and Mainstream jazz record releases this could be a great walk down memory lane or just finding the old neighborhood hasn't changed.
This is why I'm taking the time to comment -- I remember those albums and why some were exciting. The groups, trios, ensembles, and experimenters. The Modern Jazz Quartet was always premier but then there was Gary Burton, Carla Bley, Dave Brubeck, Klaus Dolinger's Passport and while I will mention Sergio Mendes in the same sentence as Thelonious Monk -- it's because that's what defined that era. Jazz buffs had those artists together -- maybe on different shelves -- but never too far from their turntable.  
Al Hirt, Herb Alpert, Doc Severinsen, albums produced by Creed Taylor  -- ok, they weren't Miles Davis, Don Cherry or Chet Baker -- but they did further the trumpet more than most great trumpet players. Opening -- The Confabulation starts off with trumpets, flute, and deep bass much the same as some of the music Carla Bley experimented with (the title even suggests an influence by Bley). While a little sublime, there is a melody to follow for those who find jazz too avant-garde, too out-there, too cool.
"Carnival for the Clocks," possesses some of that intricate orchestrated instrumental interplay made famous by German composer-conductor Bert Kaempfert ("Afrikaan Beat," "Happy Trumpeter") and this is the value-added -- the attraction, the arrangements. Then, there are moments when there is a hint of Chuck Mangione (though there is no flugelhorn on this) in its simplicity and clearness. Slinky low tone trombone (Tom Richards) coupled by the high notes of a flute (Anh Phung) anchored by deep bellows of tuba (Jay Burr) and bass (Woodhead). Not earth-shattering jazz but a pleasant listen with many shades throughout to appreciate. 
More piano-driven is "Futura Bold" (a typeface if I am not mistaken), has recollections of the type (no pun intended) of jazz melodies frequented by guitarist Pat Metheny, John Abercrombie and Joe Pass with a touch of the Paul Winter Consort to help it from getting too heavy. The tenor sax (Colleen Allen -- who played with Holly Cole) adds a nice balance. The violin is a little unorthodox in a jazz-setting but this addition is well-executed if not too brief. But on the third track "Mary Sue," -- makes up for it where Anne Lindsay's violin is featured longer.
"Mary Sue" has that late Jaco Pastorius bass feel that many of Joni Mitchell's later songs possessed. This actually almost sounds like a short melody that Joni discarded without words during her period where she tried to pursue a folky jazzy menu that she tried to introduce to her reluctant audiences in the 70's and 80's. This has a nice exquisite performance. 
"Precious Little Solves The Riddle," is another title that is Carla Bley oriented. Deep piano notes is a nice diversity for the brass and uppity background vocals (typical of Herb Alpert and Sergio Mendes in the 60's). You could say this is lounge-jazz, cocktail-jazz but I would differ. There is a progression here that suggests a noir-bossa-nova. Emulating those artists is not a sin -- they had some of the most melodic, wonderfully played tunes in their day that took stabs at Latin, Brazilian, island and calypso jazz potpourri. Too bad many of those tunes never made it to more ears. Alpert, for instance, had a great melodic minor hit called "Flamingo," which should have been covered by many instrumentalists. 
So far, The Confabulation is showing deft and clever diversity in their performance and nothing they have played is boring or contrived. I guess the only drawback some may find is that it harkens back to an era many have forgotten and wish not to relive or consider theme songs for game shows. But again, I would have to disagree. Those songs and how some here are reinvented, reshaped and interpreted show how adaptable and compatible the genre is. David Woodhead is not going down memory lane nor is he tapping into an old form. He is showing how a form has matured and how it can continue to be appreciated.
"Danse de Travers No. 3" -- a Satie-Wilde composition with a contribution by Woodhead features Bob Cohen (Jesse Winchester) on nylon string guitar as the other musicians frame the performance mildly. No showboating, just layers of warm instrumentation. Anne Lindsay's violin is featured prominently but again, briefly. Of course, this is more classical than jazz or cabaret. Colleen Allen's clarinet and her flute are delicate and as well, brief. The tune is well-recorded but unfortunately, everything is arranged economically. Back in the old days of cassettes you could loop a track and have it play seamlessly twice as one long uninterrupted melody. All the musicians on this track play with rich delicacy. 
"Late for Lunch," only features four musicians and is the fieriest tune on the collection.
Jaron Freeman-Fox's violin has a similar flare as violin-fiddle greats Richard Greene (Seatrain, the Blues Project, Bill Monroe and his Bluegrass Boys, Gary Burton) and/or Jerry Goodman (The Flock, Mahavishnu Orchestra). 
Now, the eccentric "Inch Worm," could be a little distracting with the counting, though the melody and performance were good, the vocalizing was a little too old school for my taste and bordered on The Ray Conniff Singers. Perhaps a little listen to the far more artistic Phillip Glass opera "Einstein on the Beach," which started with a similar counting effort but with intense overlapping voices. With that in mind and married to the Frank Loesser composition, it would have been a little more compelling. The rest of the instrumentation in the composition was well executed. 
Though not as dramatic as the original score of the 1950's horror film "Godzilla," -- the influenced track "Gargantuas" does offer a nice hat tip to the Toho monster films and that genre music. This is not exactly an idea a seasoned jazz musician would tackle but at least it does not sound like novelty music. I do respect the stretch the musicians attempt to make it work. The piano is excellent throughout as well as the little spooky guitar effects (shades of Joe Meek). There are indeed moments of Steely Dan excursions which rescue this from being discount-store fake jazz albums or Lounge Lizards / Penguin Cafe Orchestra turf. Fortunately, it is not similar to those Jackie Gleason and David Carroll orchestrated collections of drek. I will admit I like The Confabulation's challenging attitude. It's not a washout. I also enjoyed the Blue Hawaiians when they tackled the main theme (written by Henry Mancini) to the film "Experiment in Terror."  Now if I could get someone to cover David Seville's (that's right, Ross Bagdasarian -- the Chipmunk's guy) great piano-driven jazz instrumental "Almost Good." Talk about a lost classic and probably a great tune to play live. 
Changing gears the band opens "Windy Apples," with a banjo (David Woodhead). A nice left curve at the crossroads of jazz and classical street. This is what makes some musicians worth listening to. The way they can just go from a speeding sports car, to pick up truck, to motorcycle in a flash. This has a distinctive, pleasant sound to this composition and there is (because of the Doug Wilde piano) an undercurrent of jazz along with the nice deep bass tones (David again) and snap of guitar (Bob Cohen). It shows how close folk music can touch the rim of jazz and still be evocative. Great acoustic guitar for balance. Great tune. 
Once again, somewhat rooted in the Pat Metheny school "Grottos" has some nice mannered jazz guitar but with that Mahavishnu Orchestra mystique of the 70's when lead guitarist John McLaughlin led them. Just here, not as flashy and explosive.
This has to be listened to, to be appreciated. The musicians all come together very strategically, layered, and smartly. The saxes, guitars, violin, organetto, piano, and I like David Woodhead's bass here -- once again in that beautiful Jaco Pastorious fashion. This was a very enjoyable five minutes...nothing else to say but to relish it. 
The final track "Permanent Trees," has a title the Paul Winter Consort would have liked. Nice and upbeat, and a good way to close out the LP. This tune has a somewhat Dave Brubeck feel -- everything executed cleanly and the song sounds like it could stimulate an even greater jam on a live stage. It lends itself to that kind of workout as it proceeds. All the musicians are exceptional -- and it leaves a listener wanting more which is what the band and its marketers probably want from its listeners. There was a pianist jazz performer who never got his due but there is a hint of his style here -- the late Scott Bradford ("Kansas City Masher," "Mid-Evil Dance," -- LP-Rock Slides, an album that also featured sax player Nathan Davis). A shame Scott isn't alive today to hear this fine 55-minute collection. 
The album was produced by David Woodhead. 
Website: http://www.davidwoodhead.com/confabulation.html
Facebook: https://www.facebook.com/The-Confabulation-786207938065779/?fref=ts
Disclaimer: The opinions expressed in this review/commentary are those of the author and do not necessarily reflect the official position of No Depression. All photography is owned by the respective photographers and is their copyrighted image; credited where photographer's name or studio was known & being used here solely as a reference and will be removed upon request. YouTube images & music are standard YouTube license. 
John Apice / No Depression / August 2018*