Album Review
Doing (or Not Doing) Things in the Current America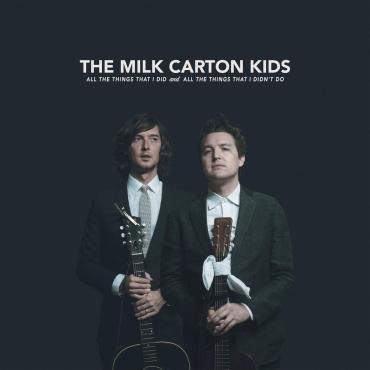 These modern-day Americana folksters, who echo early Simon & Garfunkel and CSN, are singer-songwriters: Joey Ryan and Kenneth Pattengale. The duo is back with a beautiful, sonically profound document of a dozen songs that are marked by lush arrangements and well-chosen words that speak of our unpredictable life and – at times – our broken society. It's difficult when penning new material, many artists will undoubtedly tell you, not to weave in commentary on the current political clime.
The Milk Carton Kids also experienced many personal life changes since their last release (2015's critically acclaimed Monterey). Pattengale beat cancer, broke a cigarette habit, and ended a long-term relationship; his partner in song (Ryan) is now the father of two kids and works as a producer on the Live From Here with Chris Thile radio show. It's natural all of these "ch-ch-ch-changes" shaped their songs and their approach to recording. For the first time, these Americana Music Association Award winners recruited an all-star group of seasoned session players to join them in the studio. The musicians included Brittany Haas on violin and mandolin, Paul Kowert and Dennis Crouch on bass, Jay Bellerose on drums, Levon Henry on clarinet and saxophone, Nat Smith on cello, Pat Sansone on piano and Hammond organ, and Russ Pahl on pedal steel and other guitars. The result: a bigger, bolder sound.
Grammy award-winning producer Joe Henry was the architect for this vision and Ryan Freeland was the engineer. The disc was recorded in October 2017 in the Sun Room at House of Blues Studio in Nashville, and despite these added musicians and instrumentation, the pair's velvet voices and two-part harmony still remain the focal point.
"Just Look at Us Now" kicks off this enjoyable listening experience. The song is a lush lamentation of time ticking on with these opening lines that speak to an innocence lost, never to regain: "When I was a kid you could look in my eyes and see the whole world spinning there."
"Mourning in America" is the band's political statement and a clever two-part-harmony-heavy ditty on the sadness that now seeps from sea to sea in the U.S. of A. A postcard, if you will, from a country you once knew and loved, but now, you are not so sure of what to make of it. This opening couplet gives a glimpse of the pair's poetry: "Fell asleep with the TV on/Woke up to a funeral song." Other standouts include: "Unwinnable War," a fingerpicking contemplative ballad, and "Nothing is Real," an existential exercise in 3/4 time.
All The Things That I Did and All The Things That I Didn't Do is the perfect soundtrack to lazy summer days. And, in this reviewer's humble opinion, it's a frontrunner for one of 2018's best Americana records. Listen now. Listen long. Let the words linger a while. Then, decide for yourself.