Album Review
Drew Gibson's 1532: More Than a Story or an Album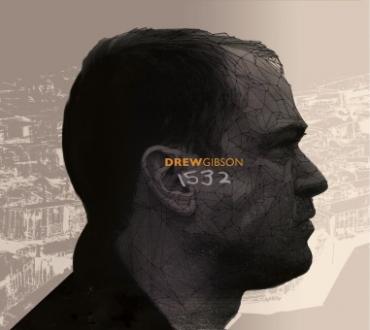 It is seven in the morning and I just turned on the computer, head packed with mental gauze because I just awoke in a deep black hole surrounded by the music of Drew Gibson's new album, 1532, which must have played all night because it is not just in my head but in my very being. I had to have been in a deep REM state or maybe just felt like I was because there was no screen of images playing itself out before my consciousness, just music, and the music a perfect soundtrack for blackness, Gibson's voice calling me from sleep, repeating the phrase "I can tell you, I can tell you," over and over until the real world slowly came into focus, the music almost prophetic in its feel, if not its intent.
I have been awaiting this album for over a year, having promised Gibson a review upon its completion, something I should learn to never do. I worry about such reviews. I worry about being handed music inferior to earlier works about which I wrote in super-positive terms. More than that, I worry about being handed music even better than those earlier works -- music almost intimidating in its presence or, in some cases, music so personal that I feel I am invading a privacy. Contrary to popular opinion, a music writer does not just sit down and bang out a couple hundred words and then move on. Not this writer, anyway. There is a process. This one has taken me from deep sleep to the computer in 60 seconds, or ever how long it took the computer to boot up this morning, and a couple of weeks of the obligatory (but extremely pleasing) listening parties of one to get to this point. And over a year of angst.
I kept in touch with Gibson during that time, asking for updates and comments. He started out with Bobby Read, who works out of Charlottesville, but soon, because of travel time and money, moved his work closer to hometown D.C. Marco Delmar stepped in to help produce at Recording Arts in Arlington VA, and there was the obligatory sidestep to Austin TX to get friends Paul Curreri and Devon Sproule to add voices. Gibson kept saying "I want you to hear this" but was afraid to send tracks until they were finished. I could tell it was personal. Very personal.
I had no idea until he sent me files with a few notes so I would understand that it was more than music. It told a story. It told the story of his father and his father's family and friends. It told of old times past, some of which was unknown. It told of a different life and a different time and Gibson buried himself in it out of grief for a father who had just died. Gibson had said that it was about his father. I had no idea that it was as much about his father's life.
When Gibson's father died, it was, as it is to so many of us, a sledgehammer to the heart. You can hear it in the songs, especially "When the Vinyl Scrapes" wherein Gibson asks the questions we all have -- do you hear music, what is it like, are you alone? He mirrors the deep love he saw between his father and mother in "Bettie-Jane," a simple acknowledgment that life is too short to hold back. Song after song echoes embraces and regrets, "1532" about that around which the family world sometimes revolved.
"Before Uncle Jack went off to fight in World War II," Gibson writes in his liner notes, "he wanted to put the family's house number on his license plate. A very simpler gesture. Their house number was 1505, but 1505 was not available, so he registered (it as) 1532, 3 and 2 equaling 05. Soon after Jack went to Miami for training and then overseas. He never returned home. In memory of Uncle Jack, the license plate was kept and placed on my grandfather's car and when he died, it was passed on to my grandmother. It was then handed down to my father and most recently to my mother. These numbers have resided in my family for over 70 years and with each changeover the meaning continues to grow."
Most songwriters would be daunted to write about such personal things, but Gibson is not most songwriters. He keeps it simple and on point, music and lyrics as balanced as the emotions allow.
Drew Gibson put a lot of himself into this album--- a whole lot. The arrangements are pitch-perfect, some songs (such as "Bettie-Jane") huge in their simplicity. The backing musicians are exceptional (special mention goes to Dave Hadley, who plays pedal steel and resonator guitar masterfully), the production primo. Gibson went out of his way to make this as much about the stories as about the music. That is why he is Drew Gibson, musician, and not just another singer/songwriter.
Gibson is no one-album wonder.  Here is a beauty from his last album, The Southern Draw.