Album Review
Drive-By Truckers Deliver the Goods, and Thensome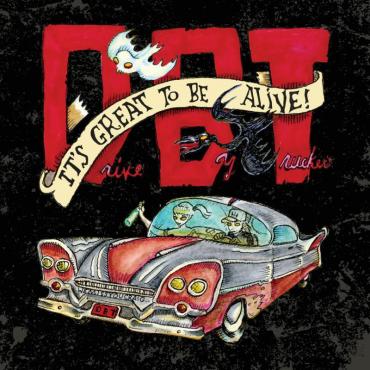 It's Great to Be Alive! is the fifth Drive-By Truckers live release if you include the 2004 concert DVD Live at the 40 Watt and 2011's vinyl-only Live at Third Man Records along with 2000's Alabama Ass Whupinn' and 2009's Live From Austin, Texas. In the liner notes, frontman Patterson Hood ventures the guess that his group has played "somewhere around 2,000" live shows, and in the process has gained a "reputation as a 'Live' band." "There's an element of our stage show that the records just cannot quite capture or parlay," he writes.
Hood measures the life of his band in road years. When longtime bassist and backup vocalist Shonna Tucker departed the group in 2011, he posted to Facebook not only to clear the air that the split was amicable, but that among her other accomplishments with the group, Tucker "logged in over 1000 shows." Further along in his liner musings he recalls a period of time when the band was "devoutly unsigned, playing hundreds of shows a year."
Alive! is available in a handful of vinyl and CD configurations, but if you opt for the deluxe vinyl and CD bundle, you receive five LPs, 3 CDs (among other collectibles), and a whopping 35 songs. The final cut was assembled from three nights in 2014 at San Francisco's Fillmore, and like other legendary live recordings captured there, Alive! echoes a similar refrain: If you're looking for the live Drive-By Truckers release, this is the one.
While any band looking to make a living at it would like you to believe "we're even better live," Alive! is pretty good proof of the fact, especially when you consider the idea that Hood met co-founder Mike Cooley about 30 years ago and both are not only rocking as hard as ever in DBT, but alternating opening spots as support on the band's current tour (coming to a city near you).
It's hard to know what inspires what: Does the band's grueling, road-warrioring ethos inspire the songwriting, or is it the subject of the songs, filled with existential musings ("Lookout Mountain," "The Living Bubba"), dark, blue collar vignettes ("Used to Be a Cop," "Goode's Field Road"), and righteous truths ("Shut Up and Get on The Plane," "When The Pin Hits The Shell"), that lures them back to the road, ever-ready to share them?
I suspect it's a bit of both, but I'm confident you can take Hood at his word when he writes "anyone who has been to any of our shows in the last three or four years can attest to the band being at top form," simply because you'll hear it here. Steely, gravelly guitars offset hardscrabble lyrics, the kind best rendered live to a crowd eager to receive them. The tone is tough, distorted, and amplified, but the message comes through, clear as a bell. Hood finds his salvation in lyrics like, "If you just need a friend to talk to/Maybe not talk at all/I will bring you buckets of mercy," and it sounds like you do, too.