Album Review
Dumbing It All Down Provides the Lonetones With a Smart New Offering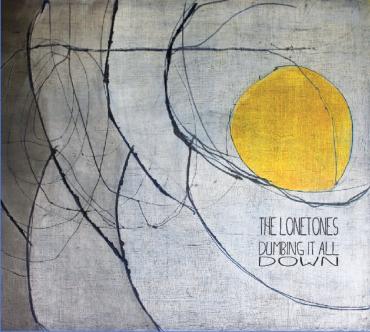 It's obvious to anyone that resides nearby, not to mention to those that have played particular attention through the years, that East Tennessee is a wellspring of great musical talent. While Nashville may tend to overshadow Knoxville due to its star power and legendary stature, the musicians that call the other side of the state home -- people like Darrell Scott, Mic Harrison, Tim and Susan Lee, Kevin Abernathy, Blue Mother Tupelo, Robinella, Eli Fox and all the others -- are equally adept at making music that resonates, inspires and representative of a vibrant musical scene. 
The Lonetones are one of the bands that's long since staked their claim to East Tennessee's signature sound, one that carries echoes of its Appalachian roots while fitting that down home style into a contemporary context. With three previous efforts to their credit, the band, helmed by  Steph Gunnoe (vocals, acoustic and electric guitar) and Sean McCollough (vocals, banjo, mandolin, keys, guitar) along with Cecilia Wright Miller (cello, vocals), Jamie Cook (drums, vocals) and Bryn Davies and Vince Ilagan (bass, vocals), finds a comfortable niche that's somewhere between bluegrass regalia and the tender musings of better singer/songwriter fare. While comparisons with Gillian Welch and David Rawlings may seem inevitable, their reverence for archetypical Americana is undeniable.

The band's new album, Dumbing It All Down, doesn't exactly speak true to its title, although the fact that they can take an understated approach and create such lilting melodies as a result speaks to their proficiency and prowess. The driving "Sweet Sinners," "Tiny Trees" and "Life of the Mind" find the band shoring up their strengths with a powerful punch, but even on the more tender tunes like the title track, "Of Course" and "When I Roam," the clarity and commitment is still apparent. The Lonetones make music that's beautiful, beguiling and consistently captivating, and with Dumbing It All Down they prove once again why wider recognition is not only due, but likely only a matter of time. Yes, their native Knoxville has reason to be proud.