Album Review
Dylan Gospel Revisited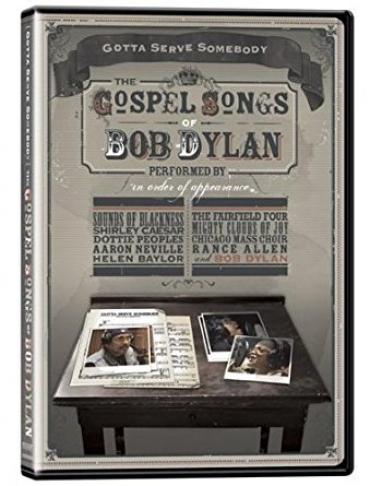 "I'd never been on stage before, and was looking out at the audience seeing people scream and cry and faint." Regina McCrary wasn't quite ready for the reaction to her live showbiz debut. Although she was an important voice in the proceedings, it was the guy in front who was causing all the commotion, not for his vocal performance but because of the choice and the moving quality of the material.
From '79- '81, it was Bob Dylan's decision to perform his own gospel compositions exclusively in concert. The material was gospel, but the band was a bunch of world class rockers. The band featured Little Feat guitarist Fred Tackett, Muscle Shoals Swampers Spooner Oldham on piano and Tim Drummond on bass, Billy Preston on organ, with legendary rock drummer Jim Keltner, who has backed artists from Carly Simon to the Stones with stops along the way for Jerry Lee Lewis, Steely Dan, the Bee Gees and Bob Dylan including the Traveling Wilburys. McCray was on board with a heavenly choir of backup singers including Clydie King (Skynyrd, Joe Cocker, Stones, B.B King.)
In 2003, that cast , and some additional gospel talent including Shirley Caesar, The Mighty Clouds of Joy, and a crossover visit from Aaron Neville, contributed to the Grammy-nominated album Gotta Serve Somebody: The Gospel Songs of Bob Dylan as well as a documentary of the same name. MVD is re-releasing the DVD on the 15 anniversary to underscore the release last November of Columbia Records' Trouble No More: The Bootleg Series Vol. 13 / 1979-1981.
The film opens with fuzzy footage of Dylan in Toronto in 1980 performing "When He Returns." It's classic Dylan delivery, like an asthmatic duck snarling virtually incomprehensible lyrics, but still riveting to watch and listen to. "What I like about Dylan is that he could care less about what people think or say about how he writes his music," Caesar says in an interview clip sandwiched between snippets of Dylan's performance.
There were rumors at the time that Dylan had converted to Christianity because of being ministered to by Pat Boone, but Dylan offered an explanation of sorts to an audience at '79 show, telling them his conversion began when he pocketed a small silver cross thrown onstage by a fan a year before on his Street Legal tour. "I need something that I didn't have before, and I looked in my pocket and I had this cross."
But as Caesar warns in another snippet between Dylan footage, "You gotta be careful how you present gospel, because if you don't present it right, they're gonna react as though it's in every kind of music, and it isn't."
She needn't have worried. Even though there are rockers in the room backing the material in most cases, every performance is firmly rooted in gospel. "He who dies with the most money and the most toys is still dead," Caesar comments between snatches of her performance of "Gotta Serve Somebody,"belting it out with a fire and passion that would have had the font pews smokin' in church, the choir softly moaning "Serve my Jesus" in the background as Caesar lights up the studio with her sermonette.
"Knowing you're out there touching people's lives meant more to me than just being out there making a living at singing," Dottie Peoples says, introducing "I Believe In You." Even though Peoples says this one can really touch anybody, it's message can serve as either a gospel declaration of faith or a secular love song. "I believe in you even through the tears and the laughter/I believe in you even though we be apart/I believe in you even on the morning after/Oh, when the dawn is nearing
/Oh, when the night is disappearing/Oh, this feeling is still here in my heart," Peoples moans as a soulful Mavis-like clone on the choruses with an Aretha-worthy scream or three breaking loose intermittently.
"Everybody needs a saving grace in this world we live in," says Aaron Neville, dagger tattoo glowing luridly on his cheek. "You're just a mere mortal human," Neville says between bouts of soulful yodeling on "Saving Grace" as Spooner Oldham lays down a soulful organ track around him. "You can't do it yourself. You try and try, but you ain't gonna make it less you have a higher power. Some of my buddies are either dead, crazy, or doing time."
Fairfield Four stands face to face grouped around 4 mics putting out an acapella version of "Are You Ready" that's as mellifluous as a pipe organ. Farifield's bassman Isaac Freeman says the key to delivering the message properly is to "just pay attention to the words and you forget about the beat and the music."
Mighty Clouds Of Joy lead singer Joe Ligon reiterates that message on "Saved," telling the video audience that he wants them to listen to the message: "If they just listen at the music, not the words, they'll miss it," he says. But that sentiment is hard to follow when the camera moves in close enough to see the holy spit flyin' as he testifies, guitarist Glenn Alexander draping soulful curlicues around him.
Although the track is credited to the Chicago Mass Choir, Regina McCarthy gets her solo turn on "Pressing On," softly murmuring "ummmm Jeezus" after she and the choir have dusted off the rafters with their powerful hymn of praise.
Rance Allen closes out the program, saying he's been praying all the week before he went into the studio, saying,' Lord Illuminate the room.' His prayers are answered, but he has most of the sweat equity in the process, lighting it up himself, his powerful baritone in stark contrast to Dylan's impassioned but tone deaf performance of the same song that opened the video. Allen works himself up the register and into a holy frenzy, voice crackling with emotion as he demands an answer to the question "How long can you falsify and deny what is real/How long can you hate yourself for the weakness you conceal ?" slumping against the back wall of the isolation booth having given his all for God, and Dylan. From the evidence on display here, we can assume that both are pleased by the overall outcome.