Album Review
Eight Diversified Cover Songs That Define This Fine Duo's Influences & Inspiration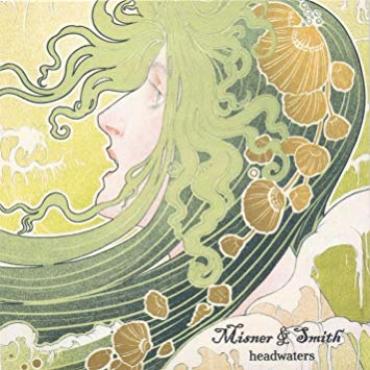 I must apologize for coming a little late to Misner & Smith -- I've had this CD "Headwaters," for quite some time and there are only eight delightful tracks here -- all covers and quite striking in their variety. So, this being the duos 2017 collection -- released I believe in October '17 -- is still worth the plunge. The collection contains eight covers that have inspired the duo through its career. That alone is worth the price of admittance because the selections are quite diversified and a world's away from others in some instances. 
It's like saying you're a folk singer influenced by Townes Van Zandt and King Crimson. That's quite a musical stretch. But you know, if you think about it you could be. King Crimson had some nifty little folky acoustic songs on their progressive rock albums like "I Talk to the Wind," and "Cadence and Cascade" so the possibility would be feasible. Only someone unfamiliar with that aspect of Crimson would think you're...crazy. 
The opening acoustic guitar on the cover of Paul Simon's "America," has a pleasant reminder of the opening guitar on Jerry Jeff Walker's "Mr. Bojangles." The note-perfect and spooky voice duplication of Simon & Garfunkle themselves are actually more impressive than dismissive because of its near-identical sound is that good. Did Misner and Smith capture the essence of the song? They not only captured the essence they bagged it. 
Up next they journey into Gram Parson's and Beau Brown's territory with "Return of the Grievous Angel." It's enough to suggest that if Gram were alive today he would be proud and pleased with the cover of this classic song. This was a tune written during the infancy of the interlocking tradition of folk-country and rock which was a new thing back then. And judging from Misner and Smith's performance the song still has legs --substance, charm, and vibrancy. The acoustic guitars are simplistic but this type of song is not a showcase for showboating. It's all about the melody and the words and ultimately the performance and it's all here. Emmylou Harris is hard to capture and duplicate but Megan does a credible job on this fine track. 
Even better is Neil Young's "Expecting to Fly," with rich acoustics and duo vocals more closely related to 60's singers Jim & Jean ("People World"), and the more commercial pop fare of Friend and Lover ("Reach Out of the Darkness"), Eternity's Children ("Mrs. Bluebird") and anything by the late folkies Richard and Mimi Farina (Mimi is the younger sister of Joan Baez). This style of singing is basically not in fashion today but there is an audience for such a song nonetheless. The charts are just not kind to artists in this genre. 
Patty Griffin's "Making Pies," features Megan and this is a fortified feature. Sam backs her up admirably as Richard and Linda Thompson once did, and Christine Collister was backed by Clive Gregson. The song is perfect for their album with its energy and seems to be a more compatible tune. There are moments where Megan sounds like the lead female vocalist of the fine folk band Sons of the Never Wrong. 
Not as well known as their other hits The Lovin' Spoonful's "Coconut Grove," is still highly regarded in folk circles. Written by John Sebastian and Zal Yanovsky -- the song sounds quite cool with Sam and Megan. The instrumentation is spare on many of these tunes but that's what adds to their individual charm. 
So, from John Sebastian, Gram Parsons, Neil Young and Paul Simon we glide into a folk cover of David Byrne and Talking Heads' "City of Dreams." Does it fit? Absolutely. And this is what makes this album interesting, challenging and delightful. The voices of Misner and Smith never overwhelm the songs or reconstruct them into what they shouldn't be -- but could be.
There is more strumming than finger picking and the primary instrument is often just the acoustic guitar. No drums, keyboards, banjos or saxes. Yet, because their singing is vital the songs hold together well. 
The Band's Robbie Robertson wrote "It Makes No Difference," and Rick Danko sang the original -- it's one of that group's signature songs. This is a premier Americana song from the early Band songbook. It makes sense for a duo such as Misner and Smith to reinvent it. Their voices blend very well over this rustic woodsmoke tune. It's also the longest track on their album and it never loses steam. Danko's version may be a little more angst-filled but the cover is true to the original. I'm not surprised this song was covered by this duo -- it's actually one of their best and it fits their voices. I'm also impressed with how they hold the entire hive of bees together musically with just acoustic guitar and no flash and solo. It's all musical, it's all vocals and the magic of the human voice -- male and female. 
The final track I'm unfamiliar with -- "Turning the Century," with its beautifully picked acoustic guitar and a deep bass giving the song a little more structure than the previous ones. The credits state the song was written by Toby Leaman and Scott McMicken -- Dr. Dog. Perhaps a more local band or group of artists I have not come to know yet. The song itself is solid in the same tradition as The Band. That alone gives it credibility. The separation of vocals between Sam and Megan is more pronounced here and beautiful. Their craft is polished like the marvelous Golden-Carrillo ("A Fire In New Town"). The guitars as they are performed -- should be applied to all their songs -- the brilliance is perfect. 
So, while this was an album of covers it still has resonance and despite its skeletal assemblage (which was done on purpose) -- musically it miraculously sounded polished and became effective. I enjoyed it. This, their fifth album, interpreted other people's songs with a natural, mannered and vital style. They are obviously very talented at interpreting other people's music and words. That alone is a talent. Just ask Elvis, Frank Sinatra, Billie Holiday, Nat King Cole and in folk circles Pete Seeger. Many people criticize artists who cover other people's work but these people have no idea how talented and creative a singer must be to take someone else's work and create reshape it to make it their own. Most just perform it the way the original demo or recording was presented. Misner and Smith started out with that on "America," where their vocals were interchangeable with Simon and Garfunkle -- but as they progressed their personalities blended every song with their own brilliance. It's work they can be proud of. 
The album was produced by Misner and Smith. The CD art was designed by Kyle Monhollen at 2407graphics, CA. The illustration was adapted from Henri Privat -- Livemont's "La Vague (The Wave)" 1897. 
Website: https://misnerandsmith.com/
Facebook: https://www.facebook.com/MisnerandSmith
Disclaimer: The opinions expressed in this review/commentary are those of the author and do not necessarily reflect the official position of No Depression. All photography is owned by the respective photographers and is their copyrighted image; credited where photographer's name or studio was known & being used here solely as a reference and will be removed upon request. YouTube images & music are standard YouTube license. 
John Apice / No Depression / August 2018*