Album Review
"El Dorado", Lauren Murphy - Where heart and renewal meet the river of time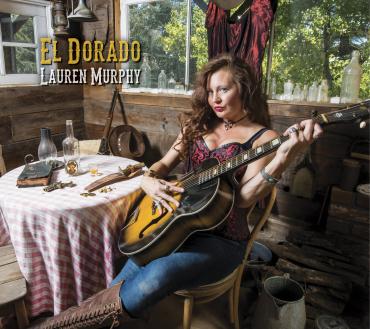 I should probably lead into what's likely to be a deep look into this extraordinary 10-song CD with something snappy, or possibly something erudite and intellectual.
I can't. Not going to happen.
Every song on Lauren Murphy's "El Dorado" hits in places that everyone who ever draws breath is likely to feel: maybe as a sudden flush of the cheeks, as a tightening of the muscles that control laughter or tears, or maybe in the pit of the stomach. Speaking strictly for myself, it hits in all those places and more. Emotional honesty, the real deal, takes a lot to ignore. Certainly it takes more than I've got. Reaction to the weight of that honesty, at least my reaction, is not likely to be technical coherence.
Okay. Now that I've got that first exhale out of the way, a few comments on the bigger picture.
First off, about Murphy's voice. I heard her first in 2006 with her band Lansdale Station, playing the opening of a music photography exhibit in Marin County; the photos were by Bob Minkin who, nine years later, also did the layout for this exquisite solo effort. The gallery opening party was noisy, a bit raucous, as such things are wont to be. Not the ideal place to really listen to music, but I remember her pipes, cutting through all that happy noise. They're something to be remembered.
Giving "El Dorado" my second straight listen, I realised what her voice was bringing to mind: a young folk singer, back in 1963. My father brought home an LP and dropped it on the turntable, and there was this voice, good lord so soaring and clear. At nine years old, it twisted my spine and heart for me. Once heard, never forgotten: Oh the name she gave was Flora, the lily of the west...
Lauren Murphy's voice took me back to the first hearing of Joan Baez. It's not that the two voices are the same, but rather that Murphy's voice hit me like Baez's voice did. She has more smoke in her voice than Joan's had or has, and just enough less detachment to make damned sure that when the lyrics make her bleed, you're going to bleed too.
Now, about the production on "El Dorado".
The line between "spare" and "sparse" is razor thin. For me, the difference is in the execution; spareness takes it down to the minimum of what's needed, while leaving all the meat on the bone, while sparseness cuts away everything, including hunks of the bone itself. I admire any engineer or producer who can offer their ear and their touch in complete service to what the artist needs, and carry it through. "El Dorado" is beautifully spare, and it's exactly what was needed.
Considering the root of this CD's existence, it would have been easy to go for pathos, overproduction, a Grand Ole Opry touch. It would have been candy store tempting to add lushness, strings, to jerk the listeners' heartstrings. It would have been easy to use production to manipulate.
Instead, we have an album where the passion is left to Murphy to share, through her voice, her lyrics, the small core of excellent musicians who support and nurture the songs, rather than embellishing or swamping them. The production calls to mind one of my favourite albums by anyone, ever: Ani DiFranco's "Dilate".  "El Dorado" is as spare as it's humanly possible to get, but it doesn't skimp and it's never sparse. Certainly it's never never overproduced. This is a perfect balance: no excess fat, but all the meat still on the bone.
With the production comes the choice of players, and again, Murphy did it right. Brilliant multi-instrumentalist Will Kimbrough joined the best of Northern California, Mark Karan, Jonny "Mojo" Flores and bassist Paul Olguin among them. They hit Prairie Sun Studios and came together for a fantastic result.
Now let's talk about the songs themselves, and the lyrics. Let's talk about the history that brought "El Dorado" into being.
Many music fans are well-acquainted with Zero, perhaps the ultimate jam band. Founded decades ago by drummer Greg Anton, Zero has hosted a Who's Who of great players: from John Cipollina to Steve Kimock, from Martin Fierro to Bobby Vega, damned near anyone who was anyone has sat in with Zero. If you're not familiar with the band, I'd recommend you go get a copy of "Chance In A Million" and buckle up - it's the hell of a ride. My personal favourite on that one is the mindblowing goodnatured piano duel between Pete Sears and Nicky Hopkins on "Mercury Blues", but the entire album's a corker.
A core member was lead vocalist Judge Murphy. His voice, with its underbite of coal and gravel, gave one of the most sophisticated jam bands ever to take the stage a vocal presence. Considering the strength and power of some of those Robert Hunter lyrics, Zero needed the heft. With Judge Murphy, they got it.
In autumn of 2013, after a wrenching heartbreaking road that included liver cancer and a transplant that offered the brief promise of a second shot at life, Judge Murphy died. He left behind his partner, not only in life but in music: his wife Lauren.
Her way of dealing, of coping, of healing and rejuvenating and finding new strength while honouring those memories, was to write, to play, to sing. In the months before he died, Judge wanted to hear her, playing and singing for him, and she did just that. He lived long enough to hear the ghostly, beautiful title track: a double entendre of a title. El Dorado refers to the mythical City of Gold chased by explorers and conquistadors for centuries. It also refers to the Northern California county where the Murphy family had moved, in hopes of a post-transplant life that, ultimately, proved to be as unobtainable as the mythical city itself.
The title track is one of a few standouts in a spectacular 10-song set. Another is the beautiful "Snow On The Dogwoods", with lyrics evocative of taking a breath, just being there, being alive in the here and now, even if tomorrow would mean a different and sadder story.
But slowly, eventually, the snow melts, and the first warmth of spring shows up. That's echoed in the hope and acceptance of "Love Again". Containing portions of the psalms read at Judge Murphy's funeral, the song is a statement about the resilience of our own humanity: love is not something to fight for, but a simple gift, even if, sometimes, you have to relearn how to do it. It's a beautiful concept, beautifully constructed. It's a beautiful song.
The CD's closer, "True", encapsulates a different flavour of regret. Martin Fierro, Zero's legendary sax player, died in 2008. "Meester", as he was called, was beloved by many, and his death left Zero's fans and family in deep mourning. In an uncanny moment of lyrical foreshadowing, Lauren Murphy wrote "True" not about Judge's illness and loss, but about Fierro's.
Oh, something else "El Dorado" has: tough, tough mamas. The CD, much to my delight, is awash with them, from "For Love Of Texas Ellen" ("oldest profession in the world") through "Renegade Rosie" (whom Murphy describes as her alter ego), with a few kickass stops along the way. Ryan Scott provides a ballsy trumpet on "The Ballad of Booker & Honey", with Murphy flexing those pipes of hers with some serious raunch. Dave Zirbel's wailing and occasionally chilling pedal steel laces through the CD like the wind in the distance. It's good, good stuff.
The CD also boasts an up-tempo and unforgettable cover of "The Dreadful Wind And The Rain", America's incarnation of the classic Scots murder ballad, "Cruel Sister". Murphy's version is a take-no-prisoners, "listen up!" take on the song that combines classic Americana exuberance with the nicely macabre story of the jealous sister and the harp that won't let her get away with murder.
There is so much going on under the surface on "El Dorado", so much to absorb, so much to feel and react to. And yet, everything about it is as crisp as laundry drying in the spring breeze, as clear as the runoff from the snow melting from the dogwoods, as hopeful and simple as the first lilac as the weather turns warm. It's not merely a chronicle of one woman's loss. It's about hope, redemption, empowerment.
"El Dorado" is available online at cdbaby.com/laurenmurphy2