Album Review
Emily Triggs - When Guinevere Went Under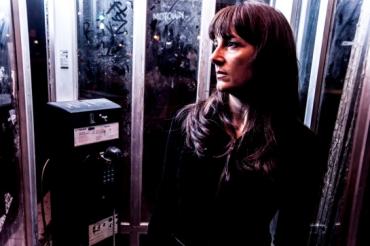 If you don't know Emily Triggs, you should.
You may not recognize her name, even if you live in Calgary, where she's had a long and productive career already, because she's been spending all of her time in bands like Magnolia Buckskin, The House Doctors, and The Fallen Angel Band. This year, she finally stepped away from those projects to record her first solo album, When Guinevere Went Under.
(Photo courtesy of Kenneth Locke)
Texas blues, Appalachian folk, French Canadiana are listed as Triggs's influences. Sure. Those things are there, but what I like about this album is I can't say Triggs is directly affected by anyone. She sounds new. That's pretty hard to do in an anyone-can-make-an-album world that privileges originality.
One original thing about Triggs is she's a confident singer. That suggests most of the people I listen to aren't confident singers, and actually, I have to agree with myself on that point. Emily seems to have a good understanding of her range, what melodies are suited to her style of delivery, and an ability to make her voice memorable without ever resorting to throwing it in your face. She's all about subtlety. How many singers can do that on their first album? Maybe this is the result of growing up in a musical family (her father is long-time Canadian folk musician Stanley Triggs) and performing since childhood.
Her originality continues through song themes that challenge the dominant singer-songwriter narratives so often employed by her colleagues. Her tendency toward sympathetic narrative governs the album – songs like "Home" and "Border Town" are just two among many – and listeners might feel like they stepped into her intimate thoughts without actually being intrusive. Love, of course, is a theme (a hard one to avoid for songwriters), but it's a largely positive force on Guinevere, with songs like "Domesticated Miss" and "Cowboy Rustler" talking about giving in to bliss. Breakups do make an appearance, but even here Triggs refuses to rely on cliché, opting for humour instead, like in "Suicide Blues":
Well I stole his dog
Javex'd his plants
Deleted files
And I scattered his clothes for miles …
What's a simple girl to do
When she won't sit at home
Crying those suicide blues
Musically, Triggs rustled up a good cast of side players: local Lorrie Matheson took on a number of instrumental duties alongside producing and recording in his studio; Chris Dadge  did drum duty and Chris Byrne and Mike Little play the majority of the lead parts. Triggs's Magnolia accomplices showed up for backing vocal duties, and Cathy Billington and Laura Reid did violin tracks, making the first tune, "Home", an epic, opening promise for what's to come on the rest of the album.
Emily Triggs is holding a CD release tomorrow night at Wine-Ohs in Calgary, which is sold out. Check out upcoming dates and buy the disc on her website. You should definitely know about her.