Album Review
An Enchanting Swirl of Thoughts and Feelings from Scott Matthews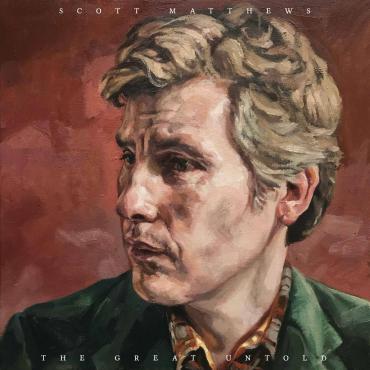 Scott Matthews may not be a name familiar to many No Depression readers but he certainly deserves recognition. Over his five studios albums, this Ivor Novello Award winner has woven strands of the long British singer-songwriter tradition into his own unique style and now, with his sixth album, The Great Untold due for release on April 27, he takes this fusion to a higher level. Having started off as solo acoustic, Matthews added layers of sound to his work but in The Great Untold he returns to his roots with an album of intense purity.
This is not an easy listen but then those records that require effort do tend to be more rewarding. It is mainly little more than Matthews with guitar and his dreamy voice. The pace does not change much; there are no great peaks or troughs but in a way that adds to the sensation. There is a sense of introspection but with fatherhood beckoning there is also a sense of apprehension, almost awe as he contemplates another life. He does manage to emerge from his deeper soliloquies.
Matthews comes from Wolverhampton, better known musically for Robert Plant with whom he has toured. However, he has been compared to John Martyn, Bert Jansch and particularly relevant to this new record, Nick Drake. As Matthews admits when he is writing he can hear voices from the Masters and he asks himself, "would they approve?"
On the strength of The Great Untold, yes they should. The title track opens the record with its swirling yet sparse piano notes and gentle chords. Like a dawn mist rising Matthews too billows gently into this breeze. He sings of an unborn child, "inside a baby grows/outside the great untold". It's a beautiful introduction to the record.
The ethereal feel deepens on 'Lawless Stars', aptly named as Matthews lets his voice soar then he vanishes into the distance. Nick Drake certainly springs to mind on 'Silence', a piece about regaining equilibrium from the chaos of modern life, "slow the pace/and stop the clock to the daily race you'll never win/and find a space to reassemble any hopes misplaced". Good advice.
Matthews is not just about introspection. His fluency is its most sensitive when directed outwardly. 'Cinnamon' is the album's best example of pure love, in all its forms, and oozes sensuality.
Gently picking guides 'As The Day Passes' where Matthews muses on not ruminating over what might have been but look forward, "as life passes by your eyes there's nowhere else to look/to forgive is not a crime.."
Through the serenity of these songs there does appear a tension between seeking escape from the rigour and pace of life and settling on an alternative. "Song to a Wallflower" tries to offer some direction but does not really reach much of a conclusion while "Daydreamer", is another perfectly titled song about a life lived emptily with little means of escape, "when you sleepwalk on the sand/and time slips through your hand".
'Chapters' closes the album. A mournful harmonica accompanies thoughts of connections between people, over distance, anywhere. These must not be broken.
The Great Untold veers close to the soporific at times, certainly by the end you do feel, "did I dream that?" But dream or not, Matthews has a beguiling style that is suited perfectly to songs of love, reflection and belief in hope.