Album Review
Evie Ladin Has Fun with Her Down Home Designs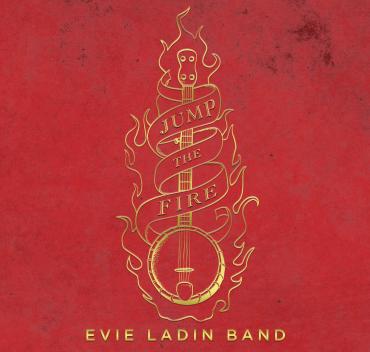 Evie Ladin seems to have come about her abilities naturally. The daughter of a dance teacher and folk music devotee, she shows her acumen for replicating the sound of old time mountain music, specifically, a sound that could have been birthed a century ago in Appalachia. The songs are simple, snappy and engaging, even though they offer little in the way of contemporary embellishment. Clawhammer banjo, guitar, bass and percussion provide the bulk of the instrumental additives, giving the sound an authentic old fashion feel that offers minimal concession to any modern musings.
With Jump The Fire, Ladin and her band -- Keith Terry (vocals, bass, percussion) and Erik Pearson (vocals, guitar, bass, banjo) -- maintain an uncomplicated approach that maximizes the charm and minimizes any unnecessary fuss and clutter. And while the music emulates a sound of vintage variety, they cleverly quote some songs that will capture the attention of those who might be partial to pop. "Ease on Down the Road" combines the pluckiness of the traditional folk song "Down the Road" with the title tune from The Wiz, "Ease on Down the Road." The striking "Have It All" starts off simple enough before liberally quoting from songs by the Stones ("You Can't Always Get What You Want"), and Badfinger ("Come and Get It") in what can only be described as an unlikely back porch mash-up. 
Still, the most striking element about Jump the Fire is the banjo plucking, knee slapping Ladin herself, a saucy chanteuse whose seductive prowess makes songs like the suggestive "Heat of the Day," the carousing country song "Drinking About You" and the clip-cloped "Walking in a Straight Line" nothing less than a a homespun hoot. This particular Fire emits plenty of down home heat.