Album Review
Exceptional Singer-Songwriter With Poignancy & Power -- Lyrically & Melodically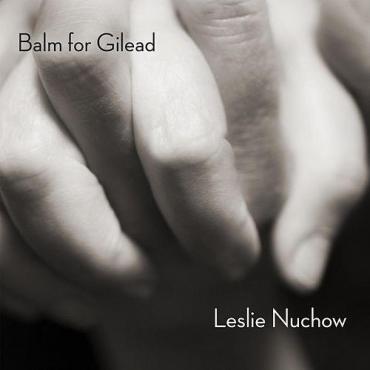 I was listening earlier in the day to Mary Chapin Carpenter, Shawn Colvin and The Refugees (Wendy Waldman, Cindy Bullens & Deborah Holland) so, when I came to this CD review and had to write something intelligent about it – I was primed for it.
Leslie Nuchow's deep, emotional and strong vocals blend seamlessly into the vocal performances of those fine artists and it was becoming such a perfect day of listening. Sometimes we believe rock music is history, but it isn't. We believe there are no more Joan Baez-type singers, or Emmylou Harris, Joni Mitchell or even Melanie Safka's. But, while the wait is a long one, it can be said that there are female singer-songwriters out there who are mining a vein of music that continues to be classic, traditional and with a resonance that has its threads still tied firmly to those artists. (Who in their day, were tied to female artists even earlier). 
Balm for Gilead is a well-recorded document of songwriting perfection, both written and performed. On "Rivers," the emotionally wrought cello of Sarah Hewitt-Roth supports Leslie's intense vocals beautifully and the short tune becomes instantly, expressively memorable. But this is just a sample of things to come. One of the most well-crafted of the tunes in this collection, because I keep coming back to it, is "I Don't Want To Die Before I Die."  The use of the mass backing vocals is overwhelming. It makes me think of the dynamic Cindy Bullens solo songs written about the passing of her 11-year old daughter from cancer, "As Long As You Love," "Better Than I've Ever Been," and "In Better Hands." Leslie seems to be able to pull the same powerful attraction to melody, songcraft and poignancy as Cindy does in her own "An Eye For An Eye (Will Leave theWhole World Blind).
Her consistency is real. Leslie has a diversified band of musicians who support her: Seth Farber plays piano, Paul Adamy the majority of bass, Clint de Ganon is on drums, Marc Shulman provides electric guitar. Lots of backing vocalists – very effective I may add. With "Angel, Dear Angel," – Seth provides some fine melodic accordion. Along with these fine musicians is Ira Siegel on acoustic guitar. This particular song is short, but it's one of the most pleasant and memorable and it's nice to know Leslie has the instinct to know that sometimes less is more. 
Just when you begin to believe Leslie doesn't rock hard enough, track six thunders in with driving drums, piano and Leslie's vocals are full throttle on "Marrow."  Leslie utilizes her vocal prowess wonderfully, low tones, high tones, whispery at times, dramatic in small doses, and her showcase is well-measured and never bombastic. She is in full command of her performance and thus far her songs are all arranged impeccably.
From steam engine to tea kettle Leslie sings a classic Cheap Trick song "I Want You To Want Me," and this time the rocker is a bit like a slow dirge, middle-of-the-road arrangement with just piano and vocals and…. the song takes on a new urgency and power.
This is why music can be so interesting. Her interpretation is lovely and she doesn't compromise the song's original rock power. Instead, her sincerity rises above it all. She shows many more sides of the tune that many listeners of the original may never have envisioned or even imagined. This is artistic -- but, this also required somewhat of a leap of faith. With Cheap Trick's version, you want to stamp your feet and be aggressive in your love appeal. With Leslie – you feel compassion, strength and Leslie articulates it with every breath in the lyric. I think even Cheap Trick may have learned something from this. 
The traditional "Union Miner," features Paul Woodiel on violin and Ira Siegel on acoustic guitar. This turns a page in that here Leslie's voice shows a richness in old world folk music. Her voice becomes rural, with a blend of wistful Americana and an ebullient blend of Carter Family richness. This leaves Leslie in the arena of diversity few singers possess. She could produce an entire album of roots music and she would be a rousing addition to the house of Emmylou Harris, Iris Dement, Nanci Griffith, Holly Near and Cris Williamson.
Leslie is obviously not afraid to record her vocals spare with just a piano, but here on "Nothing," she sings solo with just drums. Daring, to say the least, challenging and quite good. Clint keeps the hammering just below Leslie's vocal, but his presence is as important as any other instrument. Now I hear Leslie pushing the envelope of world music because this has been done before but, her take is stirring, it's an open circuit. Her vocal is excellently suited in its whispers and strength. Very beat-generation in spirit but, not retro at all. These are not bongos. Clint's accompaniment is solid and provides quite a percussive mood with lots of ambience. Drums are not musical? Think again. 
Leslie, alone at the piano sings a beautiful "Thank You," – and this type of song reminds me of the brilliance of the late Judee Sill ("Jesus Was a Crossmaker") and how Judee used to form her words so perfectly with the notes she played on her piano. Her most memorable live performance was "The Kiss," which is still a very moving performance (available on YouTube). If I were a disc jockey, this Leslie Nuchow song would be played right along side "The Kiss."
Upbeat and driving, Leslie returns with "Be Here Now," and it's energized. Excellent backing vocals, and Leslie's mix of high and low notes, intonation, and phrasing is impressive. This is a tight little band that has a great sound together. Leslie seems to be able to sing with no showboating yet, her style is almost always impressive. No two songs sound the same on this fine album. Leslie's approach is well-thought out, paced excellently and performed as needed with equal amounts of vim, vinegar and sugar and spice.
Pianist Seth Farber produced this 14-song collection and with "I Wish," he opens with some gentle piano notes as Leslie comes in on a breeze. Her ability to become one with her song is excellent. This song is on a par with Mary Chapin Carpenter's "This Shirt," another special tune that reaches down and comes up with well-fueled storytelling. This is probably the most powerful song in the entire collection – and this song alone is worth the price of admission.
Closing the album should have been "Thank You," in my estimate. But, Leslie's touch on the ancient New Year's song "Auld Lang Syne," is rendered beautifully here. Soft Seth Farber accordion and an engaging presentation – the tune is an excellent conclusion for any late-night disc jockey. Leslie's vocals are, as usual, radiant. These people playing with Leslie know how to pull a tear from your eye. Will we come back to another Leslie Nuchow album? I know I will.
The album was recorded in Glen Cove, New York and the beautiful CD design is by Marina Brolin Design. It includes a handsome lyric booklet. CD Cover Photo: Suzanne Sutcliffe Photography. Back CD Cover Photo by Emily Hartzell. Job well done.
For more information about Leslie take the time to refer to No Depression's Americana Lady's fine interview below. 
Website: http://www.leslienuchow.com/
No Depression's Americana Lady Interview: http://nodepression.com/interview/interview-quiet-power-folk-artist-leslie-nuchow
Soundcloud: https://soundcloud.com/user-278691430
FaceBook: https://www.facebook.com/profile.php?id=100010341014751
Disclaimer: The opinions expressed in this review / commentary are those of the author and do not necessarily reflect the official position of No Depression. All photography is owned by the respective photographers and is their copyrighted image; credited where photographer's name was known & being used here solely as reference and will be removed on request. YouTube images are standard YouTube license.
John Apice / No Depression / March 2017