Album Review
Extending the Family Circle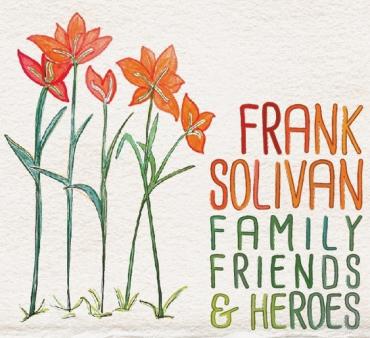 On the aptly-titled Family, Friends & Heroes (out March 4 on Compass Records), mandolinist Frank Solivan shows why one of the rising stars in bluegrass circles deserves a higher profile in the wider world of Americana. The leadoff track alone could accomplish that, as he teams with the legendary Del McCoury on a deft reading of Roy Orbison's "Pretty Woman." Powered by the fuel-injection banjo of Mike Munford from Solivan's D.C.-based Dirty Kitchen band, the arrangement takes a sharp left turn into an instrumental breakdown of "Day Tripper," shifting into higher gear in the process.
After such a bravura beginning, the rest of the album can't sustain such momentum, but the 14-cut selection showcases the range of Solivan's nimble virtuosity, the warmth of his vocals, and the enthusiasm engendered by this musical reunion of blood relatives and kindred spirits.  The emotional epiphany features Solivan's late mother, Lorene, on the bittersweet balladry of "Wayfaring Stranger." 
A few of the selections have a Caribbean lilt, but the strongest fare generally sticks closer to home, as the stately waltz of "Put Me in Your Pocket" and  the timeless "I Still Miss Someone," with vocals by cousins Megan McCormick and Teresa Michel respectively, reinforce the spirit of a family singalong. 
With Jerry Douglas, Sam Bush and Ronnie McCoury among the luminaries providing instrumental interplay, Solivan shows that these are not just bluegrass idols, they're peers.