Album Review
Extra Large Pizza Tapes Serve Up Tasty Seconds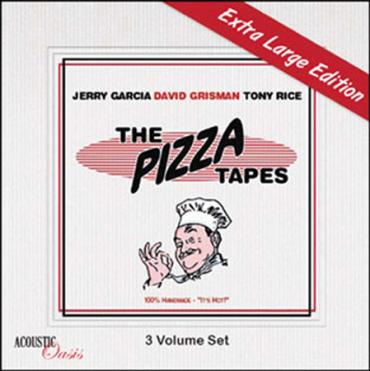 As the story goes, The Pizza Tapes, originally released in 2000, got its name after a pizza delivery boy lifted Jerry Garcia's copy. That the enterprising crew found the name amusing speaks to the conviviality of the sessions, as warm and intimate as an informal living room jam.
That loose and rolling banter has always distinguished The Pizza Tapes, and you get plenty more of it here on the 3 CD Extra Large Edition. Specifically, "16 previously unissued alternate takes in addition to the original master takes in their original sequence." Taken on the whole, now more than two decades later, you get a different sense of the sessions, something that looks less like the cult bootleg it once was, and more distinctive: a perfectly preserved time capsule in the careers of three legends of roots music, and a portrait of how the folks walking those byways can link up as easily as they drift apart.
David Grisman was the force that brought it all together. The jam, held at his Dawg Studios over two nights in early February 1993, connected him with Tony Rice, co-founder of the David Grisman Quintet and with whom he had just started work on the album, Tone Poems, and Garcia, a partner and friend from the Grateful Dead, Old and in the Way, and his various Dawg ventures. It wasn't as noteworthy that the three had found their way into the same studio as the idea that it was actually the first time they had done so.
What's interesting today, in light of a recent profile of Rice in the New York Times that paints a somber portrait of his health, is whatever insight might be gained from his participation here. In the promotional photo, he looks sharp in a button up oxford and blazer, flanked by Grisman and Garcia in t-shirts and gray beards, their standard uniform of the time. Rice was in excellent flatpicking form these sessions, though his voice was on the decline, and he has since stopped singing publically, and has cancelled most of his recent live dates. 
Yet it was Garcia who did the singing on The Pizza Tapes anyway, and a lot of the talking, too. Tinkering with Rice's famous 1935 D-28 herringbone at the end of Disc 2, Garcia says, "This is a beautiful instrument. You make that sucker sing. But hell, you sound good on everything." (He goes on to request a Snapple and a shot of Slivovitz. "I gotta get something to drink," he says. "My mouth, cottonball city.")
Rice pipes in, "I'll have whatever Jerry's drinking. Wherever he's going, I want to go, too."
And off they did go, exploring a suite of "Shady Grove" jams, riffs, and run throughs—"Garcia's favorite tune," Rice said—preceeded by a handful of variations of "Man of Constant Sorrow." That old classic, nearly a decade before it reached new ears via Oh Brother, Where Art Thou?, shows the trio was just as interested in the traditional bluegrass songbook as in exploring their newfound dynamic as a group.
"This is such fun," Garcia says, often, yukking it up as he and Rice tune up to "Nestles Quick," which prompts Rice to pluck out a jingle of his own.
At some point, Rice puts a towel on his head. In an interview, Grisman said later, "Tony is really something. When he got really into it, he put this towel on his head. We have no idea why. He's a strange bird. It was understandable at the time. It was one of those unique events."
It's that picture of Rice, a revered bluegrass professional dubbed "quite probably the most important living bluegrass guitarist," that captures the spirit of these special sessions. For those attuned to its magic, The Pizza Tapes stand as a reminder that when you get invited to those unique events in life, you RSVP, you come, and you play. Because you know it'll be fun, and you never know when you'll get your next slice.