Album Review
Extraordinarily Original Canadian Singer Offers Diversified Intriguing Set of Country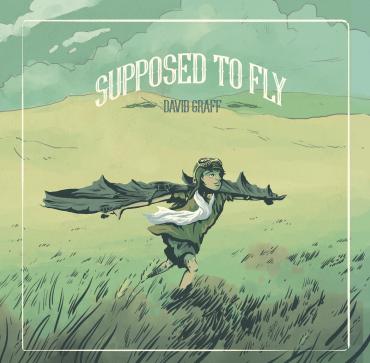 Sometimes a voice that is not your run-of-the-mill cookie-cutter, basic angst-ridden, whiney singer-songwriter wimp by degrees is a welcome relief. Ok, David Graff is not a powerful singer – he's not the late Jim Morrison, Elvis Presley, deep as Leonard Cohen, multi-octave Tim Buckley, or dramatic Tom Jones (Jones being the only living example here). No, he's none of these. What he is, or what I should say – what he does have is this: an engaging lead voice that follows a path to good lyrics presented in an attractive pleasant showcase with a high-pitched folk voice. If you can't have Mario Lanza, you must settle for Andrea Bocelli.
Graff knows what words to accentuate in his songs and it helps to put just the right shades among the colors. The first song "Blue," off his latest album Supposed to Fly is basic in structure and is nothing revolutionary. But it is well-played and it's accessible. Former drummer Graff reactivated his career in 2012 after being a visual artist and began performing again. As the PR outlines – he has started a new chapter.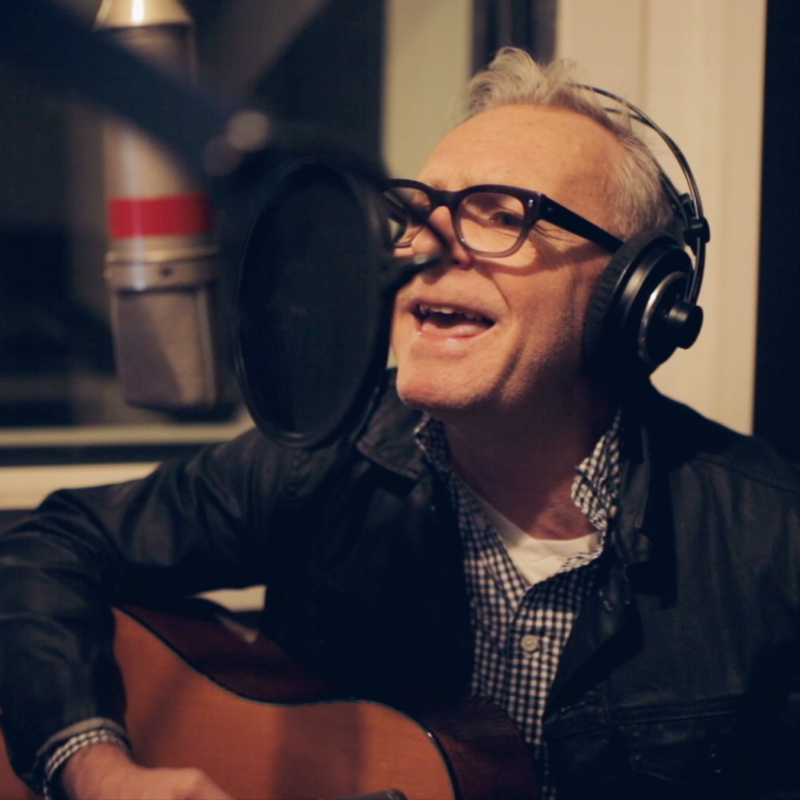 Track two "Another Way to Hurt Me," also follows a basic recipe of country with lots of fiddle. Nothing to analyze but like any good country song it has a relaxing feel, a down-home welcome with feet up on the grocery store wood burning stove. This has been done by others, but when it's done right it always sounds like it's for the first time. A well-arranged band with David's uninhibited vocals follows somewhat in a Jerry Jeff Walker tradition without veering too much to the quirky left of Jimmie Dale Gilmore. Graff has an arresting blend of country and hillbilly charm that is at times, borderline commercial in that it could catch a radio station ear. Maybe not a commercial country station with leanings toward the pop country of Taylor Swift but, perhaps college alt-country radio -- where Graff would be more "Taylor made" (pun intended). 
But, by track 3 the warm-up has done its work and the beauty of "Watch Over the Ones I Love," takes hold of a listener's ear. This song is excellent with melodic banjo picking and a fine David Graff vocal. It has a nice inspired and ambitious polish. This could be the one to go successfully through the single route. Nice Spanish-horns (arranged by Julia Graff), subtle, laid down with a pedal steel (Steve Dawson) and a smoky vocal a note or two below gritty. And that's good – it adds the necessary sincerity. I love it when a song has power without being loud. It's well written, confidently performed -- it sparkles for the entire 4:23. This is a song about losing a loved one and it's sung like it was a prayer.
Graff continues with strong melody on "Suzanne," -- a harmonica leads the tune with acoustic guitars that replace the banjo and David goes into a different gear. A higher voice but always in control. As all Graff's songs the musicians play proficiently and the addition of a female backup vocal on the lead adds able support. It's a lightly swinging song but easy to like. Everything is relatively simple and that's basically the magic of Graff's showcase. The song itself is that standard subject – a man trying to convince a girl he likes that he is worthwhile.
With a bit of a Don Henley-Danny Peck vocal feel to this one, the title track "Supposed to Fly," sounds very-Eagles in tradition. It isn't imitation because to my ears this is even better than any Eagles composition. For me, the Eagles, excellent and capable musicians, always had tunes that were well-played, but they always reminded me of something else I had heard before. So, their stock was never high with me as songwriters. Graff is in a genre the audience is familiar with and he does so with a solid musical identity. In addition, the female vocal and violin elevate the song above a basic commercial Eagles song. It erases the California-antiseptic feel and maneuvers a roots-Americana, homegrown path. Some elements are autobiographical – a look back on life on what was or could have been. There's no need for drama and Graff knows this. No big words or complexities. Everything is balanced, smart and efficiently. This is quite a good, a serious and memorable song.
Some songs in this collective border on a swap at Steve Earle whether Graff is aware of it or not. "Home," is one such song with the Leon Russell-warm piano (Mike Kenney) surrounded by fiddles and acoustics. Silly references to Netflix diminish the seriousness for me because I know how such things can date a song decade's later – especially if no one knows what a Netflix is or was. I would suggest always using generic strong terms like movies, films, picture show, etc. But Graff manages to infuse the song with a little smoke without sounding too gruff. Maybe in a few years, he will be in that Buddy Miller/ Jon Dee Graham club. But for now, Graff has enough quirkiness to keep Lyle Lovett fans interested.
Continuing with a slightly gruff voice, dusty and in a more Harry Nilsson tradition is "The Only One I've Got." Harry wrote many funny, comical songs but he also included one or two strong, serious and beautiful tunes. This would be that song. If Harry had turned to a more country career this could be what he may have written. David Graff has captured it. Graff has no corn in his country – the only corn he has is what's in his sour mash. This one is a good blend.
I have this next track with an asterisk – that means it's a big winner. Masterful banjo picking dominates "I Love My Truck," and it starts strong with jabs and uppercuts in this ensemble tune. Good lyrics and again -- a bit Steve Earle inspired. It has a great guitar lead line over the rhythm section and the female vocal and combination of violin and banjo are arresting. This is a gin and juicy moment, pure jukebox fodder and handclapping addiction. This is my favorite song from the whole collection and I don't even drive a truck, but this is going to be a truck driver's favorite – if they only get to hear this. Everything comes together, and the serious performance is light-hearted with tight picking and intense playing. It has a determined drive. Put up a new dartboard because this song has all its darts dead center in the bullseye. Drums, lead guitar, banjo – all of it mixed at the end magically. Bravo.
Graff doesn't let up – another winner comes fast and furious with "Best Bar in Hell," – what a great title too. Keep Bruce Springsteen away from this one because he will steal it. So, coming hot on the heels of the bonfire that was track 8 – David Graff comes back with a slow tune that smolders and resonates. Harmonica and lead guitar are perfection. The accordion (Julia Graff), and female vocals frame David's deeper vocal with poignancy. The guitars and harmonica are wicked beautiful. This shows some serious diversity and it's a first-class country song. Nashville and Austin could not have done better. The CD deserved to have a lyric sheet insert especially for a song like this which I would've sung along with. It's a positive, unifying, powerful performance. Bravo #2. (Those don't come too often).
What? A third win in a row! Though his voice has some added echo for atmosphere Graff sings "Can't Trust That Woman After Dark," – and explores a cautionary tale of how certain women go off the rails with too much drink. Country legend personified. They don't sing about this too often on commercial country nowadays. It's different and that's what makes it shine. The switch in vocal style is refreshing and it shows Graff as a savvy, smart performer who understands pacing. He manages to maintain his quality, energy, and creativity throughout. A Roger Miller type rollicking number that is sure to be an audience favorite.
Slowing down for "Each Little Kiss," -- this also is a winning tune. Graff's voice reminds me a little of a singer-songwriter who was very successful in the UK and penned similar songs like this throughout the late 70's and 80's – Phillip Goodhand-Tait. To many Americans, his name does not ring a bell but to many English singers (Roger Daltrey of The Who is one, and American Gene Pitney) they have mined this man's catalog: "Ocean's Away," "Leon," "One More Rodeo" & "Back in the Asylum." All first-class songs and quite the "cousin" of David Graff.
A nice country-rocker in "Tough City," despite Graff's limited vocal range. He does manage to sing competently in this more energetic effort with banjo notes (David Barber) peppering the tune. This is quite a cool transition – the addition of a little organ in-between the country instruments are precise and charged. Another easy to like melody. Lots of tradition in the performance.
The final track veers off into an entirely different musical neighborhood. True to the PR the addition of the piano, tempo, decorative lyrics, and warm David Graff vocal, he walks the ledge between progressive rockers Procol Harun and Strawbs deliciously. "Vapour Trail," is quite impressive in its diversity because usually an artist like David Graff wouldn't take a chance to tempt a more progressive folk-rock genre in this era. The lyrics are deeper, more profound, airy, and the music is more intense and filled with a little more drama than usual. UK guitarists Richard Thompson and Clive Gregson – who work out of Nashville today -- usually tread this territory today.  It usually requires igniting razor-sharp lead guitars and musical identity. The drama here is only at the finale and it is profound in an almost progressive rock-lullaby manner. It is excellent and refreshing. It's Cindy Fairbank's organ work that takes off into that Procol Harum prairie, Graff flies with it as well – albeit, it certainly adds a lot of dazzle to this fine performance.
The 13-track, 55-minute album was produced by Julia Graff and James Perrella with the string and horn arrangements by Julia Graff (David's daughter). All songs were written by David Graff. There were multiple musicians involved with this project and they all performed flawlessly and proficiently. The CD artwork is an illustration 4-panel and layout was designed by Joe Latham at lookhappydesign.
Website: http://davidgraffmusic.com/go/new-album/
Spotify: https://open.spotify.com/album/1ZoG90MRiIUAYtDbKZ2cVq?si=XXKK2uBXTHC1zWkgkXyCvA
Facebook:  https://www.facebook.com/DavidGraffMusic
Disclaimer: The opinions expressed in this review/commentary are those of the author and do not necessarily reflect the official position of No Depression. All photography is owned by the respective photographers and is their copyrighted image; credited where photographer's name was known & being used here solely as a reference and will be removed on request. YouTube images are standard YouTube license.
John Apice / No Depression / October 2018