Album Review
The Eyebrows release Volume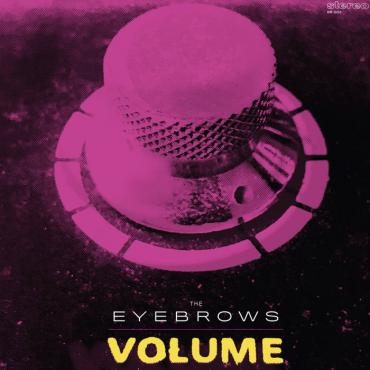 The Eyebrows release Volume
Volume, the first album by The Eyebrows whose name comes from a Frank Zappa quote: "The computer can't tell you the emotional story. It can give you the exact mathematical design, but what's missing is the eyebrows." But that's not they only way they're influenced by him, as the songs tend to be all over the place with his type of variety but leans a lot more on pop than Zappa's jazzier leanings. But the groups he influenced later-on, are more of what make up the results of their sound. Coming out of a couple of other local bands, Jay Garrigan and Shawn Lynch are teamed with Darrin Gray for these ten songs.

"Red Dress" is an instant classic if I ever heard one, and so is the next cut, "Not The Same." The album was produced by Mitch Easter, and that might help explain why and how their sound is so familiar. It's a second to none mix and mastered effort, so it's no surprise if you're used to his work with bands like REM and others. "It Comes Down Hard" is one of the four best cuts, as it starts to get a little heavier handed singing about peeping Tom's and other weights of the world. The song is all about the casualties of irony, and it's defined in some of what are also the albums best lyrics.

"I Feel Unloved" can be amongst the top or the bottom of the barrel here, often competing with "Suicide Love" for its place but in the middle, you get a big slice of "Avocado" comes in like a good snack and it's actually-one of the more delightful pieces on offer. But, all three of said tracks are equally well written, produced and arranged with a memorable quality. And then the mood changes again on "She Can't Stand Me" for yet another fresh moment with a lighthearted track to balance out the album with some fun-loving stuff that ranges somewhere in the Robert Smith style of songwriting.

"Pent Up Things" is one of the most emotional and guitar searing tracks, followed by another favorite pick for me with "The Sun" taking it over the top in the lyrics department with a track that holds its own with the best of them. If anything can "kill us all" it's the sun indeed, and you get where it's all coming from on this sweet little gem that isn't easy for them to follow with the closing tracks. But they pull it off with flying colors on "Tonight's Your Night" with another killer song to top off an album you're not going to hear every day in the current musical landscape.

In-closing, this is a band you'll want to check out and the songs all do just that, and with the mastering prowess of Greg Calbi at Sterling Sound in NY to top it all off, you will not be disappointed in everything this album has going for it, as it fills a longtime industry void where such efforts have been all but missing for too long now, it's some of the best 2018 has so far produced.
TWITTER: https://twitter.com/theeyebrowsusa
Mindy McCall