Album Review
Faith Evans Ruch Gets the Royal Treatment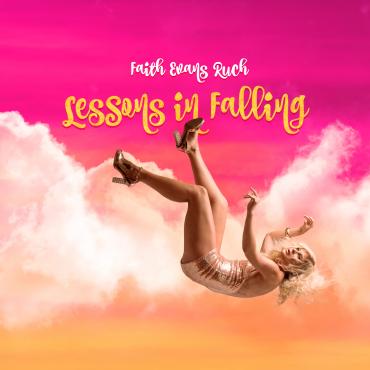 Faith Evans Ruch is an emerging singer from Memphis who is part of the city's burgeoning music scene. On her second album Lessons In Falling, Ruch, supported by a long list of friends and players, gets the Royal treatment of sorts. The album was recorded at the iconic Royal Studio where some of the greatest Stax sides were made. Ruch, aided by producer Kevin Houston and his bagful of horn arrangements,  comes up with a soulful tour de force, revealing an innate music vocabulary that's worthy of her knocking on the door of ancestral spirits.
On the opening track "I'm Yours," Rich comes out with horns swinging. The singer's muscular and adaptive voice runs through the rollicking vacation postcard to her lover, swaying back and forth like an old dance hall number, replete with a few cha cha chas thrown in for fun and good measure. But lest the fun and frivolity makes one think this is a novelty record, you only have to go to the next track. More typical of Ruch's is the blistering B.B. king-like  blues "Beg For Mercy," cutting a groove in a steamy, blustery arrangement where you can literally feel Ruch sweating through every line of her enthallment. Ruch is breathy one moment, commandeering the next in an authoritative way that allows her muscular phrasing to follow the meandering melody. Ruch is supported by background singers from Southern Avenue who witness a play by play on the passion play of Ruch's narration.
Ruch first came on the scene in 2014 as an aspiring folk singer. Now one of her earlier acoustic songs, the bluesy melancholic  "Rock Me Slow," gets a more fully realized arrangement with supporting horns and sympathetic signature organ fills against her rueful ruminations on love. On Lessons In Falling, Ruch follows the horns as much as they follow her, both entwined as one in the album's centerpiece track "Sugar," evoking its own r & b classicism,  accentuated by trumpeter Mark Franklin and trombonist Victor Sawyer and Southern Avenue guitarist Ori Naftaly's economic but scorching solo. In "This Cold," Rick Steff's organ fills with presence and warmth against Ruch's narrative. Ruch turns the focus from her own laments in an intriguing cover of Nancy Sinatra's classic song, "Bang, Bang," Her harrowing voice and the updated arrangement adds to the song's psychologically rich canon while being faithful to the original. 
Lessons In Falling runs the gamut from the bookends of love'sinitial elation to its conclusion. Her versatile enunciation evokes the ups and downs in between. Ruch seems makes bloodsport of it in "Stupid Boy," a playful put down of a former lover that would sound downright vicious if the arrangement weren't so playful. But it's not quite the last word. Ruch finds a higher plane of resolution in the closing track "Thank You." It's equilibrium of sorts as Ruch expounds on experience and lessons learned, literally thanking an ex-lover for breaking her heart. 
Taking the higher road in love found and lost is a perhaps a surprising and unexpected self realization. Perhaps it's the biggest lesson of all in learning how to fall.