Album Review
The Fathers Are Gone But The Sons Carry The Weight Now -- Admirably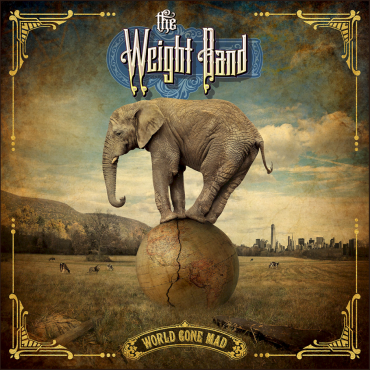 Instead of praising and criticizing this effort I think it would be more beneficial to take this album under consideration of what it is, what it's not and where it needs to be polished -- if necessary at all.
This is a difficult assessment because the band here can't be criticized for emulating another famous configuration of itself, it's not a novelty act, but a serious group of former members who simply try to continue in the tradition of a legendary group that I wouldn't consider an easy group to duplicate. Why? 
Because at first read and listen you would think this band is trying to imitate a classic group: The Band (once Bob Dylan's back up group as well) or be a knock-off like so many Fleetwood Mac, and Pink Floyd ensembles that are now in performance. That's what this group of musicians is not attempting to do. Most of these musicians have been associated with members of The Band or were once active members of The Band.
So, they're not trying to capture anything from the past, they are trying to recapture it, to maintain it. In some instances, the effort is invigorating, in others it's on life support. But…by the end of the album, I was convinced that this was a labor of love and something optimistic and viable and worth having if you're a Band enthusiast. 
I am not a fan of The Band, I'm more of an admirer. I admire the work they created, how it was accomplished, and most importantly -- the spirit in which it was created. So, let me repeat, this is not a tribute band but a continuation of a tradition with former members -- digging deep to try and shape a 2018 version of a highly respected unit. So endearing, a duplication in any manner would indeed have individual complications. The members of this original roots' fraternity were no doubt colorful and talented additions – but, how do recapture that magic? These musicians and instrumentalists have the talent and ability but, they don't possess the individual personalities that made The Band. That will be the challenge. 
The Weight Band must have known they were not going to fill the shoes but at least put the old shoes on and walk around in them. There are times when the effort is stellar. Moments when the songs were performed quite well. But the spirit of The Band was at times, in small doses, absent.
To be honest, that's to be expected. I think these fine musicians knew this. They didn't try to duplicate – they tried to only favorably sustain. At times, flawlessly. They can't capture the personalities of these musicians who created a legendary group – just like no one could ever really recreate The Beatles.
Let's tackle those who imitate Elvis Presley for a moment. There are countless imitators, some great, some talented but none have ever really captured the essence of what Presley was. Just having a similar voice, the moves don't do it. This applies to The Band as well. 
Again, this effort by The Weight Band is not a bunch of imitators. They are former members of The Band, The Levon Helm Band, Rick Danko Band etc. An attempt to try and continue in their footsteps. Big footsteps. Let's dissect a little. No helmets required.
The album World Gone Mad contains 11-tracks. Eight are originals (and that's another matter), and some unreleased songs were written with original members years ago, and a few recorded originally by The Band for balance. I'm not going to criticize without offering possible solutions because I'm aware of how difficult it is to attempt to do what these brave musicians are doing and have done. I respect them for it.
The opener is the title track "World Gone Mad," written by former member Jim Weider (the lead guitarist who replaced Robbie Robertson in the latter incarnation of The Band for 3 albums) and Colin Linden who has performed with a variety of major artists including Bob Dylan and that gives him the cred for this. With the first few mandolin notes, it's a cinch of a driving song in The Band tradition. The vocals are good, faithful. But the vocals at this junction are nothing distinctive. Not like the original Band members voices (Danko, Helm, and Manuel). At times, this sounds closer to a good Little Feat effort than The Band. Is that bad? No.
More in the tradition vocally to The Band comes with track 2: "Fire in the Hole," and it has all the necessary rustic and rural trimmings with a swirl of an organ under the surface ala Garth Hudson -- but it's not. This was written by Marty Grebb and Daniel Moore. Grebb contributed to the last Band albums Jericho and Jubilation. Grebb has appeared on many major albums by famous bands and artists since 1965 – so he's no greenhorn. Moore co-wrote the B.W. Stevenson song "My Maria," but has written so many hits covered by other artists they're too numerous to mention.
The lyrics are firmly in The Band's old style and the arrangement is loose and does indeed capture the original spirit The Band quite well. This was quite cool.
Continuing musically in the habit of The Band with a little funky r&b guitar reminiscent of Archie Bell and the Drells, it is a fact that the original band did like to dip their musical fingers into Motown and r&b tunes. So, on "Deal," this is what they attempt to capture but vocally, we are back in Little Feat territory with none of the warmth and conviction of The Band vocals. Maybe because this is a Robert Hunter-Jerry Garcia tune. I never saw the true connection between The Grateful Dead and The Band. The Dead have that San Francisco feel -- always a little thin sounding compared to The Band. And The Band is far more rural if you want to nick-pick.
The majority of the musicians from the original group were Canadians and brought that special northern Americana hybrid to the showcase. There was a dash of Arkansas in the mix and that came generously from drummer Levon Helm. This is a very special "mix" of musical mentalities. 
The organ work is exemplary, and the lead guitar is a little harder, aggressive than say, Robbie Robertson. It's excellent, nonetheless. The vocal approach is gritty and the duet in the second half – far better. While the Weight Band has the voices required at times, it's the personality and character they're missing. And it's no easy feat, I will admit. They are trying to emulate many facets of what made The Band – The Band.
Track 4 "I Wish You Were Here Tonight," is a cover of an old Ray Charles song written by Jim Sullins that The Band performed. This one's not as poignant as the Ray Charles or Band version but you do hear authenticity. Getting it better is resolvable with performing. 
"Common Man," doesn't resonate as a Band song as played here. It is pleasant enough and surprisingly it was written by Jim Weider, Levon Helm, and Joe Flood, but something is amiss, something is missing. An ingredient in the musical stew…not enough salt? Not enough sugar? Something. It does sound like someone tries competently to perform as they understand it to be but it doesn't have enough adhesive. The lead vocal is respective and good, but it does lack that southern rural character that Manuel, Helm, or Danko voices possessed. The music is well defined and does capture a hint of the original group in its execution but the lyrics – it's just not a story with dirt, mud, and whiskey. Not something Robbie Robertson would have penned. Maybe that's why it falls short. I'm not certain, but maybe this was one of The Band's surplus songs that never made the cut. That's alright, Dylan has many of those as well.   
Back on track six is the vocalist who does indeed possess a Band spirit – and has a distinctive voice. I did not have a breakdown of who sang what to be more specific about who has this particular voice. "Heat of the Moment," has a good sax, the backup singers are strong. But, to get this close to The Band worthiness it needs something added that is unique – musically, in the instrumentation, to flesh it out. Years ago, The Who released a song called "Join Together." At first, I thought it was a new Band single. It was incredible. The back-country hillbilly boinging alongside the harmonica -- "fleshed it out," at the beginning. It was a brilliant track. Attention-getting. Instantly likable. This is what I'm talking about.
And, if they want to add a really distinctive voice to their repertoire they should seek out a guest appearance by veteran rocker Johnny Rivers. He has that Levon Helm intonation and vocal tone and could really ignite the singing. Just listen to his songs like "Rockin' Pneumonia," "Summer Rain," or "Poor Side of Town," would be convincing. Born in New York City Rivers lived in Baton Rouge, Louisiana as a child. Maybe Rivers' isn't busy these days.
What I haven't heard yet is a song as descriptive and poignant as "Book Faded Brown," as sung by Rick Danko on one of those latter albums. Ok, it's not "The Night They Drove Old Dixie Down," "Rag Mama Rag," or "Up on Cripple Creek," or even "The Weight" itself. But it did show that those two latter albums had a diamond on them. This is where The Weight Band needs to focus – the songwriting.
The songs shouldn't just be former Band songs, or songs written hopefully in their tradition. They need to encompass the complexion of the band, the identity of the whole. Sit back and close your eyes and question whether the song is indeed something they would have released.
There's a young man, Bow Thayer, who over the years, has released several Band influenced albums. One of these is an album called Spend It All, that was so good Levon Helm played drums. Thayer writes and creates titles that are Band voicings. Is Thayer 100% in the Band tradition – no, he's his own man. But he is mining a rich vein. The Weight Band is too. But on the next song, it's...
No, no, no -- is all I said as I labored through this one. It's as if they lost focus…momentarily. And this too had a co-write with Levon Helm. Now, Levon cooperated with writing some Band songs but he wasn't known to be a major writer in the group. He co-wrote but he was not the Mark Twain of The Band lyrics. "You're Never Too Old – To Rock and Roll," is about as far from The Band as you can get and still see smoke from the chimney. This would never get on Music from Big Pink, The Band, or Stage Fright.
Gentlemen, if these are songs that never made it to a Band album – there's a reason.
This, musically, is a live-wire track, but this may be something tossed onto Moondog Matinee which wasn't really an original Band album. The rock is faithful, has an excellent piano and vigorous vocals but the spirit – I keep coming back to that word – the spirit is lost here. This is Huey Lewis and the News, Duke and the Drivers, Iron City Houserockers and Eddie & the Cruisers territory. If I were a producer I would not have rejected the tune, but it would have been relegated to a B-side of a single or an EP. 
There is nothing rural, nothing Dylan-ish, or even Robbie Robertson about this song, hence, the tradition is a bit distant. This was just a good workout for the players, but it didn't add anything to the credibility of the project. However…However…
Weider and Grebb pull a rabbit out of the hat with "Big Legged Sadie." This is excellent.
This is shades with haunt and shadows of the original Band. Lyrically, vocally, musically – all coming together eloquently and performed wonderfully. This sent a shiver down my spine. This is what I was waiting for. The vocals emerge from another era and they are prominent. If the group had to prove something to the real naysayers -- this would serve as their substantiation. I'd stand by it. 
Bob Dylan's "Day of the Locusts," is next. It's worthy but the vocals do not continue to paint a Band memory but the music does. This tune was never anything special, but it did come from a good album New Morning that erased from the minds the miss-step Dylan made with his previous release Self Portrait.
The Weight Band musicians are all competent and have nailed down The Band style – more so at times than others. That is what needs a little polishing. The weakest link is the distinction between vocals and finding the spirit. We all knew who sang what most of the time on the originals. The Levon Helm, Richard Manuel, and Rick Danko vocals were all from the same genie bottle, yet they were distinct and that's what made the group's signature sound. As pertinent as the difference between The Beatles' John Lennon, Paul McCartney, Ringo Starr, and George Harrison's vocals. As good a singer as Gerry Rafferty was, he wouldn't fit. As good a singer as Harry Nilsson, he wouldn't have fit. This is what I mean. 
The Weight Band has one vocalist who does, indeed sound like a real Band member -- especially in vocal tradition. When vocalizing for this band you need to have a mindset: a whiskey jug, a fishing line, trout hanging from a tree, smoking hand rolls, a back porch with a sleeping dog, a dusty Bible, an old wooden milk carton with an octogenarian man seated playing a banjo and an apple pie simmering in the window. Think that and sing. It will happen.
The two best feet forward comes toward the end of the album. The music, arrangements, and performance of Marty Grebb's "Every Step of the Way," is sheer excellence. Is it perfect? No. So what? The vocals lack color. Big deal. But this time maybe it's mood. They should consider a setting in the recording studio like an old dark saloon with scratched wood, a spinning ceiling fan, cigar smoke and they should wear derby's or fedoras. They need to capture an atmosphere in this music. The musicians are all capable, more than capable, but the execution vocally is sporadic. They could turn it up a notch and gain a tad of authority. Maybe it's because these musicians didn't live the life. That's important. You have to live the life of the song. I know they try hard; the effort is obvious. The album throughout is recorded well, and you can hear the dedication in their work. But, so does Bow Thayer ("Wingless Angels," features Levon Helm on drums 2006 & Thayer has performed at 7 of Levon's Midnight Rambles including the 100th in 2008).
With all that said, a bonus track written by the first track's writer's Jim Weider and Colin Linden is a live performance of "Remedy." Wow does this sound like The Band in its finest condition? This is a trip. May even be better than original.
The vocals are scary good, the group really captures the Band in one of their finest late-career tunes. The feeling, atmosphere, and spirit – all here and smoking. Even the drummer sounds like Levon Helm. There's some great piano and the tune is punchy. The entire live performance musically is startling good, and it generously steps back into the glorious past and embraces what it was all about. The Weight Band…they carry the weight and when it works -- there isn't a sweat bead on their foreheads to be seen.
This band follows in some heavy footsteps and the original vocalists – they were legendary singers. This is no easy feat. But it's done with lots of affection and respect – no doubt. Mission -- somewhat accomplished. I hope this band sticks around long enough to treat us to more slices of the music The Band originally planted their notes in Americana soil for. The Weight Band waters it every day to keep it in bloom. That's commendable.
The album was self-produced and recorded at Clubhouse Studios in Rhinebeck, NY.
The press reads that the lyrics reflect stories of love, humor, and personal journeys. But next time out, consider the need to get a little more creative and challenging to maintain The Band's legacy. Create some stories, fables, history, adventures, characters, and legacies akin to the biography of this special aggregation. That's what The Band did with/without Bob Dylan.
Even if some melodies need to be bawdy: "Playing Under the Gallows," "Mining Town Bordello," "Birchbark Canoe," "Grant's Old Crow," (General Grant was known to drink this whiskey during the Civil War to the disdain of other Generals. They brought it to President Lincoln's attention. The rest of the story & song would be what Lincoln's response was). "Long Gone Days," "Annie Oakley," & "The Ballad of Pancho Barnes" (a true story about a tough 1930's female aviator -- around the same time as Amelia Earhart) – these sound like The Band would have written.
They need to have a scent of pine chip smoke, cracked leather oil, honeysuckle, and saddle soap. You must think like The Band. Especially, if you want to write music that is commensurate with Woodstock, Big Pink, rust on the bumper of an old Ford pick-up, and burning autumn leaves with some Robbie Robertson-Dylan creativity levels. That would be something.
You just might write some new Big Pink lyrical stories. Imagination is key, and the music will be inspired by it. But these suggestions are not real songs – they are just my own selfish poke into the cinders to rustle up flames. I just believe the musicians in this group have the talent. Don't just write songs. Write songs like The Band, the original Band. It would not be an easy thing. But, that would be the next logical serious step because you all already have the musical talent. 
The dedicated members include: Jim Weider (guitar, mandolin and vocals); Marty Grebb (from The Rick Danko Group -- Keyboards, Organ, Acoustic Guitar & Horns); Brian Mitchell (from The Levon Helm Band -- Keyboards, Accordion & Vocals); Albert Rogers (from The King Harvest Horns -- Bass & Vocals); Matt Zeiner (Keyboard & Vocals) and Michael Bram (from The King Harvest Horns -- Drums, Harmonica & Vocals).
Guest musicians include Jackie Greene (Vocals & Slide Guitar) and Randy Ciarlante (Drums).
Website: http://theweightband.com/index.htm
Facebook: https://www.facebook.com/theweightband
Spotify: https://open.spotify.com/artist/0rsPWmLY4b1IZXcKrpVYpb
Disclaimer: The opinions expressed in this review/commentary are those of the author and do not necessarily reflect the official position of No Depression. All photography is owned by the respective photographers and is their copyrighted image; credited where photographer's name was known & being used here solely as a reference and will be removed on request. YouTube images are standard YouTube license.    
John Apice / No Depression / October 2018