Album Review
Field Report Returns With Propelling, Visceral 'Summertime Songs'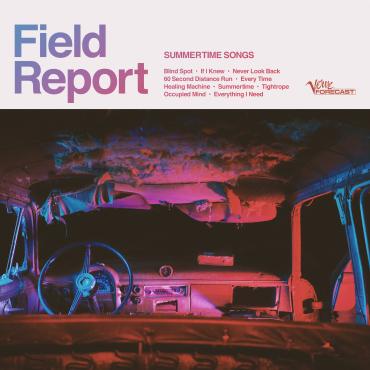 Field Report has seemingly always taken musical influence from a range of places. When frontman/songwriter Chris Porterfield — the anagram of whose surname became Field Report — began playing music professionally, he performed in an almost folky group with Bon Iver's Justin Vernon called DeYarmond Edison. While his own sound has evolved from similar singer-songwriter musings to pedal steel accentuated confessionals over the course of Field Report's three albums, Porterfield's latest finds him links to an even more staunchly jazz and roots authority; Summertime Songs is out now via Verve Forecast, a label that hosts works ranging from Woody Guthrie to Ella Fitzgerald. Woody and Ella may not be the first points of comparison when listening to Summertime Songs, but Field Report's latest exhibits hints of folk storytelling like the former and pop hooks like the latter.
Porterfield recorded Summertime Songs in the same wintery Milwaukee space that yielded the band's 2012 self-titled debut and 2014's Marigolden over the course of a leisurely year before becoming a parent. But while Summertime Songs feels more musically upbeat than Field Report's previous albums, Porterfield belies those hopeful sounds with his vivid and personal lyrics — ones that don't always follow poetic stanzas (therefore often requiring multiple listens to grasp), but subsequently linger with you for years. He opens "Blind Spot" singing, "I woke up blacked out in a snowstorm / with an airbag burn on my cheek. / Check the wreckage, walk away okay / I'm gonna change. / Swearing to and plowing through the trees." While this song may be a literal memory of boozier times, a metaphor for a new parent's moments of panic, or even a reconciliation of how a country reached its new political reality, Porterfield shows his mastery of using visions of such harsh people in harsh pastoral winters to convey deeper themes both on this single and throughout the record.
Still, the fuller sound on Summertime Songs is what differentiates this album for Field Report's previous work. "Never Look Back," for example, is a perfect track for summertime driving — the steering wheel serves the ideal place for the song's hand-clap percussion. The title track, "Summertime," follows this road, too, with synths and drum sticks tapping the snare rim as its gasoline and momentum.
The best folk music often works like a mirror, allowing the songwriters to share pieces of themselves and enabling listeners to find pieces of themselves. Field Report has always stood out in such a vulnerable way, and Summertime Songs is no exception. While Porterfield often leaves behind the more acoustic forays of his earlier days (with a notable exception being the heart-stopping centerpiece "Every Time") and employs more keyboards and pop hooks, Summertime Songs excels in its ability to force listeners to confront the parts of ourselves we fear and admire the most.