Album Review
A Fiery Down-Home Foot-Stomping Barn Burning Sawdust Flying Debut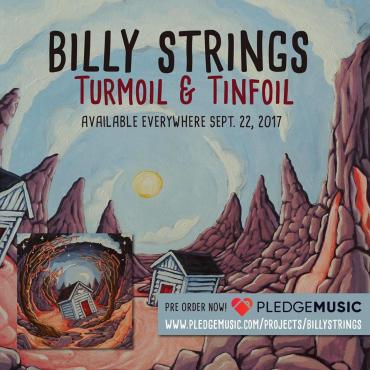 I am not a huge fan of banjo music. But this album is a fiery and incredibly well-recorded roots album. I sincerely feel listeners not completely dedicated to this type of down-home rollicking foot-stomping barn burning music are going to enjoy this collection. A lot.
Yes, even if they're listening to it on their iPods walking to work on Madison Avenue in New York City in wingtip shoes. They will be clicking their heels. This can certainly cure that couch potato also. 
Billy Strings is a Nashville bluegrass musician with a youthful Steve Forbert appearance. But this fellow is in the driver's seat with both hands on the wheel of one bluegrass' hottest outfits. And there isn't one member with white hair in the bunch chewing tobacco with a jug at his feet. 
On their first LP proper -- "Turmoil & Tinfoil" they continue in the tradition of legendary bands like Goose Creek Symphony and the Nitty Gritty Dirt Band. This conglomeration of Billy's is tight as a pearl in a clamshell at the bottom of the ocean.
The lead vocalist (Billy) has a voice straight out of that film with George Clooney "O Brother, Where Art Thou" and if they ever make a follow-up to that film these guys would be a shoe-in for all of the music.
It is rich sounding with ancient traditions in bluegrass and yet it has a vein of modern strength in it that is marvelously invigorating.
The banjo work on each track is intricate and weaves notes through the strings with lightning speed as the mandolin supports equally ignites the fingerboard. What's impressive is the elevation of bluegrass to a jam session that would make Jerry Garcia's head spin. Not because Jerry couldn't do it – but because he would want to be a part of it all. This is what inspired and drove the likes of Garcia with his acoustic excursions. This is what Old And In the Way should have been and at times was.
Track two – "Meet Me at the Creek" -- belt yourself in for this one. It's an unbelievable nearly ten-minute jam workout on banjos, mandolins and acoustic guitars. This is similar to Paul Butterfield Blues Band's classic "East-West" only with bluegrass instruments. This bluegrass has an arrangement! Isn't that reserved for big bands, symphonies, nd ensembles? Watch the live performance and judge for yourself.
If you like that kind of musical dueling get popcorn, a beer, and a Maduro cigar and sit back with your eyes closed. This is not your Dad's bluegrass. Bill Monroe ("Blue Moon of Kentucky") would probably smile ear to ear if he heard his kind of music like this -- today. My speakers were smokin' with this instrumental powerhouse. I would never have expected this kind of shenanigans in a bluegrass song. But it fits so well – I have to congratulate every musician who took part in this explosive tightly knitted sweater of a song.
Billy looks like he should be studying for an algebra test but when he puts his fingers to the acoustic guitar and begins to sing -- accompanied by the mandolin and banjo players -- this is nothing short of a first-class act. A stunning first-class act.
Men who play fifty years don't perform with this kind of fire and brimstone. Billy obviously believes this music wants to leap forward -- wants to take the curves faster, closer and leave some skid marks. Even an out to pasture retired greyhound wants to instinctively run. Billy borders on being a bluegrass Leo Kottke – John Fahey on guitar. Maybe he's not quite there yet at their level but you can certainly hear the potential seep through like maple syrup. Someday they may be talking about him in the same breath as Tommy Emmanuel. And Billy…he can sing better than those guys.
Posted here are live takes of "Meet Me at the Creek," and the album's title song. These performances will convince you of how all these young musicians with Billy Strings are definitely on the radarscope of tomorrow's star performers. Willie Nelson, Allison Krauss, Emmylou Harris, David Grisman and Jerry Douglas – please take note. 
What is also interesting is that lead vocalist / acoustic guitarist Billy Strings has the perfect voice for this type of music. Despite his youth – it sounds a little seasoned and has the required grit to be convincing through every syllable. It has the necessary rural sincerity and edge that a metropolitan listener dodging yellow taxi cabs can appreciate.
Drew Matulich is the mandolin voodoo master, Glenn Brown is the acoustic roots wizard, and string prodigy Billy Failing ignites the sound with banjo sparks. Brad Tucker plays the subterranean notes on bass, and there are plenty of notable bluegrass guests to keep the music interesting.
"While I'm Waiting Here," is another proficient song. This group of musicians would have worked so well with The Band. They have that rural feel in their fingers as they pick. And what's even more important they have songs that deliver. 
The band also has a sense of humor – as sampled by "Living Like an Animal" with its rural farm musical effects, harmonicas, and back porch energy. This music gets into your pants. Billy Strings' vocals border on Ralph Stanley and Charlie Gearheart (Goose Creek Symphony). The craftsmanship in how the vocals and music intertwine is what makes for a great showcase. And...just when you think they couldn't possibly top it another song pops in even more potent.
Track 6 – the album title tune "Turmoil & Tinfoil" has rousing acoustic guitars. You'd think Keith Richards' of The Stones turned bluegrass. Well, if he ever did, this would be what Keith would sound like. This is -- wake the dead good. Why you ask? Because Billy Strings' is a fourth-generation musician weaned on the jam. He has mastered this so well that when they play it all sounds like it's planned like a symphony orchestra. Nothing straggles. Everything is infused with energy and precision.
The warmth in Strings' vocals on "Turmoil &Tinfoil" is thrilling. The likes of the late singer-songwriter-fiddler & riverboat captain John Hartford would have really loved knowing and playing with Billy.
The last track "These Memories of You," reminds me again of tunes from "O Brother." Ralph Stanley, Bela Fleck and Goose Creek. This is all enjoyable stuff by artists of this caliber and it only suggests that Billy Strings – in his own original way – is in among some good company.
This music is old fashioned. Yet, nothing here is played like a relic. Nothing here needs to have any dust blown off it. Rock guitarists would have a hard time following these performers as they weave a web of musical notes as intricate as a spider web in a field. This is a virtuosity that makes a great performer – an interesting performer and someone who is worth the time to listen to.
A fan of Hot Tuna and some of the earlier Jefferson Airplane acoustic songs? "Salty Sleep" (Traditional) and "Doin' Things Right" are tracks you could appreciate. Typical of the Jorma Kaukonen and Jack Casady style of playing. The latter more of the acoustic approach and "Doin'"  -- effectively a country-rocker. Quite a workout on acoustic guitars and hot. This could easily be played on rock radio or country radio. Billy Strings' voice is hard-edged but maintains his traditional grit with lots of pepper. 
Track 8 is unrelated to the quality of music on this collection. A story is being told. Dialogue.
Suggestion? Next time put something like this at the very end of the collection. Don't mess with the momentum you have created. It interrupts the flow of the music. Many people may or may not relate to this spacey detour. "Spinning" is alright – it just needs to be placed where it would do its most to benefit the collection. As the last track. Not between banjos. Fortunately, track 9 brings everything back home with more acoustic workouts and track 10 is a fine instrumental.
I will be playing this album for a long time. It's an effort that is filled with the past and sweetened by modern ingredients. Nothing is lost in the taste. It's savoring.
The album was produced by Glenn Brown (acoustic guitar) and Billy Strange. All songs were written by William Apostol except as noted. The album is scheduled for release September 22nd. 
Album art – if it doesn't change on final release date – is a cartoon-rendition of a little cabin in the woods in a somewhat surreal night scene. No other information was available. This could be improved to reflect the dynamics of the music Billy has enclosed. It didn't work for me. In a store or online and unfamiliar with Billy Strange's music I would have passed on it. That would have been a shame.
Now the B&W image of Billy seated in front of the rustic truck – that was a good EP choice for art. (I think Billy did use that image for a 6 song EP – that was wise). More like that…build a reputation. 
The album has 12-tracks and while the album art and track "Spinning" is psychedelically fueled and hallucinatory – don't be confused – the music is anything but a hallucination. It's more magical and it's down to earth. 
Website:  https://www.billystrings.com/
Facebook: https://www.facebook.com/billystrings1
Music Samples:   https://soundcloud.com/billystrings
Disclaimer: The opinions expressed in this review/commentary are those of the author and do not necessarily reflect the official position of No Depression. All photography is owned by the respective photographers and is their copyrighted image; credited where photographer's name was known & being used here solely as a reference and will be removed on request. YouTube images are standard YouTube license.
John Apice / No Depression / September 2017