Album Review
Fifth Generation Former Country Fiddler Ignites Into A Rock Showcase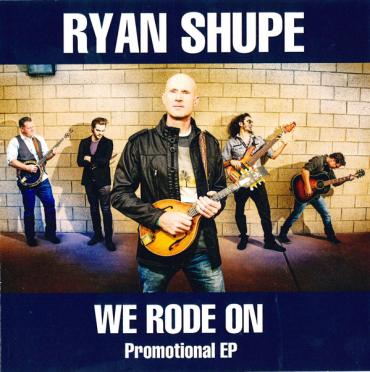 At first, I thought this was going to be just another country singer who decides to fine tune his talents and mediocre vocals into a quick buck as a country-pop artist. 
Ryan Shupe was introduced to me on an advance copy, blank burned CD of his new album. The first blind track I chose at random was the tenth track: "Hardest Button to Push." To say this song absolutely knocked me out would be an understatement. 
I did not have available the final full-album file artwork large enough to download here, so the CD art displayed is the pre-album EP. 
I thought, maybe it was just fate and little luck. But, I knew that if the rest of his tunes were half as good as this nugget this man would provide any listener with some great new music. And you know what? He did. The opening title cut "We Rode On," from the album of the same name – (and its Ryan's eighth album) which means he's no green horn, not a novice and he's been certainly marinated and cured to musical perfection.
But back to "Hardest Button to Push," which is a fiery, catchy, with top of the charts potential song. It showcases Ryan's vocals excellently and while Ryan is not a deep, aggressive vocalist as a Jim Morrison (The Doors) or a punkier Iggy Pop, Ryan IS a commanding rock vocalist with superlative acrobatic pop vocal magic. Maybe he's in that rock-pop vein of Ohio's Donnie Iris who had a hits in the late 70's with "Ah Leah," "I Can't Hear You," "Back On the Streets," and "You're Only Dreaming." Iris still records and performs to this day so he's not a has-been. But, this Ryan Shupe song weaves the same hypnotic, intoxicating appeal from beginning to end. The mandolin picks, the fiddle runs, the punctuating drums, and the overall careening nature of the melody is rock at its best in 2016. The entire arrangement is bright, lean and it's like that cognac you find sometimes in a bite-sized chocolate. The tune was excellently recorded, and the hook line is irresistible. Shupe's high notes and how he rides them like a surfer is quite an appealing style. 
So now I have to gently tread into the first tracks and wonder will it all stand up to this outstanding song? I held my breath and the title song started: "We Rode On," – yes, it's not heavy duty rock, it's not Shakespeare, it's not punk like Patti Smith or powerful like Elvis Presley. But Ryan has some workable voodoo going on and this song DOES continue in the tradition of that tenth track. There is an excitement in it the way George Strait's "Heartland," had. The pluck of strings, imaginative melody and a spirited performance from all musicians was commendable.  There's tight drums, jubilant vocals from Shupe, and that attractive high note injections -- Shupe sings with extraordinary bravura. This man loves what he does and he takes his band along and they're quite adept.
Shupe's fiddle starts off immediately on track two with no nonsense cooking – it's vibrant and his vocal captures the energy of this strident song: "Just Say Yes."  I am impressed and that's three winning songs in a row. This band has a rewarding frenetic quality. They must be incredible live if they're able to translate these kind of songs to the stage. If I had to describe this music I could only suggest that are a fun music. It really is. There's no rocket science here just a driving beat that never lets up. At times, Shupe reminds of the early 80's band that featured the great vocalist Eddie Rice of Eddie and the Tide – a major label artist. That band also had one great melody after another, with energy and infectious arrangements. But, Rice was maybe too close to a Springsteen type vocalist so I am not comparing that here. Just their ability to be consistent with their melodic touch. 
"The Sun Will Shine Again,"  -- an optimistic upbeat track and with all its rock forms it's anchored by a blistering mandolin solo by Shupe. Shupe is a mandolin player sans pareil and on this song he is supported by fiery drums, effective back-up which is hot and has lots of muscle especially when that mandolin lights up. Ryan hails from Utah, and he possesses a musical expression that is not Nashville, not the deep south, not California, or East Coast. He clearly has a country-folk-rock fever that is as open as Monument Valley.
"If I Stay,"  is another slice of sweet pop that clings to you like snow, or sand. This too has nervous energy, like a B-12 vitamin shot, or a rush of cold after being thrown suddenly into the ocean. The guitars creep, stalk and race along at an inviting clip. The entire song is a hook – you don't even have to wait for the obvious title to hook you. The melody and Shupe's vocals alone snare your ears. This is turbo charged Americana.
I did not have a PR sheet or commercially produced CD to refer to credits so if the band lineup has changed for this effort I will modify it eventually. But as far as I know the band is comprised of: Ryan Shupe (fiddle, guitar, ukulele, mandolin and lead vocals); Roger Archibald (guitar and vocals); Ryan Tilby (bass guitar, string bass, banjo and vocals); Craig Miner (banjo, bouzouki, mandolin, guitar and vocals) and Nate Smelding (drums). 
Track five is a new version of Ryan's hit country record – "Dream Big" which was originally released to country charts on Capitol Records a few years back. The new version retains the magic of the original -- positive and upbeat. The song has expressive acoustic guitars, solid steady drums and is not an in your face ballad. It has a quiet strength in its performance and message. This style is reminiscent of country-singer-songwriter Robert Ellis Orrall who has had hits of his own and has written countless hits for others. A song like this does prove that Ryan also has a sharp pencil and could possibly become a source for other artists in search of material. Continuing in a Robert Ellis-Orral manner is "This Love," -- a little more formula country but with the musicianship level radiating. The vocals and performance are spirited and the back-up male vocals add a nice flavor. This is the kind of song that would appeal to other country singers as "it" has the feel of a potential hit written into it.
Another magical track: "Take Me Home," finds Shupe in a different "voice." Banjos dominate warmly, and Ryan's vocals are like milk and whiskey. Steady brush driven drums guide the song without being intrusive. Lyrics are never soupy, lame or weightless and they are well connected between the voice and the heart.
As delightful as the next two tracks are: "Feel the Same," which has a little reggae tinge and "Hey Girl," which continues with a Caribbean musical beat, maybe even a touch of Bossa Nova – I honestly believe these may be minor mis-steps on this particular album. It's not in keeping with the flow of the album's original exhilaration. It was like we were on an Americana highway and then had to just take a few side roads and the propulsion slowed. The abilities of the musicians, the fine vocals by Ryan Shupe are all in these two songs – no doubt, and there's no denying the influence and how well these men have adapted to their performance of these musical stylings. But they would have served better in a different collection, or as bonus tracks at the tail end. They just veer off in a direction I didn't expect to take. So, on this album – those two just didn't fit in the stream. Because as soon as they conclude -- that marvelous nuclear song "Hardest Button to Push," shoulders its way into the fray and it overpowers. This IS the real Ryan Shupe. You can instantly hear that this is his terrain. This is where he really lives. Maybe if those two songs were the very last on the album, it wouldn't have mattered as much. 
The final track is equally masterful even though it starts slow and it's very well recorded. "Gentle with My Heart," has incredibly good banjo reminiscent of string prodigy Paul Rodden who was a multi-instrumentalist who graced Frank Tovey's "Grand Union." An album where Rodden played a solid body 5-string electric banjo, five-string acoustic banjo and acoustic guitar on "The Liberty Tree," and the banjo heavy "I.K.B. (RIP)." Rodden would be at home with a musician like Ryan Shupe and Rodden continues to perform and record to this day. An amazing musician. 
Final analysis: this is quite a rewarding album, delightful sounding, moving and there are lots of songs to recommend it. Ryan Shupe and his band are a group of musicians with expertise who have realized what Ryan Shupe wants to accomplish. I think they succeed. I listened more than once to this CD because I made time to do it like a connoisseur of food would. I tasted it and I liked what Mr. Shupe cooked and served. I will be going back to rediscover his previous seven albums.  
The album was produced and written by Ryan Shupe. I did not have a final copy of the LP to comment on the CD artwork packaging.
There is a fine interview with Ryan Shupe from No Depression contributor Americana Lady who I personally thank:
http://nodepression.com/interview/interview-ryan-shupe-former-country-chart-topping-artist-turns-rock
Website: http://www.shupe.net/
FaceBook:  https://www.facebook.com/ryanshupemusic/
Disclaimer: The opinions expressed in this review / commentary are those of the author and do not necessarily reflect the official position of No Depression. All photography is owned by the respective photographers and is their copyrighted image; credited where photographer's name was known & being used here solely as reference and will be removed on request. YouTube images are standard YouTube license.
John Apice / No Depression / Written in April 2016