Album Review
Finally, The Buck Stops Here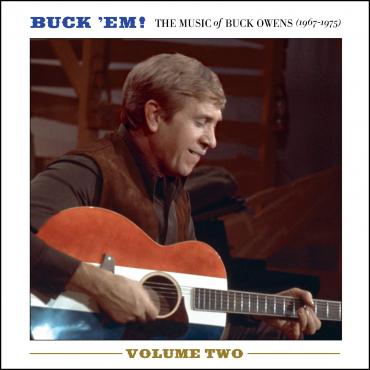 The inexhaustable ouevre of Buck Owens, the father of the Bakersfield sound who died in 2006 with 39 studio albums and 21 number one hits to his name, is really something else. Even today, the glut of Owens-branded LPs, CDs, collections, box sets, live albums, singles, and EPs still in circulation (and regularly going in and out of print) remains as perennial as the grass. Whether this has more to do with Owens' contractual tangles with Capitol Records or his enduring legacy as country icon is beyond the point; the question is: What does any self-respecting Owens fan really need?
Though only available as a CD or digital download, the 50-song, two-disc Buck 'Em! Volume Two: The Music Of Buck Owens (1967-1975) is worth considerable attention, thanks to the meticulous mastering and restoration work of Michael Graves, a sound engineer Jett Williams calls the "1% of 1% of restoration engineering." (He mastered recently found acetate recordings of her dad, Hank Williams, singing a series of promotional jingles now known as The Garden Spot Programs, and won a Grammy for it.) While there may be tons of Owens out there, this set is particularly attractive for its exceptional clarity of sound—something you won't find, say, on a $1 vinyl score, or one of many hastily collated Greatest Hits collections—and also for the thoughtful curation of its tracks.
Its predecessor, 2013's Volume One: 1955-1967, set the tone, tracing Owens' rise from humble session player to chart-dominating phenomenon during his most influential period. It left off the year the classic Buckaroos lineup of Don Rich, Tom Brumley, Doyle Holly, and Willie Cantu came to an end when drummer Cantu departed the group.
For the years 1967-1975, the effects of some of that change—along with other band and label transitions—is heard in the songs, the showman occasionally shelving the Bakersfield sound for the psychedelic twang of 1969's "Tall Dark Stranger" (a #1 hit), a folksy cover like "Bridge Over Troubled Water," (#9) and the out-of-the-box "I Wouldn't Live in New York City (If They Gave Me The Whole Dang Town), recorded on West 46th Street in The Big Apple.
Surely Owens himself, who traded in so many winks and nudges on Hee Haw, would appreciate songs like "Big in Vegas (Live in Las Vegas)," "Las Vegas Lament (Live in Las Vegas)," and "Made in Japan (Live in Japan)" neatly collected here. Similar nods like these include Owens' tribute of sorts to The Beatles with "41st Street Lonely Hearts Club" (a riff echoing the melody of  "Act Naturally," which the Fab Four covered on Help!), and the playful, live in Japan version of "On the Cover of the Music City News," a reimagining of Dr. Hook's "Rolling Stone" satire of rockstar celebrity.
At the end of this marathon listen emerges a deep, full sense of the man and his music, tabulated as much through his studio work as in colorful live cuts like "I've Got a Tiger By the Tail" (performed, slightly faster than the studio version, in 1972 for President Johnson at the White House) and the truthful zing of previously unreleased outtakes like "He Ain't Been Out Bowling with the Boys." With additional commentary from his autobiography, Buck 'Em!, to fill in picture, Volume Two rounds out a comprehensive look at a much-loved, and equally commodified, figure of country music.