Album Review
Finders & Youngberg - Brimming With Ideas Plucked From Years Gone By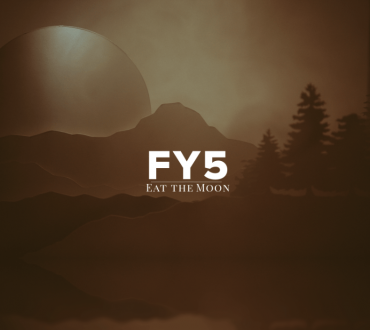 I have reviewed music from Vermont, New Zealand, Scotland, New York, Nashville, Washington State, Boston, Pennsylvania, New Jersey, Canada, Italy and even Greece. I have to admit the majority of those artists "get it" when it comes to competent Americana-Roots-alt-Country music. Absolutely.
Every now and then, however, it's refreshing to receive in the mail a CD that is wholesome, traditional and brimming with ideas plucked from years gone by and as vintage and retro as it may seem – the tunes wear shiny new threads. This reminds diehards that the music they love and cherish is alive and well and being played by young people who – "get it."
Colorado is one of those states where that wellspring bubbles. FY5 is one of those streams that flows from that source. FY5 stands cleverly for Finders & Youngberg and they are five fine musicians. "Eat the Moon" is their latest offering and it's rich with banjos, acoustic guitars, bluegrass, Appalachian strains and honky-tonk fervor. There's a wealth of picking, fiddling and enthusiasm in their music.
This is strictly for aficionados of traditional music – no smoke machines, laser beams, or stage filled with scantily dressed dancers and foam fingers. It's the music and image that matters. These are areas of music that have been explored by the likes of Gram Parsons, Towne Van Zandt, Guy Clark, and even Bob Dylan. But it has existed long before any of those artists were born.
The first track opens with warm acoustic strums and the young sounding optimistic voice of Erin Youngberg supported by fiddles and pedal steel guitar. The harmonies, the sound and essence is wonderfully vibrant on "She Wants To Eat the Moon."  This type of musuc would be comfortable at the Grand Ole Opry, Austin City Limits and they wouldn't get kicked off that old fogey classic Lawrence Welk Show either. It's that's diversified, satisfying and most importantly, good. Erin's voice is rich, sincere and reeks of traditional tone. The Carter Family would have loved her. Her voice is reminiscent of English-folk singer Linda Thompson but without the Englishness.
Aaron Youngberg's banjo picking blasts off from track two "Desert Bluebell,"  and the male vocals are Mike Finders – who also plays guitar and contributes harmony vocals. As the song proceeds some sparks fly from Ryan Drickery's fiddle. The tune is energy packed. Just when you believe the song is over -- the song sparks again. Quite impressive.
Erin Youngberg starts off "Back Door," with her thick Upright bass and its solid traditional accompaniment. The song is faithful to its roots and the musicianship has spirit as they take turns to pick, strum and build on a song that sound like it could have been played by some skillet lickers back in the 20's. All the songs were written by the band members and it's hard to believe that they absorbed that much musical custom from another era and found enough spit and polish to turn such melodies into viable modern day renditions.
"The Day Is Wide Open,"  brings Erin back to the lead vocal position and is supported by Aaron's beautiful banjo picking. The harmonies are absorbing and everything is well recorded. Erin sounds quite youthful here, like a sixteen year old farm girl in a pair of cutoffs and a floppy straw hat. She maintains the style brilliantly and the back-up singing is strong by the men. The melody is a foot-tapper (as they used to say in the old days).
"Old Dog Waltz,"  has a mandolin introduction from Rich Zimmerman – fused to a soothing fiddle. A nice break in the action, as this instrumental builds into a finely manicured, poignant piece of music. Some tunes just don't need words to get their message across and today instrumentals seem to be a thing of the past. Not so with musicians such as FY5. Instrumentals play a vital role in bridging the gap between the mood of their material.
Erin sings "After Tonight,"  which is a humorous, wonderfully lyrical tale. The male backup vocals border on barbershop quartet but they work to keep the song balanced. Balanced? Yeah, it's a humorous song but it isn't a novelty song. This is serious stuff. There are moments in the song where a listener may even want to join in and sing along.
The whole feeling is vintage or as they say today -- retro. But, the energy is transfused with vitamin B12 and Erin is absolutely great especially toward the end when she goes deep to accentuate some lyrics. Nice and sexy without being vulgar.
The sound of a wall of fiddles starts "Watch Out For the Blues," and this has overtones of George Jones in my ears. It's not outlaw country, or alt-country but it has that incisive style that made singers like Charlie Pride, Faron Young, Roger Miller, Sonny James and Hank Snow into major artists of their respective eras. Mike Finders twists syllables a little, and inserts just enough angst and sadness into his vocals to ride the wave of country music that was once – impassioned. The story telling has shadings of some of country's best moments. Mike doesn't sing words here, this is a well-rehearsed vocal approach. Certain words are emphasized and others are used for effect with striking results. I never cared for that kind of country tune but grew up to understand how important their style was. This is actually a very enjoyable song on all levels. I guess I matured.
The performance on "What Did I Do,"  is fiery. Erin sings with such clarity that a lyric sheet is not even needed. However, the musical support is going at 100 mph and as you listen you get picked up like a hitchhiker and carried away on its current. This is just commercial enough to dent the charts. None of the tunes I have heard so far are slapped together. Each has a well-thought out map and the band follows it to the period.
"Saint Vrain,"  is the dark song of the album. Arranged with perfection and showcased dramatically. I remember the band Poco when they released their album "Crazy Eyes," and that title tune started with a banjo and built up and eventually gave way to a breathtaking, well-arranged full blown orchestrated country song. I hear that excitement in "Saint Vrain,"  it has that momentum and the musicians are playing at a break-neck speed with melody and power. Mike's vocals are bright, with a traditional Ralph Stanley-type tone.
This one will someday be a masterpiece. Or, it should. 
The closing song is "Mama's Cookin'"  and it possesses all the backwoods precision that makes this kind of music infectious. I can smell the smoke from the chimneys, the moonshine still up behind the trees where there's an old porcelain tub and lots of pipes and hoses, the rusted out Chevys and the mangy sleeping dog. When someone can imagine that as you sing then you have tapped into a tradition, a heritage, a way of life that is truly traditional. Dolly Parton, Buck Owens, Roy Clark and Minnie Pearl would be grinning about now. You know, maybe next time around FY5 should try and get one of those veteran country stars to come out of retirement and guest on one of their songs. I would think Roy Clark would be ideal with his extraordinary guitar prowess. He may be 82 but I understand he still plays. Yeah...FY5 and Roy Clark – what a fusing of eras that would be. I would pay for that.
FY5 band is: Mike Finders – Guitar, Lead and Harmony Vocals // Aaron Youngberg – Banjo, Pedal Steel Guitar and Harmony Vocals // Erin Youngberg – Upright Bass, Lead and Harmony vocals // Ryan Drickey – Fiddle, Viola on "Watch Out for the Blues," + Harmony Vocals // Rich Zimmerman – Mandolin and Garmony Vocals // Special Guest: KC Groves – Harmony Vocals on "She Wants to Eat the Moon."
The CD package is a dark brown almost sepia colored 6 panel die-cut package. There is no lyric book but a nice band picture all dressed in white and filled with personality and character.
Produced by FY5 and recorded in Colorado
Photography: Image – white clothes - Scott McCormick – Other image – No credit found
Website:  http://www.hearthmusic.com/blog/fy5--finnders--youngberg-tap-colorados-wellspring-of-roots-music.html
FaceBook:  https://www.facebook.com/events/144030169127507/
Disclaimer: The opinions expressed in this review / commentary are those of the author and do not necessarily reflect the official position of No Depression. All photography is owned by the respective photographers and is their copyrighted image; credited where photographer's name was known & being used here solely as reference and will be removed on request.
John Apice / No Depression / September 2015