Album Review
The Finished Article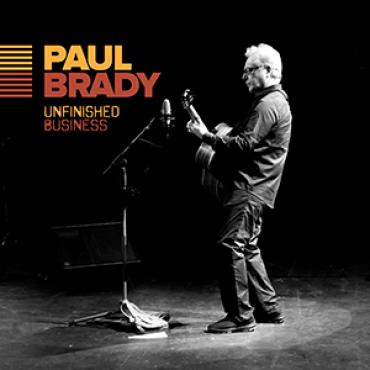 Over a career spanning five decades, Paul Brady appears to have done just about everything. He started out on the Irish folk circuit before establishing himself as a celebrated solo artist in much demand by others, both performing and to cover his songs. He's received lifetime achievement awards from the Irish Recorded Music Association and the Irish president, and was noted by none other than Bob Dylan, who wrote, "people get too famous too fast these days and it destroys them. Some guys got it down - Leonard Cohen, Paul Brady, Lou Reed, secret heroes." Given all that, what hasn't Brady done to call this, his 15th solo album, Unfinished Business?
If by "unfinished" Brady means there was something still to come, then I don't see that. Not that this isn't a good album – it is – but it represents much more of a broad sweep of all his business, rather than something new that we haven't yet heard. Perhaps that's his intention. Unfinished Business is a beautifully crafted set of songs that exemplify all Brady has done over the past 50 years. 
Brady recorded the album at his studio in Dublin; nine songs are new, and the remaining two are versions of traditional songs, something Brady does so well. Collaboration has been a hallmark of Brady and this record is no exception. All the new songs were written in collaboration with others; Paul Muldoon, Sharon Vaughn, and Ralph Murphy.
The title track comes first and here is where I did wonder if Brady has gone off in a new direction. Its easy rhythm, almost lazy piano, and lived-in vocals sounds like Brady too has headed off to emulate the Great American Songbook. Next up is the whimsical observation, "I Love You But You Love Him," an expression of a couple's differences before splitting up. Perhaps it's age, but Brady seems to accept the inevitable here.
Brady plays most of the instruments himself and while it is always wise to listen carefully to his lyrics, pay good attention to his masterful arrangements too. Best example is "Something To Change," with its edgy beat and some powerful backing vocals. 
The pace slows for "Oceans of Time" and "Harvest Time." The slower singer-songwriter with just his guitar allows Brady fuller expression for his voice, which is in as good as shape as ever. He most definitely doesn't "howl out of tune," as in the latter of those two songs.
"I Like How You Think" is a slightly poppy song, perhaps not the album's strongest, but next, "Maybe Tomorrow" has the full force of Brady's studio and is my pick of the new material. Despite its title, it takes me back to my favorite Brady album, the 1985 release, Back to the Centre.
Brady is an expert interpreter of traditional songs. This album contains two: "The Cocks Are Crowing" and "Lord Thomas and Fair Ellender." The former is the quiet, reflective ballad that he does so well, the latter is the record's final track that opens with his trademark pipes. Again, this is a combination of a wonderful story with the full versatility of Brady's playing.
Whatever lies behind the title, I hope there is a lot more to come from Paul Brady after Unfinished Business.