Album Review
Folk Music With Solidarity -- Alive & Well With Melodic Father-Son Duo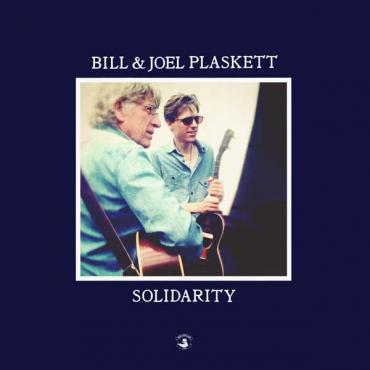 Interesting duo collection – and I am a sucker for this kind of performance. I was a big admirer of Lowen and Navarro, the Everly Brothers -- circa 1968, Vigrass and Osbourne, Richard and Linda Thompson, Clive Gregson and Christine Collister, Richard and Mimi Farina, Nino Tempo and April Stevens and many less famous duos I have reviewed in the past that were marvelous. But this duo has a special relationship the other singers don't.
So, here I have this Bill and Joel Plaskett collection – Solidarity -- and it didn't take long for my ears to get pulled in. First of all, the production values are exemplary. Do I agree with their political lyrics or views 100%? No. But this is folk music. I don't care about politics when I am focused on the music – I am not a big fan of Woody Guthrie but I do like "This Land Is Your Land," because I understand where the man was coming from. The songs on this collection as a whole are what I am interested in. The presentation, the showcase, the spirit in which it was made – sincere.
The acoustic guitars are miked and mixed beautifully and usually, an album kicks off with something that is tantalizing. Instead, the duo opens with a solid acoustic ballad written by Joel – "Dragonfly." 
The song has an interesting back story about having to hire a medium to rid a studio of an unhappy spirit. That alone would interest me in a song. Seems the tune is sung from the perspective of the spirit. Clever.
During the period of ridding a building of this manifestation, they found a dead dragonfly in the lobby. They keep this corpse now in a cassette box -- a sign that the spirit has been eliminated? The tune was written by Joel with the tradition of Bill -- his father's guitar hero – Bert Jansch and Al Tuck. Yes…songwriters who were incredible in their own way. The song plods along pleasantly as ballads will go – but, then suddenly at 2:33 there is a spike and Joel whips out an electric lead guitar that fires off bouncing from Ronnie MacEachern's fiddle and Erin Costelo's accordion. All done with class including Bill's fragile vocal approach which added to the poignancy. The song is pensive but it has a melody line that is vibrant and memorable.
Hoping interest in the rest of the album hasn't been compromised "The Next Blue Sky," explodes with the drama and brilliance of Lowen & Navarro ("Cry") and it sparkles. The voices are ambitious and create a nice exhilarating performance. Joel's mandola rings out over the acoustic guitars and it's just…it's exciting. Yes, that's what it is, exciting.
Due to the passing of Eric Lowen in 2012, Lowen & Navarro are no more. But it's nice to hear another duo carrying on in their tradition, or at least mining the same vein of music and doing it so well.
The Plaskett's have won multiple JUNO Awards in Canada and the father and son team are quite special as they manage to perform with such beautiful flexibility in a seamless jubilant showcase. These are not greenhorns but seasoned pros. Sounding old in a traditional manner is "Blank Cheque," (the album version) and it has a nice solid beat with early strains of folk music. Lots of gas in their respective tanks – clean and clever drums accentuate with muscle as Shannon Quinn saws the fiddle in this tune. Joel himself lays down the beat on the skins.
There is no lyric book (a shame) but I believe they are singing a great line: "…it's gonna take more than love (or luck) to save your neck." And was the word "periphery" in the song? If it was, that was refreshing. The lyric on this track is excellent. Well thought out. The uniformity in the vocals is a musical presence welcome on my speakers. Enclose a lyric book next time.
"Help Me Somebody Depression Blues," was simply a spur of the moment recording according to the tip sheet in the CD jacket, and the raw vocal is what I find attractive. Interesting how acoustic guitarists who thread their presentation with folk music traditions always enjoy falling back on a folk-blues to balance the album just enough so it doesn't sound the same. Not everything needs to be sweet.
"Up in the Air," is a clean acoustic track – higher vocals. The unusual guitar tuning is a hat tip to Richard Thompson. To my ears, this song also has a little John Haitt presence to it. This entire song recalls the likes of John Wesley Harding (the singer), the late Robert Hazard (in his late career Americana years), Don Nix and Buddy Miller. And that's a compliment. Very easily likable stuff.
Someday I would like to hear this song with a little Emmylou Harris type female vocal included or a more operatic folk style vocalist echoing the chorus in the background. It deserves a tad more drama for impact. Just an opinion. The song is catchy and powerful and Shannon Quinn's fiddle is wonderful throughout.
With "No Sight Compares," written in the 1970's and there's a nice story that goes along with this song as well and it's on the aforementioned tip sheet. This song sounds like it has a little echo in it but the steady cymbal and snare keep the tune anchored in a nice slow-rock-ballad style. This has a lot of sensitivity in the lyric and the vocal. The guitars at times have a Byrds inclement chime to them but when the solo surfaces it is more in that beautiful old-fashioned Les Paul-Tony Mottola guitar tradition.
The monster track on this collection is the title track sung by both Bill and Joel Plaskett together: "Solidarity." A song that even Billy Bragg ("Waiting For The Great Leap Forwards") would be proud of. The tune even fits in well with Strawbs' 70's classic "Part of the Union."
"Solidarity" is a memorable yet muscular song with tight, convincing music that sticks to you like cotton candy and the way Lowen & Navarro had. Accordion rich and acoustic guitar sharp. This is the duo's finest dual vocal. It's a convincing song, well-crafted and with lots to like. Despite the politics in some of their songs -- set aside the political leanings – enjoy their music. They hit the target every time. It's rich and worthy of attention. Shannon Quinn saws away on her fiddle as absorbing guitars surround. This is enjoyable on so many levels. Don't let anyone tell you folk music is dead until you hear the zeal in this finely articulated song. 
A little more in the class of Woody Guthrie-Burl Ives-Arlo Guthrie is "On Down the River," a song that sounds like it was written originally back in Appalachia in the 1920's -- yet, actually penned when Bill was leaving his home in England. Folk music as it was meant to endure will do so -- in the hands of musicians like this: The musicians are Dad -- Bill Plaskett who sings, plays acoustic, tenor guitars and bouzouki. His son Joel plays electric, acoustic tenor and tiple guitars, mandola, bouzouki, bass, Wurlitzer and yes, the drums.
Backing musicians include Shannon Quinn on fiddle, Ronnie MacEachern on fiddle ("Dragonfly"). Erin Costelo on accordion. Mo Kenney – backing vocal on "Blank Cheque," and Glen Coolen – whistle on "The New California."
The eleven-track 39-minute album was produced by Joel Plaskett. The colorful 4-panel die-cut CD package was designed by Mat Dunlap with the cover photo by Ryan Matthew Fields. Additional interior photography courtesy of Lindsay Duncan.
Website: http://joelplaskett.com/solidarity-bill-joel-plaskett-announce-new-album-and-cross-country-tour/
Joel Plaskett: http://joelplaskett.com/
FaceBook:  Joel Plaskett: https://www.facebook.com/JoelPlaskett/
Soundcloud: https://soundcloud.com/joel-plaskett/solidarity-bill-joel-plaskett
Disclaimer: The opinions expressed in this review/commentary are those of the author and do not necessarily reflect the official position of No Depression. All photography is owned by the respective photographers and is their copyrighted image; credited where photographer's name was known & being used here solely as a reference and will be removed on request. YouTube images are standard YouTube license.
John Apice / No Depression / June 2017