Album Review
Former Spirit of the West Musician Is Effective and the Spirit of McRae Dazzles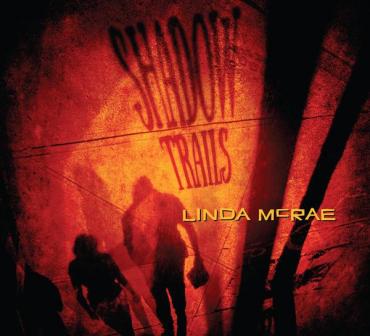 It's been three years since I last heard new music from Canada's Linda McRae. So when her CD arrived at my door several weeks ago I was pleasantly surprised. I had always been a big fan of music that was compelling, original and creative in a melodic sense and with good arrangements: I started out decades ago appreciating bands like Procol Harum, Amazing Blondell, and continued with The Oyster Band (especially with June Tabor), Lindisfarne, Horslips, The Pogues, Fairport Convention, The Band, Hot Tuna, Great Big Sea, Strawbs and Spirit of the West. Many readers may not even be familiar with all of these folk-rock incarnations. But believe me, they are a hardy bunch -- musicians' musicians, writers' writers, and while they could do a soft, poignant ballad they could kick some ass as well. 
From one of these fine bands -- Spirit of the West -- which is already in its 33rd year (started in 1983) -- comes a musician who decided to "leave home" and go solo. This is her sixth collection and Linda McRae continues to unveil wonderous music and engrossing little story songs with each release. "Shadow Trails," is the new twelve song collection and it has many little diamonds among them. But, this to be expected from a former member of the great band. A band that never had a dull track in their repertoire and Ms. McRae faithfully follows that trail of consistent quality. 
Spirit of the West's forte was strong melodies played with vigor and enthusiasm and none of that is lost on the contribution here by Linda McRae. Linda does not carbon copy the style of her former band, she has branched out and is a little more traditional in spirit (no pun intended). 
Linda has released a total of five previous solo albums to date – all worth exploring. And despite Linda's musical experience, involvement and musicianship, I hear solo maturity in these new songs. Or maybe I should say, a more intense confidence. Or, perhaps, Linda has found her comfort zone. The voice is indeed more confident, self-assured in presentation and Linda's original approach begins to become obvious. There is a Linda McRae sound and it's quite expressive.
From what I could detect in earlier releases, Linda never had doubts the first time around but when the responsibility of an entire album rests solely on your own shoulders there can be some songs that are truly perfected, some perhaps over produced, and some that need that "concert tenure" before a definitive version shows itself. Even The Rolling Stones and Bob Dylan and many other seasoned performers have performed new material in concert prior to committing a studio version. On Linda's previous album, she had no issues I could think of. What she has done here is taken a successful formula that has worked for her and has improved upon it, refined it, polished it and has made it remarkably her own. I say remarkably her own because so many artists do record this type of music. But there is a sameness to older material, or material written with that approach in mind. Linda maintains a credible nuance and she has a recipe that has the balance and all the right instincts. 
The opener is a mid-tempo track with an immediate melodic pulse. Linda's voice is deep, powerful and every word is clear. Her vocal inflections are sharp, and she has some tart lyrics that resonate nicely. Is she tough? No, not in the way that blues singer Genya Ravan could be, but Linda has that nice Tracy Nelson (Mother Earth) and Bonnie Raitt blues tinge in her voice. There's a purity carved out of her notes and how she and her band plays.
"Can You Hear Me Calling," is a story-inspired lyric about growing up and with that -- some of its hardships. "I drank too much I pissed it all away, I wish my life wasn't such a cliché…"  Sounds like something The Rolling Stones could sing now, today -- if Leonard Cohen was their lyricist.
Steve Dawson provides the percolating lead guitar on the first track and it's an energetic introduction to the collection. I am fastening my seat belt. 
"Long Shadow Trail," -- while it sounds more American in spirit than Canadian it is one of Linda's finest lyrics and melody. The tune was inspired by Evangeline Elston's photos "from the long shadow trail."  The tune is ripe, intriguing, jaunty and well-aged in the warmth of a tune The Band may have covered or written. It's just missing a Garth Hudson touch but it's a great tune nonetheless. Linda's carries on a priceless tradition of folklore through her music even though her songs are originals. She has that wealth of style that Hank Williams, Woody Guthrie, Bob Dylan, Fred Neil, Townes Van Zandt and most importantly – Karen Dalton mined. She continues in this flow with "Why Can't Waylon," which could have fallen into the trap of novelty song but it didn't. Linda is too clever for that. It's a great country-influenced song. "If Jesus can come back why can't Waylon…." If that doesn't stir up the Outlaws of country to cover this fine song – nothing will. What do you say Willie? Merle? Kris? Roseanne Cash? Lucinda? 
Linda successfully distances herself from her fine work with Spirit of the West, because she sounds more folkish, more countrified and American roots-oriented than ever before. Not alt-country, or alt-Americana -- she is firmly footed in the mud and moss of country-folk-blues. She has all the right instruments in expert attendance. "When Love Is a Game," is a slow, pedal steel country song but the soul of it is Patsy Cline. "Love is a game nobody wins…risk your self-respecting heart…." Simple lyrics, but the kind that will stay stuck in your memory like a fly on flypaper.
The song was written by Willie Bennett – and recorded by him before he passed away. The song was never released by Willie so Linda covered it and now it has a chance to regain some momentum. A classy country song and yes, we need some of those today. No sugar coating, no syrup, no pick-up trucks, beer or cowboy hats. Just a sincere old fashioned country ballad that any Tom, Dick and Bobbie-Jo McAllister can relate to.
Linda's supported by a heavy assemble: while Linda is a multi-instrumentalist, on this album she plays guitar, banjo, accordion and sings all the songs. She has has the reliable assistance of Steve Dawson (Guitars, Pedal Steel, backup vocals & banjo on the last track "Hannah."). There's John Dymond on acoustic & electric bass; Gary Craig (Drums, percussion); Steve O'Connor (Keyboards, B3 & Wurlitzer). The guest musicians are: Ray Bonneville (Harmonica); Fats Kaplin (Fiddle); M.C. Hansen (Backing Vocals); Spirit of the West's own Geoffrey Kelly (Whistle); Keri Latimer, Laurie Lewis & Gurf Morlix (Backing Vocals).
"Double Star," is adorned with a fiddle and a variety of mournful instruments that play poignantly as the vocals resound with authority. Its taunt lyrics are a lesson in fine lyric writing. If you ever wondered where real country music went -- some of its most cherished parts can be found in Linda McRae's heart. This is distinctive, swells with passion, plays with dignity, and amply captures the graceful ideal of country music and what it always stood for. Country music is not always Hee-Haw inspired and comedic. This song is a little novella – a Bob Dylan-type story that unfolds a new scene with every stanza. Country-legend George Jones would have loved this track. It has that vocal style that George Jones personified and Linda nails down perfectly, and respectfully. A jewel in this collection. I have played this one already a half-dozen times and it's quite a wonderful musical accomplishment. Not overly dramatic, not over-bearing. Just right.
The next track is a generous leap into emotion – "Flowers of Appalachia." Anyone who is familiar with that part of the American landscape knows that the name, as beautiful and lyrical as it sounds is hardly either. The area is dirt poor, destitute poor and the people are some of the most abandoned from society there is. The Lovin' Spoonful's John Sebastian wrote this stirring song with Little Feat's Lowell George -- about this area several years ago. "Face of Appalachia," -- one of the finest covers was by the great Australian singer Wendy Matthews. Linda's song is the companion piece to that now. A brilliant companion piece. They are equally moving, and it took foreign artists to bring this to our attention.
The banjo threaded with acoustic guitar work is quite effective. Linda's voice is filled with compassion and affirmation. If Pete Seeger were alive today, he would smile. This song is good enough that I would suggest it to Bob Dylan himself to cover. He would do such a great version. Linda's song (co-written with Ken Blackburn) has the type of rich lyrical paint strokes that Dylan himself strives for. It has the old-timey folk music that Bob seems to always embrace. Why is this possibly a little better than a Bob Dylan original of the old-world tradition? Linda has captured the old folk tradition in a way that Bob keeps falling short of (not in his covers of old songs, in his original song attempts). This Linda McRae song reeks of Woody Guthrie, Leadbelly, Odetta, Jimmie Rogers, and all those old fogies who wrote such great tunes -- and, may not have known it at the time. It's captured an essence. It has that field-recording feel, it's aged, with wisdom.
Dylan's songs are indeed great, but they are always of a "recent vintage." He captures the tradition but the atmosphere is what his folk lacks. This Linda McRae sounds like it's a bottle of wine that has been hidden in a cool damp cellar for 75 years and only recently was uncorked. 
Banjos and fiddles fire up "Jesus or Jail," and Linda sings with venom and conviction. If ever there was another female vocalist other than Joan Baez who could share a microphone with Bob Dylan, it's without a doubt Linda McRae. If ever there was a female vocalist who could have joined The Band – it would also be Linda McRae. This song proves that. I can "hear" Levon Helm and Rick Danko on this song. She naturally fits as a musician, a stylist, and songwriter. Some great guitars pave their way through this track as well and they smoke with the fiddles and banjo sound. The energy level is wonderful. One of the finest Americana songs I heard this year.  
What is noticeable on this new collection is the variety and its diversification. "Sidewalk Princess," is a song steeped more in urban than country. But there is a vein of country in every city. A little a bit rural, a scent of mud, woodchips and fertilizer for identification.
"Standing on the corner 'neath the neon light, Church bells are ringing Silent Night, dinner at the mission all the trimmings too, served by three wise men dressed in blue…."  Brilliant lyrics. Shane McGowan and The Pogues could have inspired this song – it has that same effective seasonable authenticity as their classic "Fairytale of New York."  That piece has become, for many, one of the best New York Christmas songs. This Linda McRae song -- "Sidewalk Princess,"  is worth learning the lyrics for -- so you can always sing along.
"Singing River" is more of a tour de force on behalf of Native Americans. Fiery harmonica, the musicians play in a very Spirit of the West tradition. Tightly dramatic, melodic, and Linda is on the money with her aggressive tone and sweeping style. She definitely took something worthy away from her tenure in that band. The final track is an oompah-pah old fashioned melody from days gone by. "Hannah,"  with its cool whistle reminds me a little of the short-lived, yet fine Celtic-Folk rock band Lick the Tins that used the whistle quite often in their tunes and effectively. This is also in the fine style of The Pogues – a lilting melody, clever storytelling lyrics and a potent Linda McRae narrative. M.C Hanson provided the music to Linda's lyrics. An aside: Hannah was a real person – Hannah Matilda Robinson – an lady fiddler of the old school. How cool is that? And there are pictures of her on the inside spread of the CD. A fitting conclusion. 
The new album was produced and mixed by Steve Dawson and recorded in Canada. The expressive CD artwork – a 6-panel with a beautiful lyric booklet was designed by A Man Called Wrycraft. Nice job.
Sometimes when a fine player leaves a great band – in Linda's case, Spirit of the West – you first think, as I did, we're losing something with her departure. But, in reality Spirit of the West has gone on successfully and Linda McRae is now a valuable addition to that music genre as a soloist. More music is never a bad thing. Especially if Ms. McRae is involved.
Website:  http://www.lindamcrae.com/
FaceBook: https://www.facebook.com/lindamcrae42rpm
Soundcloud: https://soundcloud.com/linda-mcrae
Review – Rough Edges and Ragged Hearts - http://nodepression.com/article/cd-review-linda-mcrae-rough-edges-ragged-hearts
Disclaimer: The opinions expressed in this review / commentary are those of the author and do not necessarily reflect the official position of No Depression. All photography is owned by the respective photographers and is their copyrighted image; credited where photographer's name was known & being used here solely as reference and will be removed on request.
John Apice / No Depression / March 2016