Album Review
Former War Photographer Trades Combat For Guitar & Loads Up A Smoldering Emotional Set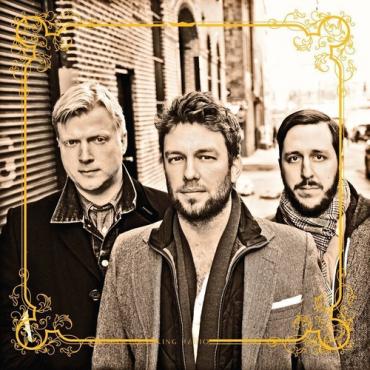 It's been a long time since my ears were graced with the cool horns of a Brooklyn, NY band with crisp horns and blaring charts. I have several bands that come to mind when I listen to this new album by King Radio (not to be confused with the reggae band or alt-pop band from MA of the same name).
Instead, here -- the imaginative music by this collective on this autumn day is soul enriching. Singer-songwriter-guitar virtuoso Justin King has just the right timbre in his voice to lend these songs much anticipation. A former war photographer embedded twice with the US Military in Iraq and other zones -- King has written an album filled with songs that reflect some of those personal experiences. 
"Alright," starts with drums the way old Four Seasons' songs started with drums – not to over power but to grab your attention immediately. And the song does, and then the brass keeps you there. King sings at the piano like the great Bruce Hornsby and he has wonderful prescence as a performer. His vocals on this song are emotionally powerful and the accentutated brass: chillingly good. 
"Sister," is sung with satiny smoothness with a captivating , thudding under the surface drum beat. Then, slowly the instruments pile on and the backup vocals warm the musical atmosphere. This is gratifying work...good early in the morning and simmering late at night. The Americana richness in the acoustic guitars and percussion with the optimism in the lyric is a welcome retreat. 
Full brass live video of "Alright" available on Vimeo: 
With "Don't Wait,"  the Brooklyn attitude can be found in the vocals, the slicing drums and the under current of Hammond organ -- a place where many hot bands and artists have emerged and there is no reason King Radio won't have the same opportunity. The music is not wholly regional. These songs were written and performed in a universal language – and this song is a powerful statement. Justin's vocals are on target and the style he exhibits is authentic. Pedal steel guitar tumbles from "Jenny," with a somewhat Polka-type beat and sung in tandem with a cool backup. Nice piano trickles and fiddle make you wonder at times if this band is actually from Brooklyn or really West Virginia. It all works though, and it sustains its quality throughout. The song is simple, with that sing-a-long energy and fortunately, there IS a lyric book so you can follow along. Justin's vocals are filled with color and his manner is never hard or strained. While not as over-produced as the Australian band of the 80's SCRA – Southern Contemporary Rock Assembly – a brass oriented band who had a great tune on their album called "Midnight," – (available to sample on YouTube off their uploaded album) -- King Radio comes close to maintaining that same intensity that band possessed for its time. They certainly share some spiritual DNA musically. I mention SCRA because King Radio is not a Blood, Sweat and Tears, Chicago, Ides of March, Dreams (Billy Cobham-Brecker Brothers band) or The Flock (that featured Jerry Goodman on fiddle) knock-off. King Radio skims the surface of what SCRA was attempting to do. Maybe back then the time wasn't right -- but, the time is right now. SCRA -- who recorded for Atlantic Records -- was not a big success, but they were a talented huge brass band.
More of a rocker is King Radio's "Can't Be,"  with it's choppy beat and Huey Lewis influenced vocal. The brass belts with solid punches – maybe not as forceful as The Bar-Kays' "Soul Finger," but, the spirit of that power is in King Radio's charts. They just need to find an Arthur Connelly ("Sweet Soul Music") groove and bite and they will own it. This is a great funk tease tune. 
"Fix It,"  is planted more solidly in a white-inflected soulful flow. A little Southside Johnny, a little J. Geils Band and filtered through Stax when the backup vocalists pour their smooth vocals over Justin's lead. This has the nescessary grit to be respected and it's balanced by a pedal steel guitar instead of hot horn charts. The light gospel-like back ground voices with Justin's falsetto is worthy of its soulful roots. At times, Justin even hovers close to a Sly and the Family Stone "Family Affair," ballad type vocal. I think it's a credible effort and I smiled while listening to it.
Back with a commanding voice, Justin sings "Lonesome Nights," with wonderful dynamics. The brass is more Newport Jazz Festival in tradition. Tight, bottom-booming horns and some nice accentuated moments. OK -- it's not Cab Calloway, but it is 2015. It's hot, but this song could be even hotter live. Maybe the band needs to perfect it on stage -- the structure is inviting and it reeks of possible incendiary moments. Another foray with a pedal steel mixed with the brass is invigorating. Justin's vocals are perfect and have that Dion DiMucci richness and sway in the way he pronounces words. This song is already on repeat. 
Shuffling drum, nice accents and Justin duets with Tamsin (sic) Wilson on "With You." A delightful average tune with some piano, solid backup vocals and a memorable melody. This one's brilliance is in its simplicity: it's smart and it flows.
The next song has a more spiritual edge and surprisingly powerful – "The Valley."  Driven by a melodic piano and ghostly female vocals (on the album version) Justin digs deep and comes up with a poignant post war song with excellent lyrics about his time home and the battlefield in Iraq. Not too dramatic, its subdued in its powerful presentation, not overly gospel – it actually strikes a chord with a logical, poignant balance. But, the fact that we have a song that sounds like this and is about how the turmoil in a foreign land affects a single person -- elevates the genre to another level. It's not so much a protest, as an assessment from one who knows how war affects the psyche, first hand.
The song has just enough fire – but its never too heavy on the brimstone and the strings toward the end captivate the feelings of being away from home again. As the musicians turn the song into a more rousing choir-inflected number the song becomes even more meaningful. Sometimes those are the best...because a man has to do what a man has to do. The cost is always high. At least, coming from a Brooklyn singer who experienced war first hand, I would interpret Justin's effort that way. I could be wrong. Nevertheless, "The Valley," is a brave masterpiece.
With full throat vocals in the timbre of the late Michael Been of the band The Call – you may remember their song when it was used by Al Gore in his Presidential bid several years ago – the classic "Let the Day Begin." Justin asserts himself very well on "Thousand Yard" – a military condition known as the "thousand yard stare," when a solider is so burned out that they stare into space from all the carnage and terror they witnessed. Presumedly their soul left their bodies. Powerful stuff.
Usually, when someone has the "thousand yard...feeling" they are shell-shocked, pulverized in body and soul. You can call it what you want and be politically correct: battle fatigue (WWII), operational exhaustion (Korea), post traumatic stress disorder (Vietnam+). But, what it is, is what they called it in WWI -- shell-shock. Two syllables. The song is intense, sung with a wonderful lyric, steady and driving with all the musicians adding their pyramid of notes to an expressive vocal.
Lead piano opens "Ain't To Pray," a blistering dirty blues approach with Americana-Roots music filtering the blues strains in an effective manner. The quiet, laid-back brass supported by the guitars and backup vocals has a breadth of melancholy power and it's hard to beat. This is a challenging tune...could have been written at the turn of the century in the south – it bleeds with Appalachian tears and its excellently recorded and captured. Justin's lead vocal is sincere and emotional. Surprisingly good. Another tune set to replay.
The final track – "Tomorrow"  is like a prison shuffle – something the Fairfield Four would do and did – when they performed the classic "Po'Lazarus"  in the excellent documentary "Come Down From the Mountain."  This would be an excellent effort for singers such as these men. But, taking nothing away from Justin King and King Radio – this is a richly recorded, down in the dirt Appalachian spiritual. Perfectly sung with impressive backup musically and vocally. An appropriate song to conclude a fine collection of....Brooklyn Americana. Is that right?  Did I actually say that?
It has all the elements required to be signed off as authentic and it all comes together with brilliamce...this is a keeper.
The album was co-produced by Grammy Award Winner Jim Scott (Tom Petty, Red Hot Chili Peppers, The Rolling Stones) and features 18 excellent musicians along with the band:  Justin King (guitar, piano, vocals), A. J. Jump (drums), Mark Kiesinger (bass), Jon Graboff (pedal steel guitar), John Liotta (Saxophone), Ian Schaefer (trumpet) and Robert Donnelly (trombone).
Apologies for not listing every musician on the effort.
Website:     http://www.kingradiomusic.com/
FaceBook:  https://www.facebook.com/kingradiomusic/
Website Music Samples:  http://www.kingradiomusic.com/
Photography:  CD Cover Photo Shervin Lainez // Justin King With Guitar Bridget Fleming
Disclaimer: The opinions expressed in this review / commentary are those of the author and do not necessarily reflect the official position of No Depression. All photography is owned by the respective photographers and is their copyrighted image; credited where photographer's name was known & being used here solely as reference and will be removed on request.
John Apice / No Depression / November 2015