Album Review
FOVEA - Pencil Me In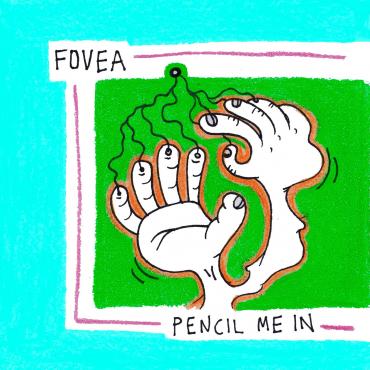 FOVEA: - Pencil Me In
BANDCAMP: https://foveaband.bandcamp.com/track/boss-boy-2
The new full-length album – Pencil Me In, by New York's – Fovea, a very well-assembled band, combining the talents of Halley Furlong-Mitchell - Vocals, Keyboards. Max Weigel - Guitars, Vocals, Keyboards, Electronics, Bass on "Worn Out." Steve Shaw - Bass, Guitars, Vocals on "Worn Out," Jake DeNicola - Drums, Percussion, Foley Sounds, and Keyboards. After releasing one EP in 2016, they arrive with a debut LP that will turn anyone's head around with the massive assortment of tunes that seem to defy categorization. You can spot everything from pop, to psychedelic rock, ambient rock and even some electronica. It's all in there, and much more.

This is a CD anyone can enjoy, even if they can't find anyway to relate to the lyrics. Being new to this band it's nearly impossible to know what the songs are about, but they've explained that to their fans, some of which are the only ones who ever know about those things anyway. The album starts off with one of the more electronic-based numbers on "Boss Boy" with a lot of surface noise in the intro, which sets up a melodramatic vibe that gives room for the two singers to spar throughout what serves as an enticing opener. The musical interplay is second to none and there's no turning back after this epic track.

"Don't Play" picks the pace right up and you're tapping your toe within seconds on this smooth-jazzy and at times very swinging throwback. It follows a classy approach in the vocal department with Halley Furlong-Mitchell taking the lead and nailing it all the way. It's too hard to describe without over analyzing it, you just get substantial music everywhere you listen. "Cost Of" is next, and it's the single that proves all-of the above. This is every bit as captivating as anything the album has to offer, which is a lot for any music lover. The drums of Jake DeNicola play a huge part in this, as well as everyone turning in equally maximum efforts.

If that isn't even variety, there are also some conceptual patterns-  aligned throughout the album, and "Chiamami" makes that first known with an unexpected explicit twist for those trying to make sense of the lyrics of any of the tracks. Once that is out of the way, they carry one with the slinky and sultry "Always," with Halley once again taking the lead vocal spot. This is a ballad that kicks up a little toward the end with a big bridge before a lengthy fade-way. Her voice sounds like it can content with any opera singer on this. It's very serious, even if the lyrics aren't. I consider it to be one of the best tracks on the album, but they all have more to offer than the average band.

"Dad Dreams" is very cool with a layered vocal approach that includes male whispering over female vocals for a sweet effect. This is a nice pop tune with all the jazzy bells and whistles. It's one of the most satisfying tracks underneath everything there is to consume between a plethora of styles. "GTO" has some great rhythm patterns too, there's no filler on this record. Everyone produces with their best of abilities on "Worn Out" with its low-register male vocals and clever guitar lines, mixed with the soft voice of Halley to compliment the gritty male vocals. These really are all well-crafted center-pieces of music with divine vocals.
FACEBOOK: https://www.facebook.com/foveaband/

Mindy McCall