Album Review
Fraser & Girard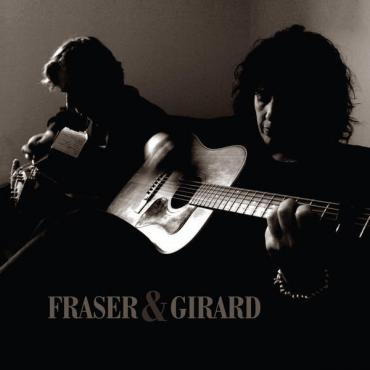 The Wonderful Allan Fraser -- former Fraser and DeBolt -- Finds A New Partner in the Remarkable Marianne Girard
Many singer-songwriters and duos have produced fine albums, wonderful songs and challenging music. My ears have been overwhelmed over the years with an abundance of material that I just marvel at. Many of these musicians never get recognition, they continue to fly under the radar and some are content to do so, or they do it because they have a passion for it.
I am also amazed how a standard type of music – Americana, folk, roots, rock or country in the hands of different individuals are as  uniquely differentiated as snowflakes. Even if someone such as myself compares an artist to another it's seldom because they are the same. They may not be. They just happen to mine the same vein yet their approach is wholly their own. Let's face it: Elvis Presley sounds like Elvis Presley but if you deconstruct his vocals, you will hear Billy Eckstein, Dean Martin, Arthur Crudup, Brook Benton and many others. It was Elvis' talent of bringing all these styles together and then once applying his own personality created his own sound.
Many artists spend an entire career searching for their sound.
They have their influences and sometimes they perform too close to the original and never accomplish much success. Others, who are more in touch with their inner talent can smoke out the necessary influences, styles and qualities but then they actually recreate something that becomes their own.
Bob Dylan, as well, can sound a lot like Ramblin' Jack Elliott -- but, Dylan combined his art with Woody Guthrie and countless other folk-roots-country and blues artists of yesteryears -- and managed to magically transform his gruff, whiney vocal into a classic voice with nuances, phrasing and creativity. He may not be Pavarotti -- he may not even be Elvis Presley -- but, Dylan was a true original -- just as John Jacob Niles was. 
The opening track of Fraser and Girard's self-titled album is "Picov Downs," and this tune pulls at many traditional elements that my ears perked up. I have heard pieces of this before. But, in reality, this is new...it's fresh, has drive and it's reintroduction to new ears is clever. I was captivated by Marianne Girard's mature deep traditional-seeded vocals and Allan Fraser's underlining back-up vocal. The acoustic guitars thread and layer their notes together like the petals in a rose.  
What's also true is that when an accomplished duo like this plays their acoustic guitars and sing together live -- even if Allan Fraser appars at times like that friendly grandfather now down the road -- children will gather at their feet like bees to the hive. I was once one of those children, I loved sitting on a porch or at picnic under a tree listening to some elder pick out the blues or folk tune. Black or white, man or woman, I knew what was good, and most of all -- enduring. Fraser and Girard are enduring. 
Photograph: Marianne Girard
"One Foot Out the Door," begins slow and with rich duet vocals. It reminds me a little of the way The Everly Brothers sounded on some of their slower tunes. Now, there are many duos -- male and female -- that I have heard and many are quite accomplished with contrastingly blended voices. But, Fraser and Girard possess a special magic. Maybe it's the power in their voices. It's something beyond mere harmonizing. It's that at times the two voices jell and become unified as one voice that belongs to no one vocalist. This song is written in an intelligent country manner – no trucks, no big cowboy hats and studded boots, no beer and lipstick on the collar. Just a real dignified country flavored ballad.
"Dance Hall Girls," (covered by John Oates of Hall & Oates and originally recorded by Fraser and DeBolt) is closer to the country spirit -- though the lead singer Allan Fraser sings about Baltimore. Marianne's accompanying vocal is saucy and strong. Shane Cook's fiddle and Burke Carroll's pedal steel adorns the tune in exquisite down home on the back porch styling. The song is upbeat and all the lyrics – available in a cool lyric book enclosed in the fine CD packaging – are well-written and literate. Many singer-songwriters seem to write good melodies, but the words often are second hand toss offs. Here, the lyrics are obviously part of the entire showcase. 
The dangers of some music is boredom. Many songs begin to sound the same or the subject matter becomes a little redundant. But, Fraser and Girard work off each other's lead performances in a well-balanced fashion. "Broken Dream," features Marianne with her smoky sincere and rich voice. Believe it or not, I actually "hear" the Moody Blues in this approach. I hear Justin Hayward singing these words and the way the music is constructed it is firm in the emotional structure of songs the Moody Blues have made famous for decades. But, that beautiful melodic wave that gently runs through this song -- while reminicent of the Moody Blues -- is what the Moodies would sound like if they dipped their instruments into the country-folk-roots tradition of Fraser and Girard. It's an excellently arranged Fraser and Girard tune. Paul Mills provides a wonderful classical guitar and this adds to the resonance. Quite appealing and impressive.
Singing together closely knit, Fraser and Girard on "My Name Is Carol," remind me of the perfection that was the duo of Clive Gregson and Christine Collister. While the sound is not heavy with keyboards and drums – the stripped down sound is played with instruments that provide sufficient mood with a poignant lyric and intense vocals. This is a well recorded song because capturing the softer notes, the subdued essence – here on this track it's just enough of a haunting shade. Again, Marianne's vocals are perfect in this almost-like-a-lullaby song.
"Don't Blame It On Me, " features Marianne in a more aggressive interplay. Channeling her Patti Scialfa-type vocal inflection. This one is a little more of a country-rocker and it works well.
"Outside St. Louis," (St. Louis Blues) -- finds the duo once again singing in a unified fashion. The contrast in their vocals is syrupy good. Fraser goes into the basement of his throat at times with his vocals. Great Leonard Cohen quality and quite satisfying. It adds to the splendid tone of this tune. This song is quite original and it slinks along like a snake in the cane fields. These two singers fit well together. It's like listening and revisiting the visual and distinctive songs of Richard and Linda Thompson. There is a small sarcastic grain in the vocal that is charming. It's like the little pinch of salt you have to toss into pasta water. It's in there, but you'd never know it. A live version is featured here that is equal to the recorded version.
"Even the old folks are waltzing, smiling and spinning away…they're forgotten."
Sounds sad but, there is a power in this tune that is seldom evident in even louder songs by other artists. The melody suits the subject and the vocalizing is a hoot.
The fiddle-rich "Hard Time," features excellent folk-inspired vocals by both Fraser and Girard. Another round of impressive lyrics and expressive melody. Allan Fraser is no stranger to fine songwriting and performing – having released two critically acclaimed albums on Columbia Records as the duo Fraser & DeBolt (1960's and 1970's) with the late Daisy DeBolt. This duo supported Tom Paxton and while wide success eluded the duo they were well-respected in their musical circles and consistently received glowing reviews.
So, with the wonderful teaming of Marianne Girard – Allan Fraser returns with more poetic lyrics, melodies, and top tier musicians. Marianne Girard has also had a fine solo career – and has released two albums: "In This Town," and "Pirate Days."  
"Matchstick Men," is sung with a richness that was heard many times on Richard and Mimi Farina songs. Matter of fact, that duo is probably the best comparison to Fraser and Girard. Many of their new tunes on this collection have a stirring, compelling artery that runs through the material.
"How To Move," continues with an intelligent performance – the singing is emotional, it's arousing and can be danced to. Allan's vocal has an elder statesman's quality and Marianne's veers between folk-oriented and rock – her vocal is the colorful ribbon that runs through Allan Fraser's deep, mournful and distinctive voice. This is one of the best tracks – "He doesn't know how he'll ever cross that river, the only thing he knows is how to move."
Lyrics that matter….what a concept.
"Cabot Trail," has a rustic Americana-Roots inspired foundation. These lyrics are even more challenging and ambitious. The acoustic guitars ring and chime like back-up vocalists in the shadows – and this is a fine melody, rich with sound, dramatic, and scuffed with traditional tone. This is a delight. Something you could sing late at night in your backyard just before bidding everyone goodnight.
All songs were written by Allan Fraser and Marianne Girard with photography by Mark Whitcombe.
As usual, this fine music was produced and released independently. The CD package graphics was designed by Craig Allen. It's a beautiful die-cut black and white 4 panel with a full stitched color lyric book.
Website:  http://www.fraserandgirard.com/
FaceBook:  https://www.facebook.com/Fraser.and.Girard
Marianne Girard Solo:  http://www.mariannegirard.com/music.html
Support Independent Music.
Disclaimer: The opinions expressed in this review / commentary are those of the author and do not necessarily reflect the official position of No Depression. All photography is owned by the respective photographers and is their copyrighted image; credited where photographer's name was known & being used here solely as reference and will be removed on request. YouTube images are standard YouTube license.
John Apice / No Depression / June 2015