Album Review
A Fresh Taste of Cool Stuff from Cross the Country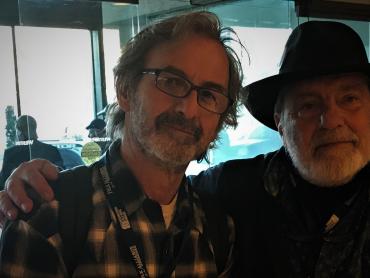 A number of records have crossed my consciousness lately. I'm struck with how much good music is being produced these days, all across the country. Here's a taste of some cool stuff.
The Price Sisters   "A Heart Never Knows"   Their voices layer, melted butterscotch in waves, while instruments chop and evoke velvet, and the resulting texture is a bright meld of sound that is a current clarification of the bluegrass sound that evokes tradition while creating a world of its own. Twin sisters with halos of brown hair sing brightly, a glimpse of bluegrass heaven as rich as anything west of the Blue Ridge.
Jeff Rymes     "Even If The Sun Don't Shine"    He's a trip musically. He can sail effortlessly from a bluesy, southern rhythm and blues to a male version of Billie Holliday to a hot rod rocker of a tune. He hasn't gotten sufficient attention in a contemporary scene rich in music and musicians. But, believe me, he's worth the journey. Jeff Rymes' former quartet The Lonesome Strangers originated in "the roots music explosion that took place in Southern California during the '80s" and was called by AllMusic  "one of California's most influential bands." Now, 20 years since the Strangers' last release, Rymes returns with his solo debut of songs from the lonesome road. While he's based in Portland, he occasionally ventures out, and his new album is a quietly rocking gem.
Super Doppler     "Moonlight Anthems"   They've changed their name, but kept a similar musical persona, operating out of their base in the Hampton Roads area in coastal Virginia (Norfolk, Virginia Beach, etc.). They are a horn-adorned largish band that has a rocking pop sound, ranging through a number of contemporary styles. These guys, including a set of brothers, whose uncle owns, thankfully, what is becoming a dying breed, a record store.  have stayed together through thick and thin, and have a sound that gives them a positive slant on the future, bolstered by a summer of festival engagements and a lot of touring. Formerly known as Major and the Monbacks, they call themselves a psychedelic rock band, but they have elements of Beatles and even a touch of Americana at times.
R. J. Comer   "One Last Kiss"    This guy has a great raw country voice and persona. His songs have some dirt and grit on them. His tune, "If I Could Be Water," is a raw beauty. He carries the record with a lot of power and variety.
The Young Novelists      "In City and Country"   They haven't let me down yet. Their new album strikes me as hitting yet a richer vein in mood and lyrics, a smooth tangle of well-matched voices from this young Canadian duo.
The Mulligan Brothers    "Songs for the Living and Otherwise"   The first song on their new album took me aback. It reminded me so much of James Wilson leading a Sons of Bill tune, one of my favorite experiences. Since the Wilsons have been on a time-out for a while, I was especially struck. The other songs don't remind me so much of the Wilsons, but are cool just the same. I like the variety. The pace threads from fast to slow to med'jum. The styles, too, vary.
Hayley Sabella   "Forgive the Birds"   What a likeable voice and texture, she sings with a soft-spoken beauty that is yet powerful within its tranquility. The first song has an interesting experimental-sounding twist of sonic change at the end that sets it off with a pop. Her song about Cape Cod takes me back there in a certain kind of atmospheric, romantic-feeling way.
Johnson Crook    "The Album"   These guys are the real deal. The energy and full, powerful voice took me by surprise. From Toronto, Canada, they rock Americana like a rootsy jam they won't let go of. The energy and harmonics on the record don't stop, blow right on through to a satisfying end.