Album Review
Furnace Mountain--- Fields of Fescue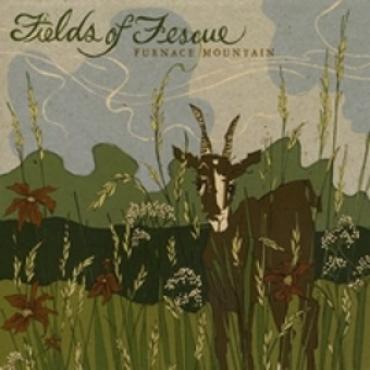 Once again available on CD.  In light of Furnace Mountain's decision to release certain of their previous works on the CD format, here is a review I wrote of their 2010 album, Fields of Fescue. CDs are available through the band's website.
Furnace Mountain is from Virginia (a state which has more musicians per square mile than any other, I do believe), but I found them in New Mexico, of all places. Aimee Curl, bassist and one of two FM voices, spent a bit of time in New Mexico it seems and while maintaining her interest in Furnace Mountain, joined a few other musicians in a band already established known as ThaMusement. ThaMusement were part of a growing circle of musicians and artists under the umbrella of Frogville Records, a collective which released not only albums by ThaMusement but that band's head muse Nathan Moore and an early Furnace Mountain album, as well. Want a thrill? Check out ThaMusement's 2006 album Never Settle For Less—an under the radar classic of outstanding music too good to be categorized Americana.
Well, Curl eventually headed back home to help keep the Furnace (Mountain) going and I for one am glad she did because she led me to Fields of Fescue, an album which instead of looking to the past brings the past to the present. Not that many bands out there really capture old-timey music and weave it into a fabric perfect for today. Hot Rize, maybe, and a few others, but they are few and far between. Sure, there are tons of musicians playing old-timey music, but they make you hear old-timey music. Furnace Mountain (and Hot Rize, etc.) make you hear just music because what they play is so good it defies categorization. I know I say that about a lot of artists and bands, but there are a lot of great artists and bands out there. And Furnace Mountain is surely among them.
It doesn't take you long to hear it, either. The title track, "Fields of Fescue," kicks things off and I mean kicks. A David Van Deventer original, its base is jig and reel and there is some serious jigging and reeling going on. A light-hearted and bouncy tune, it allows delicate interplay between Danny Knicely's mandolin and Van Deventer's fiddle until it hits the chorus at which point everything turns just short of bagpipe in sound and intensity. You want old-timey? The jazzy mountain-bred "Rattlesnake/Black Mountain Rag" with is hoedown magic (even people who don't like hoedowns are going to love the intricacies here, and that mandolin is killer!). They next take on a folk/backwoods tome titled "Winter's Night" and the first time I heard it, I thought they could have re-recorded the vocals but now think not. As rough-hewn as the vocals are (ably provided by Curl and Morgan Morrison), they give this song an authenticity you have to hear to believe. A little reel (I think it's a reel), "Pretty Little Widow" is perfect for some of that folk dancing you hear about people doing now and again, maybe the mountain version of Riverdance and again that fiddle and mandolin interplay makes the song. "Graveyard/John Brown's Dream" is another semi-hoedown tune and features the duel fiddle of Knicely and Van Deventer, who by now have jumped to the top of my musicians-to-watch list. Add the feet (that's right, I said "feet") of Megan Downes and the banjo of Jason Romero and you have a damn near perfect track. My dad would have loved this.
The music gets a bit darker with "Bad Girl," one of those old folk songs they dredged up from somewhere and it makes me wonder how many more gems are hidden beneath the dust of the past. There is something sinister in both the story and the music, as well as a sense of tragedy. And again, perfect/imperfect voices. Damn, I really love those ladies' voices! They grow on you, you know? "Turbo Dog" is a dog race of instruments and if you've never heard the influence of jazz on what we used to call "newgrass," here's your chance. It is fiddle and mandolin smoke. "Factory Girl" is another song of the barn dance variety and normally when I hear songs like this I think them pleasant enough, but like I said, these guys have a way with songs and I find myself liking this as much as any other on the album. I mean, I like the song, but I love the way these guys do it. Brad Barr wrote "Ooh Belle," the one song outside of the traditional and Furnace Mountain realm, and when you hear it you know why they chose it. It is a ballad of sorts, full of simple twists in chord and harmony, which sets you back in your chair. It is one of those slower tunes that makes your heart beat faster (assuming you have a heart). "Watermelon Seed" is another Van Deventer original (he wrote the aforementioned "Fields of Fescue" as well) and makes me wish he would write more—or that he would do an album of nothing but originals. While it is a less frantic instrumental than "Fescue," it is still upbeat and a great vehicle for Van Deventer's fiddle and Knicely's mandolin. Those guys have a real connection. I've heard "Bowling Green" before and have never thought one way or another about it, but this falls under the category of, once again, loving how these guys play it. Somehow, Furnace Mountain has this ability to make me forget genre when they play and it is most obvious when they play the obvious. You're right back at the Opry with "Sugar In the Gourd," an old-timey, footstomping tune (and, yes, there goes ol' Megan stomping away) and we're done. Which means you don't have to read my rantings anymore. As for myself, I think I'm going to do the dishes and play this from the beginning again. This is great dishwashing music. Great.
A few people (mostly relatives) have asked me in the past if I love everything musical because I hardly ever write anything negative. Well, I don't love everything and I seldom write negatively because I choose the music I write about. That's right. I choose what I write about which means that I like what I choose or something to that effect. Choosing Furnace Mountain was a no-brainer. ThaMusement knocked me out a few years ago and while I'd not heard Furnace Mountain before Fields of Fescue, I'd heard Aimee Curl and I somehow knew the music was good. Check out Furnace Mountain, then head to Frogville and check out ThaMusement. It may be worth the trip. It certainly was for me.