Album Review
A Gem From Up North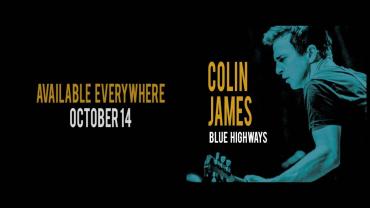 Colin James was born Colin James Munn in Regina, Saskatchewan, Canada.  Years ago while opening on tour for Stevie Ray Vaughan, Vaughan suggested he change his name to "Colin James" as when he was introduced "Munn" sounded like it was pronounced "Mud".  This is his latest disc, number 18, and is titled Blue Highway, and is a collection of some of his favorite blues tunes, from writers such as Buddy Guy, Howlin' Wolf, Peter Green, and William Bell to name but a few of those who penned these gems.  He did it at the end of a tour and used his road band for the most part.  Good thinking as they were coming off months on the road and the whole unit was beautifully together; the way only bands that appreciate the road and music can be at the end of a tour.  
On this disc, made just to show an appreciation for the songs that had an impact on him and his music, on that long road to being able to make a disc like this one, the band is one solid unit and plays together as if their tour had been forever instead of several months.  Not the easiest of tasks when covering writers as diverse as Chester Burnett, Blind Willie McTell, and McKinley Morganfield.
The fact that this is such a cohesive disc and the playing is a heartfelt celebration of the love for this music and its variety is something that explodes off the disc.  A great disc to celebrate all that the blues has to offer. 
by bob gottlieb