Album Review
A Generous Collection of Pensive, Tight & Affirming Well-Written Ballads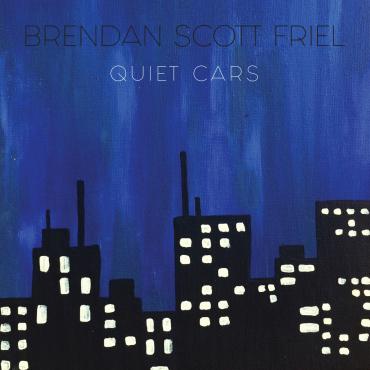 Though I don't always get excited with the soft rock strains of a James Taylor (though he does have some great songs) or the California rock of The Eagles -- I do, on occasion, find some singer-songwriters who have the ability to add some nice touches to their repertoire that make them…interesting.
Ontario's Brendan Scott Friel started out of the gate with two tracks on this album that were a bit ho-hum. At least to my ears. They were good songs but they weren't anything I hadn't heard before by hundreds of others artists. The playing by the musicians was competent and it was pleasant. Nevertheless, as the album Quiet Cars proceeded with its next eight tracks -- all had something to recommend this artist beyond just some mediocre, well-played tunes. 
So, let's jump to track three where Brendan offers a generous helping of James Taylor -- however, it's crossed with a pinch of Marc Cohn ("Walking in Memphis," "Silver Thunderbird") and a dash of Greg Trooper ("I Can't Search for You Anymore"). These types of songs, by these artists, are invigorating and memorable. It's like, just when you think it's just a cup of coffee...you realize someone spiked it with Irish whiskey.
Brendan has a pensive tightly threaded sound of mandolin, acoustic guitar, and violin that plays in unison in a penetrating, smooth and affirming manner. "Joy," is exactly that. A joy. It almost reminds me of the more better-written ballads of the late Harry Nilsson. Brendan's vocals are sincere, and nothing is pushed or overdone. Brendan seems to know the song alone will sustain itself without any showboating or solos. Good judgment, instincts? It just sounds excellent.
By track four the acoustic guitars flow with a more Fleetwood Mac strength. It sounds like a song Lindsay Buckingham would sing standing next to Stevie Nicks. "Hold on To You," has more mandolin but it's pleasantly melodic and charged with just enough anticipation. The chorus could've been strengthened by an under the surface female vocal – similar to a Stevie Nicks – just to give it that added detail and lift. The song is gorgeous nonetheless. Harmonica and a drum shuffle enhance "Suitcase," and with a little echo on his voice, Brendan offers a traveling song. The artist has found his niche and while the first two songs were not enthusiastic enough to grab easily wandering ears these tracks are developing. They are filled with more decorative lyrics and arrangements. The harmonica is not Dylan-oriented but it does lend a nice color to the images of road signs passing by in a blur, farmlands, clouds in blue skies, and buildings. It has a nice feel to it -- like: "we're going nowhere in particular but we're just happy we're going." This is a pleasure.
After a slow start, Friel is now asserting himself -- he certainly knows how to pace his tunes. The earlier song "Little Man," which was the second tune on the collection – is good, it's failure is its position on the collection, not its message, melody or performance. It needs to be moved up and placed in a better showcase between two stronger tunes. The title track "Quiet Cars," is in a perfect place. It opens with banjo, steady attractive beat, a strong Friel vocal with clearly sung lyrics. I'm not a big fan of whispery vocals but Brendan provides a nice balance in this poignant little song, and he makes it sound personal, private and that's the magic of a wise performance. The song goes well with "Suitcase" having come first. It seems to have set up the next scene which is the title track: "Quiet Cars."  The tempo is a little wounded, reflective and melancholy in tone. But the tune is still gently charged with honeyed sadness.
Each song seems to start with a different instrumental intro and that's refreshing. It gives each song an identifiable opening. Track seven "I Could Be Brave," has a pleasant little trumpet (Brian Zanier) sustaining its charm. And Brendan Scott Friel continues to spread out one glorious beautiful melody after another. This is a song that will make you feel good. It has optimism running through it.
A gentle ballad maintains Brendan's style. Easy going story songs with nothing bombastic or complex. Sometimes that's all you really need to get your message and showcase across. Make the song relatable to a stranger's ears. "My Light Is On," is one such tune. Gentle plucked acoustic strings with Kelsey St. Amour's violin flowing on like a cold summer stream at a refreshing speed. This song is similar to when artists like Randy Newman, Tom Waits, and even Shane McGowan (The Pogues) turn their pens toward something poignant and refined. In that area, their expertise is magical. This song I could easily recommend to an artist as legendary as Judy Collins. And, if ever translated, would be understood by anyone in the world.
At this point, I would have expected something to rock out and kick ass but Brendan continues with his confident balladry (which is excellent). This one is a little more upbeat but stays fresh in a style that was once perfected by an English troubadour. The late David McWilliams ("Days of Pearly Spencer," "Marlena," and "There's No Lock Upon My Door"). Williams never achieved major stardom in the US but his song "Pearly Spencer" has been covered by many artists. Perusing any of his many European albums you will find tunes similar to Brendan's "Goodnight." There is a Euro-flavor to the arrangement, and this is a beautifully performed song -- perhaps the best of the lot. Easily memorable.
Brendan concludes his album with a far-away processed voice in "Leave It All Behind." At first, I didn't care for it. I thought again that it was a misplaced tune. But, I was wrong. After a second, and third listen this is a perfect finale to a wonderfully enchanting album. Though it's not a concept album, Brendan seems to have written his tunes to be "related" to each other. I admire that. It's a half-hour of beauties all in the same gear – but you arrive with a feeling of satisfaction. The ride didn't creep along and it didn't speed along. Not all food needs to be spicy, not all journeys have to be fast, not all coffee needs milk or sugar, and not all songs have to be chiseled in stone. These songs flow free and they arrive…on time.
There was no producer's credit on the album art so I will assume it was Brendan – since he wrote all the songs and played five instruments. Brandley Merryfield plucked the bass. Kyle Bondy hit the skins. Joe Zanotti ran his fingers along the organ keys and the other musicians were mentioned individually in the copy.
The art on my copy was a simplistic rendering of a city skyline at night with some lights in the windows. As simple and juvenile as the art was I found it in keeping with the subject of the music. Carly DiGiovanni was the art director. I think the art benefits the style of music.
Website: https://brendanscottfriel.ca/
FaceBook: https://www.facebook.com/brendanscottfriel
Bandcamp:  https://brendanscottfriel.bandcamp.com/album/quiet-cars
Disclaimer: The opinions expressed in this review/commentary are those of the author and do not necessarily reflect the official position of No Depression. All photography is owned by the respective photographers and is their copyrighted image; credited where photographer's name was known & being used here solely as a reference and will be removed on request. YouTube images are standard YouTube license.
John Apice / No Depression / January 2018