Album Review
The Genius of John Duffey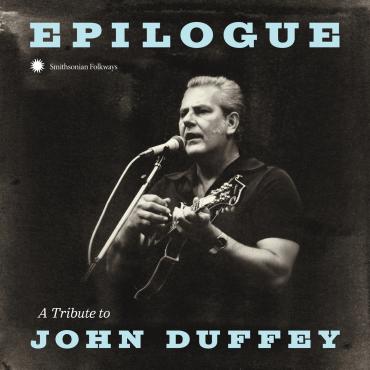 Back in 1957, mandolinist and vocalist John Duffey joined up with banjo player Bill Emerson and guitarist and singer Charlie Waller to form The Country Gentlemen, a group that expanded the boundaries of bluegrass. While playing traditional bluegrass, they performed in folk clubs in cities and expanded their repertoire by including folk songs, thus expanding the audience for bluegrass. The Country Gentlemen toured and performed tirelessly for over a decade, and in 1969 Duffey retired from the road to open an instrument repair shop in Arlington, Virginia. Duffey didn't stay away from playing music for long, though. In 1971, he started jamming with banjoist Ben Eldridge, guitarist John Starling, dobroist Mike Auldridge, and bassist Tom Gray, and before long they had formed a band called The Seldom Scene. Duffey had some rules for this new band, though, and the first and most important was "it has to be fun."
Listening to Epilogue: A Tribute to John Duffey reminds us how much fun it is to listen to the music of these two groups. A who's who of bluegrass players — some now, like Duffey, also no longer living, such as James King (some artists need to get together to make a tribute album to him, and soon) — that includes Amanda and Kenny Smith, Tony Rice, Sam Bush, Dudley Connell, Bruce Molsky, Tim O'Brien, and Jerry Douglas, among others, plays on this album. Mandolinist Akira Otsuka and Ronnie Freeland hatched the idea of a tribute album following the International Bluegrass Music Association's 2002 meeting, and Otsuka, Tony Rice, and Ronnie Simkins laid down the basic tracks for "He Was a Friend of Mine" on New Year's Eve 2002. Otsuka and Freeland then traveled to IBMA's annual gathering the following year with recording equipment and enlisted as many artists as they could to play on the sessions that eventually became this album.
The album opens with a version of the Carter Family's "Sad and Lonesome Day" that features Randy Waller on lead vocal and Douglas' dobro, Kenny Smith's guitar, Otsuka's mandolin, Eddie Adcock's banjo, and Mark Schatz's bass flowing effortlessly under, and weaving around, each other in a scampering song that sets the tone for the album. Nils Lofgren's dobro and Kenny Smith's guitar provide the shimmering foundation on which Amanda Smith lays her crystalline vocals on the poignant Stanley Brothers' song "If That's the Way You Feel." Duffey performed Tim Hardin's folk standard "If I Were a Carpenter" with The Country Gentlemen and The Seldom Scene; here, Jonathan Edwards sings lead with Mike Auldridge's dobro and Wayne Benson's mandolin playing off each other in call-and-response fashion. Bringing Mary Home remains one of The Country Gentlemen's best-known albums, and the group's version of Dylan's "Girl from the North Country" appears on it. Steve Gulley takes the lead vocal on this scampering version. Dudley Connell, who made his debut with the newly reorganized Seldom Scene in 1995 and who writes his recollections of Duffey in the liner notes for Epilogue, sings lead vocal on the folk gem "He Was a Friend of Mine." Backed by Tony Rice on guitar, Jerry Douglas on dobro, and Otsuka on mandolin, Connell and John Cowan on tenor vocals turn this version into an even more touching and moving song than Dylan's or The Byrds' version. One of the highlights of the album is the all-cast ensemble on Duffey's "Christmas Time Back Home." The album closes with Otsuka's own mandolin instrumental tribute to his mentor.
Epilogue is a loving and fitting tribute to the "father of modern bluegrass." These affectionate versions of the songs Duffey performed with The Country Gentlemen and The Seldom Scene illustrate Duffey's enduring contributions to bluegrass and his role in shaping bluegrass music.