Album Review
Genre Bending Alt-Country-Blues Hybrid With Classic-Rock Alchemy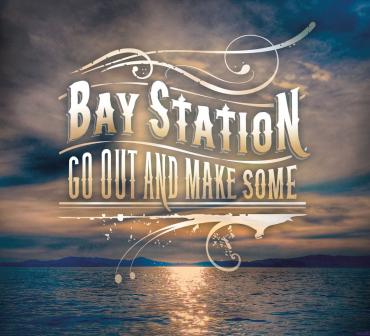 If you are an admirer or fan of a singer-songwriter such as Lucinda Williams, Deborah Crooks and her comrades that comprise Bay Station have a collection of songs that will spend time close to your Lucinda Williams collection. There's just enough retro style guitar along side modern tonal energy to keep Kwame Copeland's performance that opens Bay Station's 2nd album: "Go Out and Make Some" in that Lucinda Williams neighborhood.  This is a collection of some fine alternative rock-country, that at times, even exemplifies the quality of the Grateful Dead / Jerry Garcia Band's during their days when their only female lead vocalist Donna Jean Godchaux was in residence ("Sunrise," "Rain"). Deborah adds just enough white-blues tempered steel to suggest 1994's & Blue by Nature's Karen Lawrence's power and authority ("Once Again," "Bring It Home," "Don't Break It Up," "Rain"). That's quite a bunch of comparisons -- and they are all unqualified giants in their respective music. 
But, what's startling good, as well, and allows Bay Station to be special -- is when Kwame Copeland sings with Deborah and they sound  like a hybrid Jefferson Airplane – that Grace Slick-Paul Kanter vocal power and candor. This is going to be enjoyable.
California based -- with a strain of Hot Tuna-early Jefferson Airplane -- running through their melodic San Francisco oriented roots – Bay Station's music is attractive with the same muse that awakened many talented, diversified musicians of the 60's from that area. 
"Be Kind," is a cool infectious tune with Deborah's vocals somewhat subdued -- as if she's singing to herself, subliminally, as an after-thought – but, not losing any of the energetic rock that is her strenght. Copeland's guitar is virtually always on target with aggressive, wonderfully melodic runs. On this tune his playing is the glue that holds it together. Crooks' vocal is the frame. I like the way Crooks chose to sing the song. Maybe she didn't think it out or plan it, maybe she did. No matter...she doesn't sound like anyone except Deborah Crooks on this song. 
She conjures some great alchemy in the tune without even raising a bead of sweat on her brow. Nice guitar conclusion...well picked and classy.
"Wolf Birds," is quite the opposite of "Be Kind." Deborah displays a more bluesy-ballad ballsy vocal approach. A little like the powerful female vocalist Genya Ravan (Ten Wheel Drive) when she sang some of her songs slower. The lyrics for the most part are consistently clever, creative and the steady splash of cymbals in the back ground lead a creepy, but beautiful support just under the surface of Copeland's un-intrusive guitar.
With "Going Doing," Deborah tells a story and baby boomers are going relate immediately. Nice, speedy Mike Stevens percussion moves the song along despite its relatively slow nature. Had Mike done it any other way this pleasant song could've been dragged down. Yet, that drive is stimulating and no matter what Deborah sings listening is easy. Then Copeland opens up on lead guitar with a nice wall of chords. A shift in the action that is what made much of 70's rock exciting. This must have been thought out. Crooks' bluesy controlled manner is what the song needed and got. "Where are you going…what are you doing…" a great hook line in the context of the song. This continues to show me there are still some great artists out there that continue to pioneer fine rock music in the tradition of the originals. This is what I wait for.
In a nice Stevie Nicks (Fleetwood Mac) tone Deborah begins "Sadhu," and the song is masterful. Mike Stevens mallet driven drums adds atmosphere and Copeland's gentle acoustic guitars and lead guitar are like a finely stitched fabric. A melodic, controlled lead with ethereal notes adds to the beauty of the piece. Deborah manages to remind one of a Stevie Nicks, but there is no copying, or emulating. Deborah's own original approach to the vocal elevates the song to a Bay Station level.  This a beautiful song…
Just as Deborah concludes she returns with an impeccable jazzy vocal, half-spoken with "Congratulations."
What the band is doing here clearly shows their diversification and its penchant for a more highly idealistic hat tip to an old world style. I hear Cole Porter, Gershwin, Hoagy Carmichael in this effort. Maybe just suggestions, but there neverthless, like that pinch of salt in boiling water for a plateful of pasta. Many reading this will say who? In regards to the names I mentioned. Yeah…three songwriters who were nothing but clever with their lyrical subject matter, crafty melodies and indisptuable ingenuity. Bay Station's submission here is respectful of those composers. "Ajax Café," continues in this same versatile, sophisticated manner. Steve Waters supplies lead guitar on this track, and John Howland slide guitar. The song is interesting because Bay Station obviously is not afraid to offer a unifying coolness to their band's personality. This is also one of Crooks' most engaging vocals. Though still walking the tightrope of Lucinda Williams' musical staff – which is good. Fortunately, the band plays with a vigor and expressiveness than is all of their own making. Crooks' is simply too original to be a singer who will be known as someone who sings like…like no one. She changes gears seamlessly and in regards to Lucinda, Deborah may have a wider pallet of styles than even Lucinda.
"Another Mile," is another favorite. This is wholly Bay Station – it shakes off the potential commercial urge, but maintains a highly enjoyable listening experience. Crooks' vocal potency here is in high gear and attractive. Copeland's guitars are a signature – quite engaging. "Yes Baby," has Deborah's vocals closely miked…intimate…and the timbre is strident. It has that guitar tone and the song itself is in the deepest tradition of the late legendary songwriter J.J. Cale. The fact that Cale was a very respected singer-songwriter (having made an album with Eric Clapton, and Cale is the writer of the classic "Cocaine" & "One Step Ahead of the Blues") would put Bay Station in good company. Not many artists are mentioned in the same breath as J.J. Cale.
The band, at this junction, should be running out of gas on their originals, but they're not. "Hope," adds to their excellent repertoire. A slow ballad with a beautiful blues balanced lead guitar set against gentle acoustic guitar picking. Deborah's reading of this lyric bristles. It's a haunting potent song and should eventually become one of their best. Steve Waters plays the lead guitar and his contribution flickers nicely through the melody. At the conclusion -- "LPT" offers a duet with Deborah and Kwame Copeland.
It's a fitting conclusion, with a little humor. Copeland's deep Buddy Miller-Billy Falcon type gritty vocal compliments Deborah's. This is probably the weakest of all tunes on the album, but they are entitled to it. LPT is "little pink toes" by the way. You may have to be in a humorous mind set for this one. 
As for other musicians: Andrew Gibson offers steady bass throughout this effort and for those who are not aware, bass plays an important role in the overall power of each tune. Without it, many songs would sound thin. Thank you Andrew for the required weight and smooth lift. 
Bay Station, as good as this collection is, hasn't hit their high water mark yet. My opinion. I hear even greater heights that will come for them. They do need to project an "image" however. Now the PR man in my career is rearing its ugly head.
Posing in a happy go lucky children's TV show type pose like The Elephant Show's Sharon, Lois, Bram & Eric (see below) is not in keeping with the music that successfully is: "Go Out and Make Some."
Bay Station need to study artists and how their photography reflects their genre: a good starting point would be Tom Waits, Van Morrison, Patti Smith, Lucinda Williams & Leonard Cohen to get a feel for an artist who projects – for the most part – an image of themselves and what their music represents. Oh, I'm not suggesting they go out and find a rusty old pickup truck to sit on. But, they need to find a comfortable way of presenting their persona / type of music they play -- comfortably. It's marketing…and that's what a band needs to know how to do -- as well as write great songs. It's your brand.
Some people, while impulse buying, will not connect a particular music to a particular picture of a band. Many a record album failed not because the music or the musicians were no good -- the artwork on the album was not accurate. If you're going to be deep, bluesy, roots-oriented – don't dress in Abercrombie and Fitch clothes, or Old Navy. It takes some work to determine – who you are. Bay Station has already established themselves musically…but, the image…ah, the image…it needs work.
That's my only criticism. But that's something that can be fixed. And it most certainly is important. 
Bay Station has potential – so many possibilities. I will keep my eyes and ears on them as they progress. But, for now, their enthusiasm and their grit in each song does successfully absorb a lot of traditional moisture. For some, they are bound to unveil some musical necromancy and make an even deeper stab into the music they perform so well on this album.
I've been at this game longer than most reviewers. I will always have a tendency to compare and justify a new artists' work by mentioning some vintage, classic performers. This is for reference for many older readers who need an idea of what I am talking about. On this CD I find many respectable comparisons in tradition – not necessarily sound alone. This band admirably reflects the wealth of music explored by Hot Tuna, they have that James Gang (Joe Walsh) metabolism, that Grateful Dead / Jerry Garcia Band (with Donna Jean Godchaux) homegrown classicism, and that ability to strike just the right chord with everyone in an appreciative audience.
The CD art is an attractive 4-panel with uh-oh….no lyric sheet. Great lettering on the cover developed by Alicia Buelow. The collection was recorded in Hayward, CA & San Francisco, CA. Drummer Mike Stevens mixed the 11-track collection. Produced by Mike Stevens, Kwame Copeland and Deborah Crooks. All songs were originals.
Website:  http://baystationband.com/
Facebook: https://www.facebook.com/BayStationBand
BandCamp:  https://baystationband.bandcamp.com/
Disclaimer: The opinions expressed in this review / commentary are those of the author and do not necessarily reflect the official position of No Depression. All photography is owned by the respective photographers and is their copyrighted image; credited where photographer's name was known & being used here solely as reference and will be removed on request. YouTube images are standard YouTube license.
John Apice / No Depression / August 2016