Album Review
The Gibson Brothers Take a Risk That Pays Off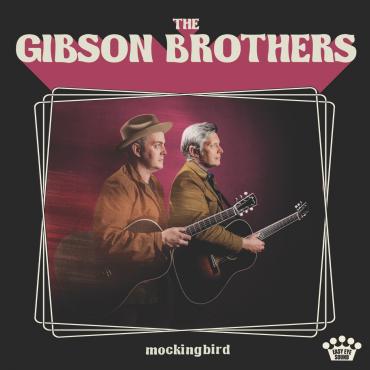 Musical cross-pollination among bluegrass players, country singers, and rock and rollers dates back to at least the 1960s folk revival, with the chasms between each genre narrowed ever since by genre-defiant acts ranging from The Byrds and the Grateful Dead to Diamond Rio and Dierks Bentley. Still, long-running traditional bluegrass bands rarely leave their comfort zones without overshadowing their roots or alienating their core audience.
Enter the Gibson Brothers, led by 30-plus year veterans and rural New Yorkers Eric and Leigh Gibson. Instead of playing it safe with another celebration of northern Appalachia, the group turned to producer Dan Auerbach of The Black Keys to forge a new musical direction that should please established fans and win over curious new listeners. The end result, Mockingbird, recreates the country-rock revelry and pop sensibilities of the Nitty Gritty Dirt Band for an album vibrant enough to quench Americana fans' thirst for fresh takes on roots sounds.
The instrumentation, song topics, and tight harmonies expected from a family-based bluegrass outfit remain intact throughout the album. It's the presentation that changes across these 11 new tracks. For instance, "Travelin' Day" and "Special One" deal with spiritual matters in an atypical way. The former sounds a lot like a trip to the desert with Gram Parsons and Emmylou Harris, while the latter nods to the more cosmopolitan Nashville Sound of the 1960s. Bluegrass fans won't be turned away from either, although they may feel the sudden urge to press pause and dig around for their copies of Parsons' Grievous Angel and Ray Price's greatest hits compilation.
Other examples of tried-and-true topics presented in challenging new ways include the slightly funky "Sweet Lucinda," the vaguely Cajun "So Much Love in My Baby's Eyes" and the orchestral pop vibes of "I'm a Better Man." Like The War and Treaty, Charley Crockett, and numerous other contemporary Americana acts, the brothers explore modern music's rich and varied roots by intertwining their pre-existing influences with a growing range of timeless sounds.
Breaking the hardcore bluegrass mold never overshadows why the group earned respect from its established audience. When the album's jovial mood changes for the introspective "Love the Land" and "Come Down," the brothers' vocal talents shift to the forefront for what could pass as Don Williams deep cuts. Likewise, the band's instrumental talents shine when punchy pop melodies take center stage on "Cool Drink of Water" and "Lay Your Body Down." Each should remind listeners that bluegrass pickers and singers are typically very gifted performers with ample chops to explore other genres. Some stay in their lane as a creative decision — not because of a lack of skill or imagination.
Based on the hype heaped the past couple of years on folk genius John Prine, roots music veterans can earn the adulation of Americana tastemakers without gunning for a more modern sound. Still, crafting an unusual and unexpected album with a roots whisperer like Auerbach comes at a wise time if The Gibson Brothers seek acceptance beyond bluegrass festival circles.