Album Review
Girls Guns and Glory Bring Their Strongest Outing to Date with 'love and protest'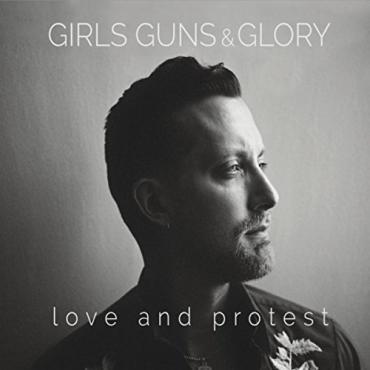 Boston's Girls Guns & Glory returned with a brand-new album, and first independent release, love and protest, on November 4th. The all-analog recording includes eleven tracks penned by frontman Ward Hayden, as well as a rollicking cover of "Hot Burrito #1," that were co-produced with Drew Townson at Zippah Studios.

Refusing to fit neatly into any packaged genre, GGG takes a unique musical approach mixing rockabilly, country, and rock and roll in songs that mine the presence and absence of something most everyone craves - love. Kicking off with the rootsy lead single, "Rock 'n' Roll", Hayden and his talented band - Josh Kiggans (drums), Paul Dilley (bass/vocals) and newest member  Cody Nilsen (guitar)   - slide into the clever rockabilly of "Wine Went Bad (But I'm Still Drinkin')" where he laments "On the sea of heartache, I'm on a ship that's sinking/Wine went bad baby, I'm still drinking,"before plowing into the Mexican-accented, shuffling "Reno, NV," the dark undercurrent of "Diamondillium" and "Well Laid Plans" which, with its western touch, offers a different viewpoint on pursuing a relationship, "It's not the destination, it's the journey we seek."

Hayden's singular voice measures ache and thoughtfulness on "Who Will Love You" which ponders starting over after a broken heart while steel guitarist Buddy Cage joins in on the narrative of "Memories Don't Die" and the barroom lament "Empty Bottles." The foursome tackle loneliness and pain on the raucous "Stare at The Darkness" and insert a slice of punk on the politically minded "Man Wasn't Made" before closing out with the sobering ballad, "Unglued."

love and protest is GGG's strongest outing to date. A well-written, varied, and cohesive record that you'll be spinning well after 2016 comes to a close.
Originally appeared in The Daily Country