Album Review
Girls, Guns & Glory Sing about Love and Protest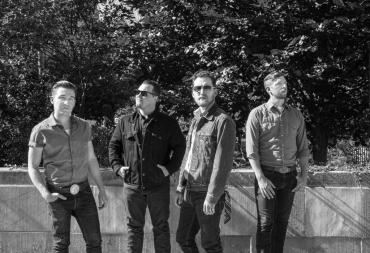 Boston based alt-country rockers Girls, Guns and Glory are out with a shiny new release, Love and Protest, an album that showcases their pleasing blend of rock and country. It's hard to label GGG, as they ride along that road between country and rock. Love and Protest has them spinning in a soulful rock and roll direction, while not losing sight of their original mission. It's an album of twangy Americana complete with a full slate of break up and drinking songs.
The album was recorded live and in analogue and as such, many songs have a raw, biting edge, (which I would argue should be a requirement for this genre). Lead singer Ward Hayden has an affinity for Hank Williams, and their 2015 release was a tribute to the legendary artist. Hayden has perfected that alluring hiccup reminiscent of Buddy Holly, and has total command of his songs. He's got a classic country voice, that sounds especially good behind a rock and roll band.
Rock and Roll
It's all made clear in the opening song, "Rock 'n' Roll," one of album highlights, and surely the most radio-friendly.
"I keep holding on the bad memories, rattle my mind trying to shake this feeling.
tell myself it's under control, feeling wild and free, ready to rock 'n' roll … And watch her go."
"Who Will Love You" is another great tune, a well-crafted radio ready kicker that floats along on a carefree groove. There's some relationship advice and a slight nod to Bob … "And it all seemed so real. You're invisible, got no secrets to reveal"
Drinking Songs
"Wine Went Bad" is a damn fine breakup song, slightly more upscale perhaps then the typical whiskey-themed jingle.
"Wine went bad, but I'm still drinking whatever kills the pain
Stay in bed for days without blinking whatever kills the pain
Might be right, might be wrong, I might've given it away for a song
I'm back where I started now get back where you belong."
"Stare at the Darkness" is an upbeat rocker reminiscent of Jackson Browne's Running on Empty. It features pensive lyrics and a driving beat. Behind the David Lindley-like slide work from guest Buddy Cage, the song is as close as you can get Browne's heralded '78 tour. It's a favorite on the album, a fresh tune with throwback attitude.
"How can there be pain? how can love survive?
Why is it so much easier to break your heart then watch at thrive?
At times like this I feel so down, stare the darkness while my pulse pounds."
Love and Protest
Shuffled in among the songs about, well, girls and glory, is a song that's more or less about guns. "Man Wasn't Made" is a twangy guitar driven protest song that indicts the rich and powerful.
"How people's sons and daughters can fight and lose their lives
for nothing more worth fighting for than a politician's lies
they never lost everything, their hopes, their joys, their dreams
for nothing more than a rich man's war and a global Ponzi scheme."
Hayden's take on Gram Parson's Hot Burrito #1 is sublime – might I suggest better than the Gram Parsons original (sorry purists). The vocals are very close to the Parson's version, and the production is superb.
The album closes with the dusky "Unglued" a prison song full of remorse. The lovely little ballad isn't meant to be uplifting, but it completes a graceful, sophisticated set of tunes.
Ten years down the road, Girls, Gun and Glory have put together an outstanding album, one that should receive some national attention. They fit right in along that continuum of artists like Sturgill Simpson, Jason Isbell and Margo Price.
Are they country or are they rock and roll? Who knows. That's a question that doesn't need to be answered here. Regular readers of No Depression know that by just asking the question, they'll be fine.
Ken Abrams is Music Critic at GoLocalProv, Rhode Island's leading online only news and entertainment site. E-Mail him here. Check out the GGG tour schedule here.