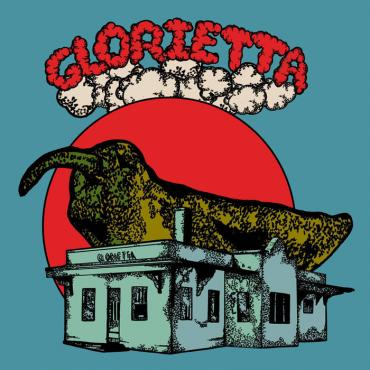 EDITOR'S NOTE: As 2018 comes to a close, we're looking back at some releases from the year that we didn't get a chance to write up when they were released. Glorietta's self-titled album was released in August.
When a group of friends took a pilgrimage from Texas to New Mexico, armed with instruments and plenty of booze, they had no idea what would be in store. That's the quick and dirty concept behind super group Glorietta, made up of Matthew Logan Vasquez (Delta Spirit, Middle Brother), David Ramirez, Noah Gunderson, Kelsey Wilson (Wild Child), Jason Robert Blum, and Adrian Quesada. The result of their debaucherously drunken weekend at an AirBnB (notably with a hot tub) was a fantastic self-titled record full of songs both moving and rambunctious. They made their live performance debut at this summer's Newport Folk Festival, and from then on it's been nothing but a party when this group gets together on stage. (See a live review from October here.)
Supergroups can risk feeling contrived or unnatural, but with Glorietta, everything blends together just right, like a well-mixed margarita. Their songs speak to each of their strengths as singers, musicians, and songwriters. A little Southern rock and roll with a bit of twang, the songs on Glorietta stick with you. Particularly standouts like "Golden Lonesome" and "Lincoln Creek." These are two of the darker songs on a record filled with uppers, but they're so well written, it's hard to imagine we may not get more of them if Glorietta doesn't do this thing again. Gunderson leads on the former, and Ramirez on the latter, and both have voices for the ages.
Elsewhere, the group turns up with the wild and soulful "Heatstroke," clearly a favorite of theirs to play live, and the catchy earworm "Hard Way." And on "Friends," Vasquez leads the charge in a tribute to the friendships that feel more like family. "I know the reason for every lyric that you wrote / Counting cadence and the rhythm schemes that you like / I'd give it all to you if you ever had the time / It's how it is / Friends like this," Vasquez harmonizes in that well-worn rasp. It's as if he's welcoming us into the group with open arms. And it's an invite we'll happily take.
*      *      *      *      *      *      *      *      *      *      *      *
Your subscription helps keep independent roots music coverage alive! Subscribe to No Depression now and join a community of roots music fans from around the world.