Album Review
Goin' Down the Road Feelin' Good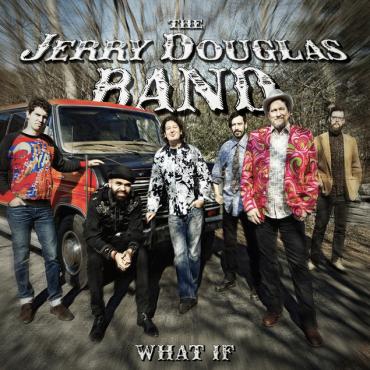 If Weather Report; Chick Corea; Blood, Sweat and Tears; Charlie Parker; and Jerry Douglas took the stage for a few nights at Birdland, we'd hear the answer to the title of the Jerry Douglas Band's new album. To say that jazz meets bluegrass on What If doesn't do justice to the wide-ranging musical innovation on every one of these tracks. Sounds don't collide here; the ethereal and the earthly coalesce to transport us to another plane of existence where, for a moment, the sounds of horns, violins, and Douglas' dobro spiral around us. Douglas' band features Daniel Kimbro on bass and strings, Doug Belote on drums, Christian Sedelmyer on violin and strings, Mike Seal on guitar, Jamel Mitchell on saxophone, and Vance Thompson on trumpet.
The frenetic and frantic opener "Cavebop" scampers off in a mad rush with a quick snare shot that Douglas' flying dobro joins after two beats; soon, horns, guitar, and bass ride along in separate lanes as they all head down the same bebop highway toward the traffic circle where each takes a turn leading the jazz parade. Strains of "It's a Beautiful Day" meet up with Nat Adderley's space jazz, underscored by Douglas' feverish dobro. "Cavebop" leads into an almost luxuriously paced tune, "Unfolding," written by Edgar Meyer, whose title captures the revelatory nature of the tune, as each instrument slowly unfurls various facets of the melody. The band's take on Tom Waits' "2:19" is a slow-burning rocker with a soulful shout of horns and a screaming guitar solo in the bridge. Douglas and his band cannily capture the themes of each tune perfectly in their musical take on the scores, so that the title track, written by Douglas and Mitchell, palpably creates the methodical character of ponderousness, all the while signaling the many detours such a question as "what if" might take.
The highlight of the album is the band's take on Hendrix's "Hey Joe"; here, the violins, dobro, guitar, and horns rush headlong into the miasma of the murder ballad; Hendrix's song plods along in comparison, and Douglas and his band succeed in creating a version that's even better than the original. "Freemantle," written by Douglas and Béla Fleck, finely layers sound upon sound, again weaving space jazz around bluegrass undertones. The album closes with an upbeat, reel-like tune, "Hot Country 84.5," that sizzles and settles by turn; it's a front-porch gathering of musicians as much as it's a Saturday night down-at-the-barn dance tune.
What if an album wove together musical elements in an unexpected way, and what if that music seized you and held you so tightly that your heart throbbed with every beat? What if bluegrass and jazz met in a smoky club and preserved the beauty and tone of each while nevertheless carrying forth innovations that highlight the family resemblances of the two, creating an invigorating and memorable set of tunes? One listen to this album answers those questions; but this is an album whose many layers of music uncovers new revelations on each listen and whose music grows richer and fuller on every listen.