Album Review
Gordon Thomas Ward - Providence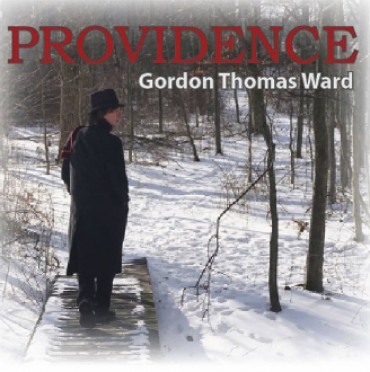 Gordon Thomas Ward - Providence
FACEBOOK: www.facebook.com/GordonTWard
This five song EP release is a preview of the full length Providence and provides listeners with a comprehensive peek into what will likely end 2018 as one of the year's finest singer/songwriter efforts. Ward's songwriting is personal insofar as it reflects his concerns and emotional response to our world, but he engages our world and its often bitter realities rather than focusing his art on his internal life alone. This is another quality setting him apart from many practitioners of the style. His musical DNA seamlessly incorporates modern folk rock, Americana, country, and adult alternative with acoustic and electric instrumentation weaving together for a spectacular effect. Despite the independent origins of Providence and this EP preview, Ward takes no shortcuts with his presentation and benefits enormously from engineer, co-producer, and musician Eric Troyer's contributions to the final result. This EP is as good of an example as you'll find of musical artists on the same page with one another and releasing important work greater than the sum of its individual parts.
The first track "Acadia Lament – Names Into Stones" will, surely, rank among the best songs on Providence when the album is released in full. The first half of the song is a classic folk instrumental with a strong melodic presence and lasts a little over two minutes while the second half of the track, "Names Into Stones", is passionate folk rock with a warm yet intensely physical Ward vocal. The drumming is especially good for this song, but the presence of electric guitar in the "Names Into Stones" portion of the song is particularly stunning; the extended guitar solo near the song's end is worth the price of purchase alone. "Destiny" pulls back from that and, instead, offers listeners something much closer to standard folk or singer/songwriter fare. The fantastic writing we're treated to with the opener continues here and, in his search for a theme, Ward proves his mettle as a writer who can tackle such potentially nebulous concepts as destiny and give them a flesh and blood treatment grounding its subject matter with specificity and coherence.
There's definitely a personal side emerging from the song "Just One More" and much of the song is deeply affecting, but there are hints of regret and pain lurking around the edges. The depth of Ward's songwriting is what will bring listeners back to him, time and again, and "Just One More" is wonderfully illustrative of those qualities making him so strong for repeated listens. "The Horseman", Providence's penultimate number, does a near one eighty from the earlier material by invoking the blues. The thorny acoustic slide guitar in the song lends it an air of unpredictability and danger not present in the EP's other songs. Ward returns us, however, to familiar territory for the closer "One Kiss" and it likely rates as the EP's most straight forward folk song. His acoustic guitar playing stands out on each of the EP's five tracks, but "One Kiss" closes things on a melodic note reminiscent, in some ways, of what we heard with Providence's opener. This preview of the upcoming album is a must-hear for fans of this musical style and Ward shows he's one of the best singer/songwriters working in the Americana/indie scene today.
PRIMARY URL:  www.gordonthomasward.com
Mindy McCall