Album Review
Grady Champion - Bootleg Whiskey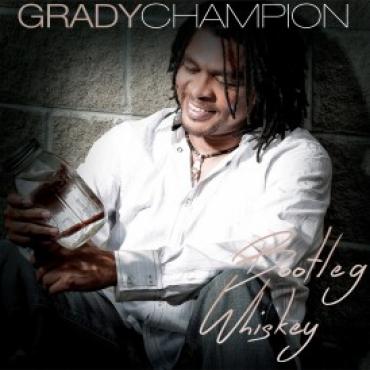 Mississippi blues man Grady Champion is back with his eighth album Bootleg Whiskey this time teaming with legendary R&B label Malco and label chief Tommy Crouch Jr. released in September of 2014 the eleven song album has one foot in the tradition of authentic Mississippi juke joint blues and the other in modern ultra produced dance party soul and R&B.  Crouch surrounds Grady; his southern story teller charm, smoke filled delivery and sizzling harmonica chops, with a spot on rhythm section, full bodied horn section and slick background vocals.
The album opens with 'Beg, Barrow, Steal,' smoothing out the shuffle from The Beat Daddy's into a gospel flavored two beat swing  reminiscent of Little Milton. The title track was written by George Jackson   wrote "Down Home Blues",  which became a theme tune for Malaco Records in the 1980s. Champion and company deliver a solid reading of the muscle shoals styled soul burner. The first of the five  new tunes written by Champion 'Home Alone,' is swampy  tale of heartache that tempers the sadness with Memphis styled horn lines, but the low down blues continues during 'Ten Dollars,' no matter how hard those fellas blow. Champion preaches to the choir as extols the virtues of the "South Side," of town, then digs deeper into the spirit during contemplative 'Who Dat.'  
Fueled by a monster bass line from David Hood, 'Here We Go Ya'll,' is certain to be a House Rockin' feature of Champion's live show. The last of the new tunes written by Champion, the island tinged 'Mr. Right,' show off his love for poetic vernacular and colloquialism to deliver his message. Organist Clayton Ivey leads the choir providing the backdrop of "Amazing Grace," while champion delivers the eulogy "White Boy with the Blues,' to close the album. Amen.
Grady Champion - Bootleg Whiskey
(Malaco Records)
http://www.gradychampion.com/live/
Rick J Bowen