Album Review
Grayson Capps Keeps Moving On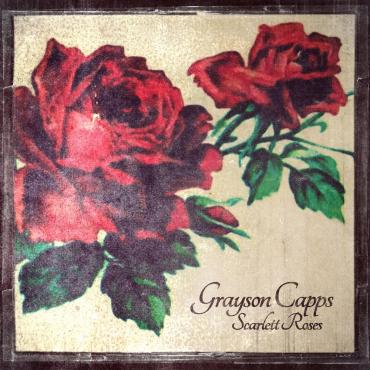 On his latest release, Scarlett Roses, Grayson Capps offers acoustic-based ballads, love tunes, and anthems replete with driving rhythms and distorted guitars. While the melodies on his current set are not, perhaps, as consistently enrolling as on previous outings, Scarlett Roses effectively showcases Capps as a mature singer and songwriter, his voice distinctly versatile, his lyrics addressing a variety of perennial themes, including love, heartache, beauty, and death.
The opening (title) track navigates a memory of love lost, borrowing lyrically and instrumentally from country-rock templates; Capps's vocal a felicitous, if slightly contrived, drawl. Melodically and vocally, "Hold Me Darlin'" is reminiscent of a Todd Snider tune, a mid-tempo ditty with engaging lap-steel fills courtesy of Corky Hughes.
With "You Can't Turn Around," Capps moves in a compellingly atmospheric direction. His band's lilting rhythms and supportive accents provide a context for one of his more striking vocal performances, the song both a rollicking sermon on the addictive nature of transgression; i.e., "the incorrigible sinner," and a colloquial tribute to the virtue of persistence. Hughes provides a succinct and tasteful guitar lead mid-song and a more sprawling and incendiary solo at the track's end.
On "New Again," Capps offers his most interrogatory lyrics:
Everyday I'm born again,
But not in any kind of Christian sense
It's only me to wash away my sins
Yeah, yeah, yeah you're new again.
and:
There's a world of mysticism
Beyond the world of criticism for you
No one else can get you there
You and you my darling you're aware.
Lyrically, "New Again" is the album's pivotal and most ambitious track, a reflection on religious, philosophic, and sociological notions. The result is a homespun and optimistic wisdom, proclamations that remain congruent with the rebellious bent inherent to the Americana genre (Carter Family, Johnny Cash, et al) while also touting fundamental values, such as honesty, courage, and self-reliance. In this way, Capps stands as a proponent for collectivism and individuality, conservatism and nonconformity, prickliness and affability, reconciling chief and often contradictory characteristics of the American personality.
"Taos" is the album's centerpiece, an 8+ minute romp through mercurial atmospherics, a range of pastoral and apocalyptic tones, and vivid imagery. The song documents the beginning of a relationship, a symbolic journey through the night, and a wreck that causes the woman's death. The final verse documents the singer's guilt. At the end of the song, we learn, a little predictably, that the narrator is languishing in prison, the accident that took his partner's life (and that of their unborn child) the defining moment of his existence.
The closing tune stands as Capps's contribution to the corpus of "road songs" and offers some of the simplest yet most compelling melodies on the album. He sings,
We played in the market
And we played in town
Ain't gonna be here long
They'll make us their target
If we stick around
It's time to be movin' on.
Scarlett Roses was produced by Capps's wife, the award-winning Trina Shoemaker, and the set benefits substantially from her involvement, a handful of songs displaying adept employment of studio effects, other pieces presumably recorded with as live and organic an approach as possible. Scarlett Roses represents a confluence of accomplished songwriting and singing, the contributions of a veteran band, and the guidance of a talented producer. The album includes its flat moments; however, taken as a whole, Scarlett Roses integrates and revels in diverse influences, styles, methods, and moods—a commendable addition to Capps's growing oeuvre.