Album Review
Gregg Allman's poignant last blast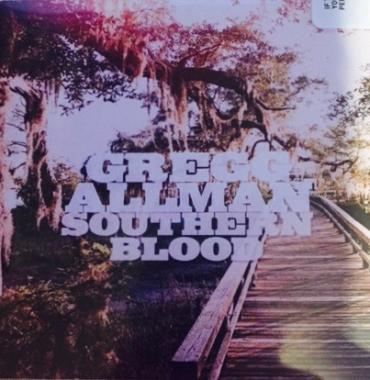 When a colleague and I interviewed Gregg Allman a few years ago, his main topic of conversation was his health. He had just had a liver transplant and was -- not unsurprisingly -- a bit fixated on it. He clearly was thinking about mortality. You could not tell from his performance at the accompanying gig, of course. At that he was the consummate musican and clearly dedicated to the blues and rock music of his native South.
Both the mortality and the dedication shine through in "Southern Blood", Allman's posthumous paean to his life and music to be released next month. 
It is not  about the South per se. For that you should skip back an album to the 2011 Grammy-nominated "Low Country Blues", reviewed here on ND. The new album, completed as Allman was dying, is about Allman.
"These compositions, they are all poignant and meaningful and talk about his life's journey. Everyone of them had meaning (for him)," Allman's manager and friend Michael Lehman told me when I talked to him for an article for my main employer, Reuters.
It is a haunting collection of songs, some his own but most written by friends and favourite artists including Jackson Browne, Willie Dixon, Jerry Garcia and Lowell George.
Each song is something of a goodbye -- an acceptance that a difficult life was about to end  but with the blessing of it having happened anyway.
George's "Willin'", for example, is the tale of a hard-times Southwestern truck driver who keeps on the road against all the odds, a hint at Allman's near continual touring.
Another song — written by Mississippi bluesman Wilie Dixon — needs no explanation:
I Love The Life I Live/ I Live The Life I Love
Allman's sweet rendition of Bob Dylan's "Going, Going, Gone" is a clear indication of his knowing what was soon to happens.
I've just reached a place/Where the willow don't bend/There's not much more to be said/It's the top of the end
For me, the most poignant track of all is the opening one, Allman's own "My Only True Friend" in which he calls on the people who have followed his music since before 1969, the year the Allman Brothers hit the road, to remember him.
You and I both know this river must surely flow to an end/Keep me in your heart, keep your soul on the mend/I hope you're haunted by the music of my soul, when I'm gone/Please don't fly away to find a new love
It is an album to remember him by. Not perhaps as stunning musically as "Low Country Blues", but a touchingly intense farewell that hints at how much we will miss him.
(This is a reworked version of a story I wrote for my main employer, Reuters)