Album Review
A Group to Make You Feel Much Better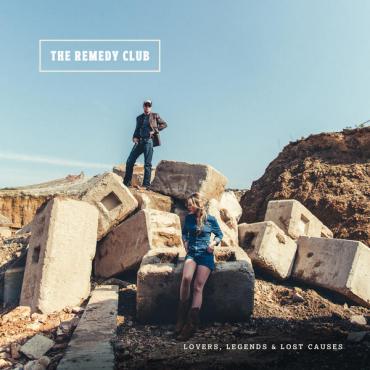 The title covers a sizeable chunk of the subjects to be found in country songs, so you may think this is a record by artists who were born and raised in Nashville. They weren't. The Remedy Club is husband and wife duo, Aileen Mythen and KJ McEvoy, who hail from Co. Wexford, Ireland. Lovers, Legends & Lost Causes is their debut album as The Remedy Club having released two as B & The Honeyboy. The Remedy Club go beyond country via their Irish roots in a more folky vein and with a title like that, dip into blues as well. As well as Hank Williams, Mythen and McEvoy cite Django Reinhardt and Tom Waits as influences. All feature here on this outstanding album.
Unsurprisingly, opening song 'I Miss You' is about lovers. Mythen's vocal range immediately pull the heartstrings. Adding McEvoy's beautifully pitched guitar they create a lonesome sad song that presents an ideal introduction to their music. 'Come On' could qualify for both love song and lost cause. Again Mythen's singing leads into a lovely swirling sound that has been produced perfectly. 'Big Ol' Fancy' shows that McEvoy can sing as well. To a brisk tempo he tells of "that big old fancy life has got me in a hole". Definitely lost cause and must be great performed live. 'Bottom of the Hill' excudes pathos as McEvoy sings, "I've got a belly full of liquor and a handful of pills, ain't nobody ever gonna cure me of my ills, fell off my wagon and rode to the bottom of the hill". The wailing pedal steel and guitars only add to the atmosphere of inevitable despond.
The production by Ray Kennedy and mixing of Mark Petaccia shines throughout the record, particularly on the majestic intro to 'When Tom Waits Up'. The Remedy Club do justice to a legend, perhaps not quite reaching the sombre level of the man himself but that's the beauty of these two; they stamp their own mark to create something brand new. For full effect watch the video.
The two other legends are equally respectfully treated; 'Django' is suitably jazzy where we are now in some smoke-filled club, long after bedtime. 'Listening to Hank Williams' shows these two must have done a lot of that. Their relaxed pace and harmonies play tribute to "a high lonesome tune".
'Get Away With It' is a sweeping balled of having blown it all. In a consistently high quality collection of songs this one nudges it. Mythen squeezes every last drop of emotion out of another sad tale while McEvoy lets rip musically. 'Sweet White Lies' has a chikka-boom beat that could have come from another giant of country music. The album returns to lovers as it closes with some delicious pedal steel on 'This is Love', a gentle piece of reflection as The Remedy Club head of into the sunset.
A lot of country music adheres to a strict formula. The Remedy Club most certainly do not. Instead, in Lovers, Legends & Lost Causes they have made an album of refreshing originality which let's hope brings them a lot of new fans.