Album Review
Ha Ha Tonka Moves Melodic Mountains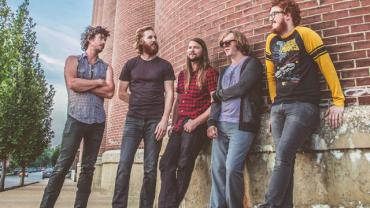 Five albums in, Missourians Ha Ha Tonka are still nowhere near as famous as they should be. You'd be hard-pressed to find a band more ready for a big stadium show than these guys, with their insane ability to craft hook-heavy, melodic, pop-leaning roots rock and make you feel something while doing it. And their newest record Heart-Shaped Mountain is no exception. It is arena rock with a pulsing heartbeat, polished but thoughtful. As always, their songs tap into our deepest, darkest thoughts and fears, but present them as triumphant, all consuming gems that sweep us off our feet.
Led by Brian Roberts' gorgeous vocals, Ha Ha Tonka has created a travelogue with Heart-Shaped Mountain. It is a record about places and how we experience them, and it is magnificent and picturesque. Whether the guys are breaking laws and partying it up in "Arkansas" or experiencing buzzkill while trying to cleanse the spirit in "Telluride", Heart-Shaped Mountain finds them trying to escape. In some cases, they're literally on the move, as with "Telluride", and in others they are trying to escape something much more abstract, like the insecurities that plague us as we grow up.
This fear is hashed out in one of the album's standout tracks "The Party". A whistling, upbeat tune contrasts with the feeling of being terrified of ending up alone. "All your friends got married overnight/You haven't found anybody just yet/And you don't even wanna try tonight/Why do we always seem to be the last ones here at the party?" Roberts sings. It's a common emotion that comes with aging and Ha Ha Tonka has turned it into a beautiful song you'll want to listen to again and again (crying optional).
"Land Beyond" and "All With You" are looking to the future for adventure and something better. Both capture the adrenaline rush of spontaneity, and if the latter doesn't land in an expensive car commercial before the end of the year, it will be shocking. Heart-Shaped Mountain is proof that Ha Ha Tonka are doing what so many folk-pop bands are doing, but a thousand times better. This is a record that deserves to be dived into whole-heartedly with no looking back, and fast.