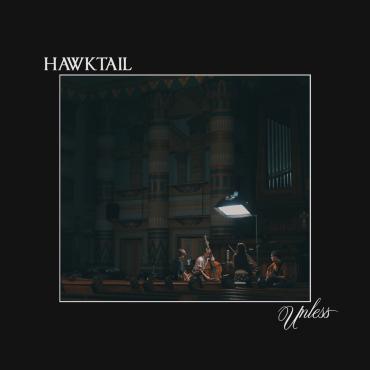 Swoop, dive and soar. Like its bird of prey moniker suggests, the newly congealed roots "super group" Hawktail shows off a certain set of majestic instrumental moves on its debut, Unless.
Fiddler Brittany Haas, bassist Paul Kowert and guitarist Jordan Tice – who debuted as Hass Kowert Tice on 2014's You Got This – have worked, between them, with the likes of Michael Daves and David Rawlings. Kowert likely is the biggest name of the bunch, known for his membership in Punch Brothers with Chris Thile.  
The trio – already a force – morphed into a four-piece act last year with the addition of mandolin ace Dominick Leslie, who has played with Noam Pikelny and others.
Grand and modest at the same time, Unless has this Nashville collective delivering an entrancing package for Padiddle Records. Producer Chris "Critter" Eldridge (a guitarist who plays alongside Kowert in Punch Brothers) makes a diverse selection of both studio and live concert recordings (from November 2017 shows in California) sound like a cogent package – no small feat.
Maybe that seeming ease speaks to the talent of Hawktail: the studio tracks often have the spirit and fire of live cuts. So it all fuses together into one coherent bluegrass blend that is distilled into about 45 minutes, which feels longer due to the instrumental virtuosity on display.
"We strove to write strong tunes that could take us to different places while holding to a simple form, for a natural music that breathes," Kowert says in the press materials for Unless. "Melodies and basslines arrived together with a core sound, and arrangements seemed encoded in the tunes."
Unless kicks off with "Abbzug" and Hass' brilliant fiddle – first a curious, mid-tempo scouting mission all by its lonesome. Slowly but surely, her companions join, and together they pick up the pace. By song's end, Hawktail is at a breakneck speed. It's a whirling dervish approach that's sadly halted – albeit temporarily – by the next track, the slow, mournful "In the Kitchen." While certainly beautiful, the cut feels out of place after the lead track's sheer fearlessness. Fortunately, this is the only major sequencing stumble of Unless.
The record is often sweet and playful, such as on "Horpe's Reel," where these players eventually join together for passionate jubilance by the end. The crowd's applause here affirms the pure joy on display, passed from band to audience and then back again to these talented players.
Front-to-back instrumental bluegrass albums are underappreciated, and strong ones come along too infrequently. Unless is a reminder that sometimes vocals cover up instrumental workouts, and that strings alone are often enough to dazzle the ears and wow a crowd.
"It feels as though this is now a whole band capable of doing anything," Haas says in the press materials. "The music of Unless represents hours of creation, founded on our years as close friends. And I think you can hear that."
That sound and that ethos are both readily apparent. So is a creative openness: to a new collaborator in Leslie and to sonic exploration. That soaring spirit – buttressed by a pursuit of roots music searching and adventure – makes Unless a solid spring release.