Album Review
A Heart for the Highway and Home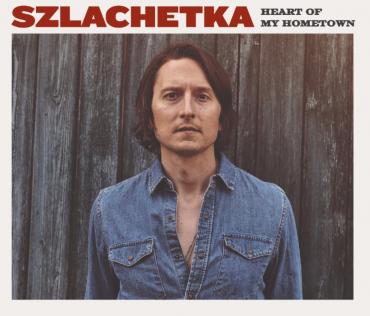 Our hearts burn with longing, and that longing sometimes tears us apart. We long to travel roads to new places—or familiar places we've visited that fuel certain memories—and at the same time we long to settle into the comfort and familiar certainty of home. The distance calls while proximity beckons; once we head out on the road, do we regret it suddenly and want to turn back immediately? What beauty do we miss on the road when we look behind us to the thresholds of our hometowns? Can we carry some of our homes with us wherever we go?
     Szlachetka's second album, Heart of My Hometown, delivers several bright, laid-back tunes filled with airy harmonies and jaunty guitar solos that bring to life the desire for the road, as well as the celebration of home. The title track opens with Szlachetka's a cappella vocals that imitate the spare feelings of the loneliness of the longing for home on the road. A snare drum kicks off the straight-ahead rhythm guitars after the solitude of the opening bars of song, propelling it pell mell down a rocking road. The singer can't leave behind his home no matter where he goes: "Everything I know/I learned from wandering these old streets/No matter here I go I can't let go of the heart of my hometown." Szlachetka's sonically bending lead solos on the bridge capture the poignant nostalgia of looking over your shoulder constantly as you're on the road. "Ready to Run" opens with a Springsteen-like piano riff that opens capaciously into the space of an open road. The song resembles what the Byrds' "Chestnut Mare" would sounds like if Jackson Browne—there's a decidedly David Lindley-like solo on the bridge, and the song nods to "Running on Empty"—and Springsteen decided to sing it. "Wildflowers on the Highway" features the song's co-writer Katelyn Clampett on harmony; it's a gorgeous paean to noticing the beauty around you.
     The spare beauty of these songs, Szlachetka's crystal vision for seeing the beauty in front of us and the beauty behind us, as well as the bright spaces he creates with his singular guitar rhythms and riffs turn Heart of My Hometown into an album that should accompany any road trip or any night in front of the fire at home.