Album Review
a heartfelt tribute to a songwriter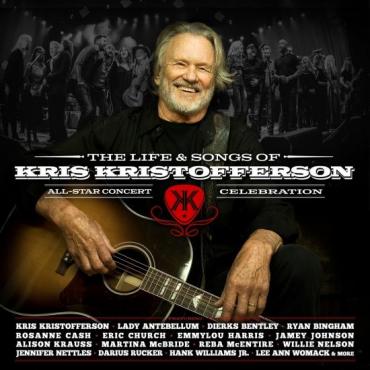 Various - All Star Concert 
The Life & Songs of Kris Kristofferson
Blackbird Presents Records &  CMT
    Well, this tribute to Kris Kristofferson and his songs has about everybody in the Country music community on the stage at the Bridgestone Arena in Nashville singing his songs, it might be more efficient to mention who isn't there than to list those that are.  The music fills up 2 discs and then there is a DVD that really portrays the joy that they had getting together to celebrate this legendary songwriter and all around wonderful person who deserves all this and then some.  This is a tribute to Kris, and the wonderful person he is, this is a long time coming and more than well deserved by a true talented gentleman in the Music business.  A universal feeling about Kris is that he is well respected and people almost without exception respect and enjoy his songs, both for the song craft that is displayed as well as the relevances to living a thoughtful life that he displays.  He is extremely observant of the details that give a song/life that special 'something' that makes it REAL.  His songs have the details that make these tunes so memorable no matter who is doing them; from someone like Janis Joplin (Me and Bobby MaGee) or Johnny Cash (Sunday Morning Coming Down) or you name a country artist and they have probably recorded a KK song, or written one about him.  
    As to the artists here paying tribute to him here they range the whole spectrum of Country from Rosanne Cash and Emmylou Harris to Darius Rucker, Hank Williams Jr., Rodney Crowell and Willie Nelson! We are just scratching the surface here but this list of admirer's can go on and on.  New or old it doesn't matter this man is respected and revered everywhere because he is genuine/real; literally he is the what you see is what you get full package.  This is a artist that not only writes relevant songs, however he also delivers them with feeling that is both poignant and heartfelt. 
    Then there are the songs, the disc opens with Buddy Miller doing a great version of Please Don't Tell Me How The Story Ends, to Help Me Make It Through The Night, and I am not going to ruin the surprises and the "Damn they did this one too."  And as a bonus you get Kris and his smile, and his voice up there too at various times, and you can see the genuine joy on his face with everything.  The music is superb and the joy on people's faces is real, as real and life like as his songs.  This is a beautiful heartfelt tribute to a very deserving person.  
by bob gottlieb